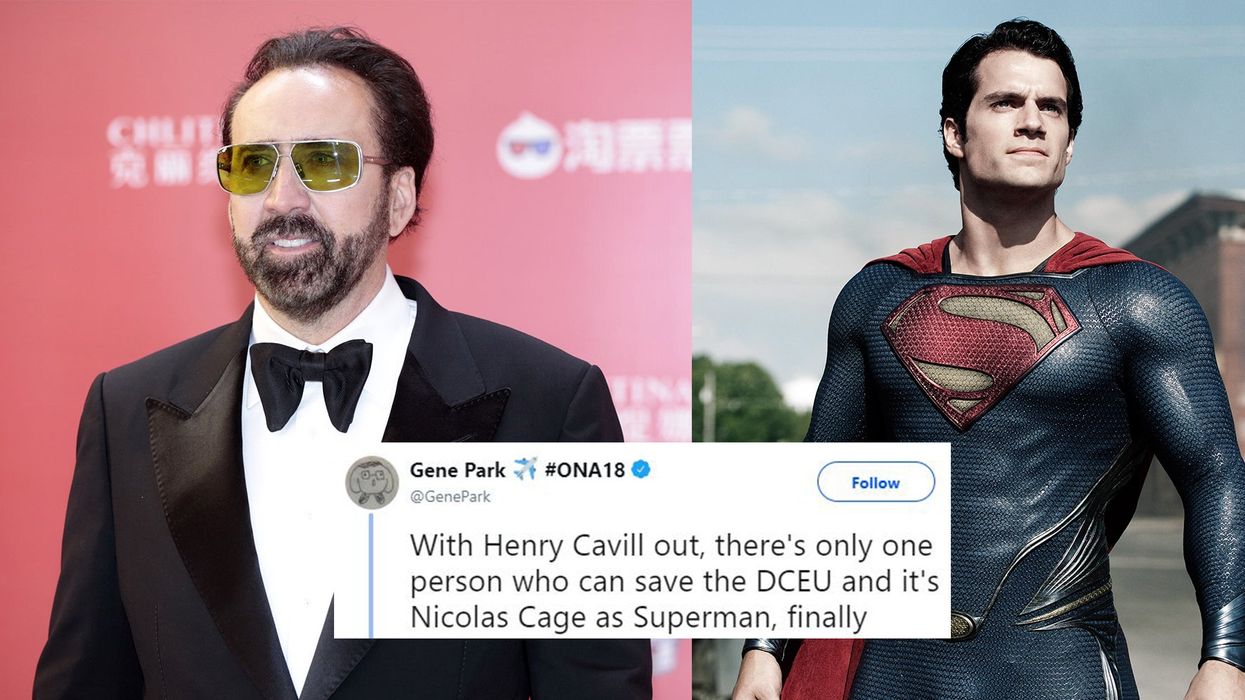 Warner Bros/Kobal/Imaginechina/REX/Shutterstock/Twitter
Yesterday the movie world was dealt a shocking blow as they learned that Henry Cavill will apparently no longer be playing Superman.
We know, gutting isn't it?
The Hollywood Reporter has said that discussions between Warner Bros and Cavill's representatives has slowed down after the actor couldn't make a cameo appearance in the forthcoming film Shazam!
This would appear to suggest that he will no longer be playing 'The Last Son of Krypton' leaving the role wide open for someone else to take the reigns.
An early front-runner to play the 'Man of Steel' is Michael B Jordan, which would be a great choice. However, the internet, as always, has other ideas.
Nicolas Cage, yes that Nicolas Cage, is who Twitter wants to play Superman - and to be honest it's not a terrible idea.
Nicolas Cage. Your time is now 👊 #Superman #HenryCavill @WarnerBrosEnt https://t.co/FqeFo4Tsrn

— David Opie (@David Opie) 1536788893
You're probably wondering why there are so many pictures, that have obviously not been doctored, with Nicolas Cage wearing a Superman costume?
Unless you are a gigantic film geek, you probably won't be aware that Cage almost played Superman in an ill-fated Tim Burton movie named Superman Lives, which never saw the light of day.
There is even some footage of Cage testing the suit out in front of Burton while sporting a rather fetching mullet, on a brief look that Superman sported in the mid-90s DC Comics.
The film got as far as pre-production but issues with the script, inspired by The Death of Superman arc, caused the plug to be pulled.
Speaking to Yahoo in 2015, Cage commented on the film which some feel he was born to play.
The only thing I'll say about that — because that is such a lighting rod hot topic and if I say anything at all it just seems to snowball — but I will say that I had great belief in that movie and in what Tim Burton's vision was going to be for that movie.

I would've loved to have seen it, but I feel that in many ways, it was sort of a win/win because of the power of the imagination.

I think people can actually see the movie in their minds now and imagine it and in many ways that might resonate more deeply than the finished project.
Furthermore, Cage is a huge Superman fan and even named his son Kal-El, the alien name of Superman.
Incidentally, he has played Superman albeit only with his voice when he lent his hushed tones to the role in the Teen Titans Go! To the Movies animated feature, released earlier this year.
Is it just us or is Nic Cage perfect for this role? Come on Warner Bros, do your worst.
HT UniLad