A new poll has shown that the leaders of the three main parties are all resoundingly unpopular with less than three months to go before the general election.
YouGov, commissioned by the Sunday Times, asked respondents to rate how well they thought David Cameron, Ed Miliband and Nick Clegg were doing as the leader of their respective parties.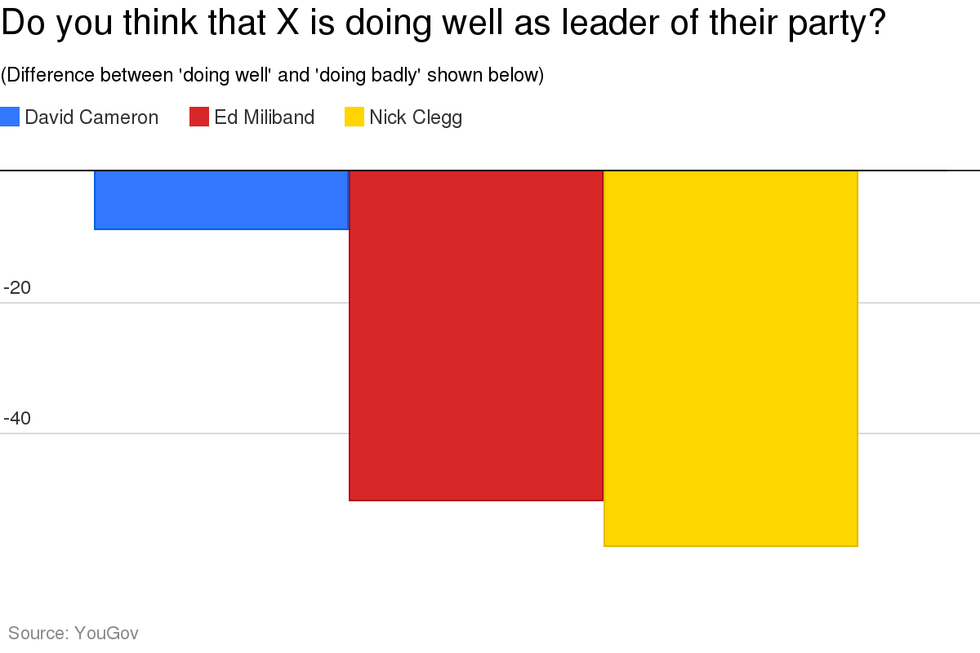 While David Cameron performed best with 42 per cent saying he's doing a good job (although 51 per cent still think he's doing badly), Nick Clegg (16 per cent doing well, 73 per cent badly) was given the rare dishonour of being even more unfavourable than Ed Miliband (19 per cent well, 69 per cent badly).
The poll also asked respondents whether they thought the Coalition was working well (31 per cent yes, 60 per cent no) and whether they were managing the economy well:
Perhaps unsurprisingly, both Conservative and Liberal Democrat voters feel the government is managing the economy well, while Labour and Ukip voters believe they are doing badly.
More: The six 'tribes' of voter our politicians are trying to appeal to
More: This is one of David Cameron's favourite moments of the last five years