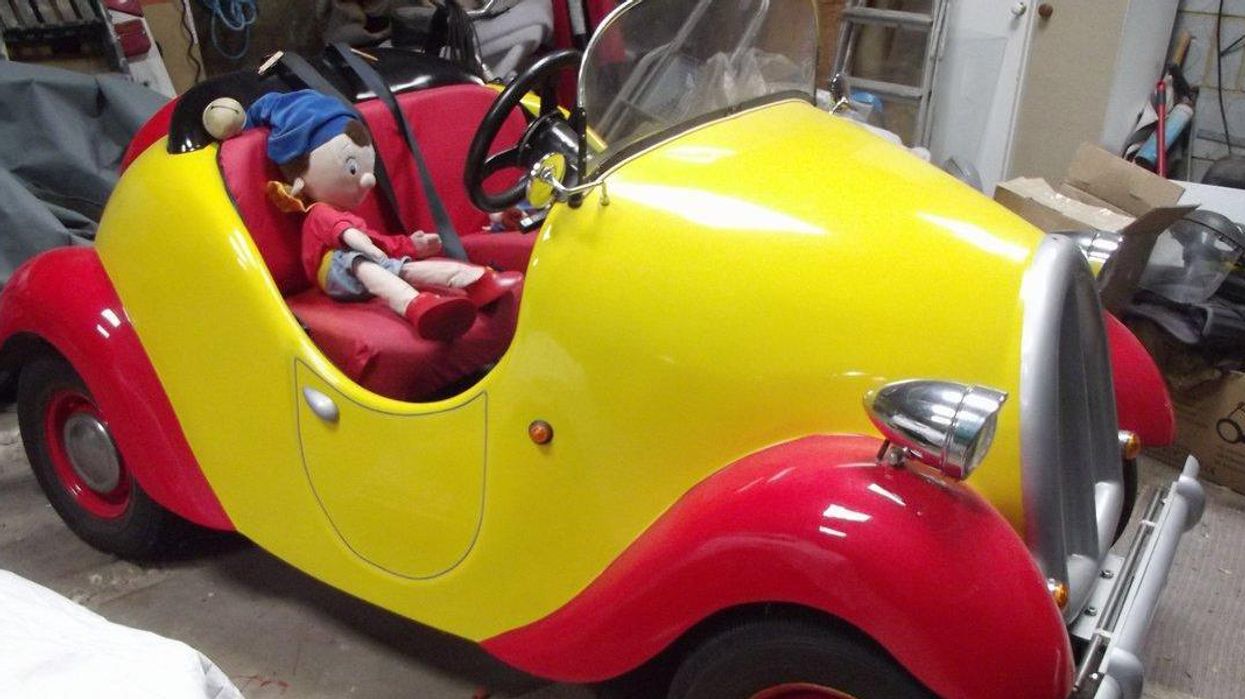 TWITTER / @CHARTERHOUSEAV
An elderly couple are selling their incredible Noddy replica car because they think they're "too old for it".
Parp Parp Parp! Noddy car in our classic car auction Wednesday 12th April. Based on a Reliant Kitten & good to brea… https://t.co/kIxsfWqF56

— Richard Bromell (@Richard Bromell) 1490963903
Retired engineer Geoffery Hearn, 85, bought the car for his wife Shelia, also 85 in 2012, after she spotted it online.
He told Metro:
My wife saw it for sale on eBay and just she had to have it, so I bought it for her.

Sheila grew up with the Noddy books and loves unusual cars so it was perfect.

The previous owner bought the Noddy-shaped bodywork from a scrap yard because he thought it would fit perfectly over a Reliant Kitten that he had.

He had done most of the work when I got it from him, all I really needed to do was give the body a spray in the red and yellow colours.

While other people have attempted to recreate the Noddy car there are no replicas anywhere near as accurate as this, which is absolutely spot on.
Geoffery and Shelia make an effort when driving around their hometown of March, Cambridgeshire in the car. Often dressing up as Noddy and Big Ears to take the vehicle out for a spin.
How incredible is this replica of Noddy's famous red and yellow car? #replica #cars #auction https://t.co/Wkv6j2H2fS https://t.co/pesMQo6Fz2

— Wizzle - Sell My Car (@Wizzle - Sell My Car) 1490967012
Unfortunately, the time with the family is up, as Geoffery's knee trouble means he struggles to drive manual cars.
The car is going up for auction at Charterhouse Auctioneers in Sherborne, Dorset on 12th April and is expected to reach between £10,000 and £12,000
Noddy looks like he has had a little too much sauce at lunch...... Noddy Car for auction Wednesday 12th April… https://t.co/i8CJMxuSae

— Richard Bromell (@Richard Bromell) 1490720818
Matthew Whitney, of Charterhouse, said:
We have never had anything quite like this car before.

This is a true one of a kind and actually an incredibly accurate replica, looking just like the car described in the stories and shown on television.

While obviously a niche market this sale does present a unique proposition for the right buyer.

There are plenty of Noddy collectors out there who are likely to have their heads turned by this or it could easily continue to be used for charitable purposes.

Maybe it could even be gifted to a very, very lucky child.
Noddy's car first appeared in 1950 in Hurrah for Little Noddy, which he receives after solving a local mystery. Enid Blyton penned 24 Noddy books in total and the TV adaptation has been on screens for over six decades.
Fancy having a spin? You can bid for the car online.
H/t Metro