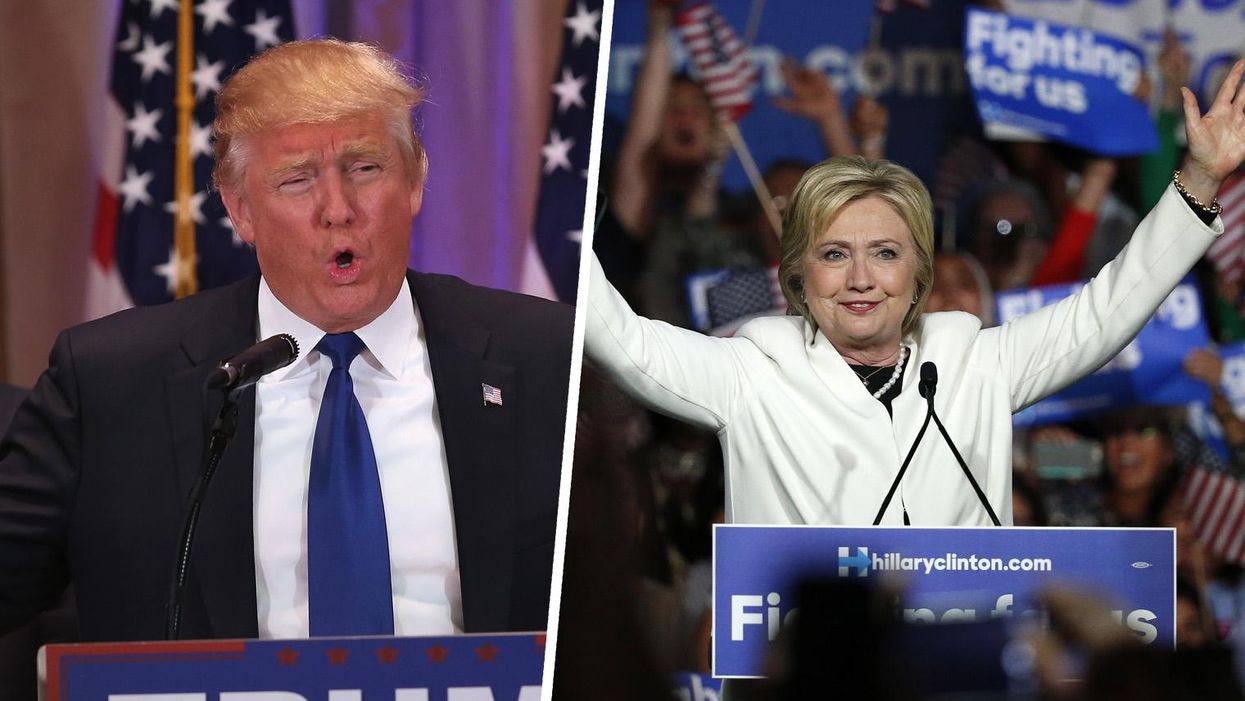 Super Tuesday just happened.
It was a big confusing thing and we forgive you for not knowing about it before - we'll try and break down what happened for you in the simplest terms now.
And explain why the whole world may well be doomed...
14 states voted?
Yes.
Alabama, Arkansas, Colorado, Georgia, Massachusetts, Minnesota, Oklahoma Tennessee, Texas, Vermont and Virginia held primaries for both Democratic and Republican candidates while Republican caucuses were also held in Alaska, North Dakota, and Wyoming.
So what are they voting for?
In these primaries, the people vote for candidates, who will then receive amounts of delegates for each state, in pseudo-proportionate amounts based on the voteshare in each state.
It's all very, very confusing and we recommend reading the Washington Post'svery good explainer if you really want to know more.
So what was the result?
On the Republican side of things, it was a big win for Trump, and on the Democrat side, the same goes for Hillary.
Trump won in seven states, while his opponents only won four states, securing (at the New York Times' count) 285 delegates of 1,237 needed to secure the nomination.
In short, he's now the overwhelming favourite.
Picture: MANDEL NGAN/AFP/Getty Images
Clinton won seven, while Sanders only won four, securing 544 pledged delegates of the 2,383 needed to win (again at the NY Times' count).
Democrats also have super delegates for every state who can vote as they please, on the tides of public opinion (but most seem set to vote for establishment candidate Hillary).
So similarly, Clinton seems set for the Democratic party nomination.
Picture: RHONA WISE/AFP/Getty Images
RCP averages of four polls conducted in February put Clinton ahead of Trump by three percentage points nationally. Interestingly, this is five per cent less than Sanders' lead over Trump, nationally. However, it should be noted these are a month out of date.
So why is this all so significant?
As the US prepares (short of a monstrous Bernie resurgence) for Trump v Clinton 2k16, focus will turn to the remainder of the states' primaries and the final tally at the national conventions where nominations will be formalised.
National polls of Clinton v Trump will begin as the candidates' focus shifts to the opposition party.
So a good day for Trump and Clinton?
Definitely. However, there have been some polls which could throw a spanner in the works for both candidates, or at least cause them concern.
Research recently published by YouGov has shown that both candidates have high levels of the public who say they will never vote for them.
Last month, roughly 3,000 people were interviewed, 55 per cent of whom said they would never vote for Donald Trump, compared to 47 per cent who would never consider casting a ballot for Hillary Clinton.
So that looks like Hillary for President, right?
Picture: Andrew Burton/Getty Images
Well, maybe, but other recent polling could throw a spanner in the works.
Clinton's unfavourability rating among American voters hit a record high on Super Tuesday.
A majority of 55 per cent of voters see her unfavourably according to a CNN/ORC poll, released Tuesday.
The survey found her favourability rating is also the lowest in two decades with only 42 per cent of Americans viewing the former secretary of state positively.
Which is slightly worrying for people who'd rather not see this man in the White House...
Picture: David Becker/Getty Images