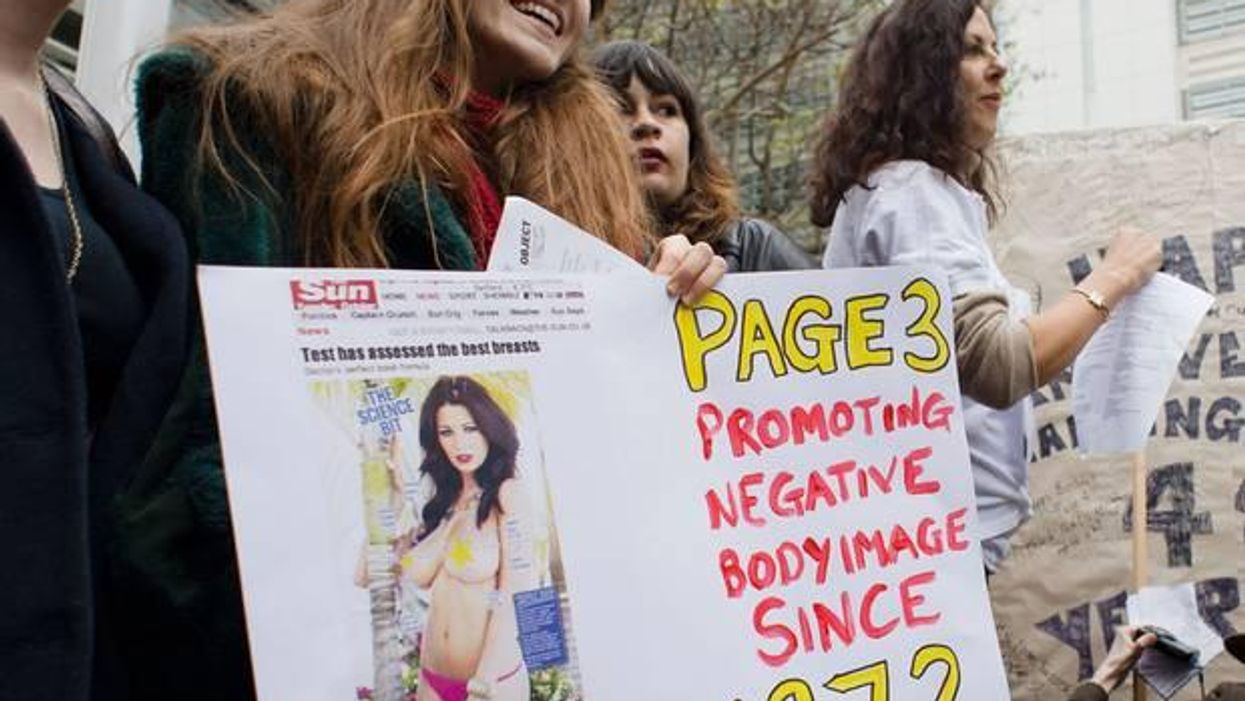 The Sun appears to have quietly stopped publishing pictures of topless models on Page 3 after 44 years. This is what you need to know:
What exactly is going on?
It looks like one of the most controversial features on Fleet Street has been dropped. The Sun has not yet confirmed the decision, first reported in the Guardian, but its sister paper The Times (£) reports this morning that Friday's paper was the last ever to carry a picture of a topless model on Page 3. It added The Sun will continue to feature pictures of topless models on its Page3.com website and Page 3 models will still be at events.
A spokesperson for The Sun did not confirm or deny the decision, but said: "Page 3 of The Sun is where it's always been, between pages 2 and 4, and you can find Lucy from Warwick at Page3.com."
It is thought that rather than topless models on its Page 3, the paper will now feature scantily clad women - i.e. The Sun will just be mildly rather than explicitly sexist, like the rest of the media.
This is this morning's Page 3, featuring actresses Jennifer Metcalfe, 31, and Gemma Merna, 30, in bikinis.
What's behind the decision?
Rupert Murdoch, the owner of The Sun, has recently hinted at axing Page 3 twice. In September 2014 he said it was "old-fashioned" (he had a point, it began in 1970), while in February 2013 Murdoch replied to a tweet about the feature being "last century" saying "you maybe [sic] right, don't know but considering". A senior executive told the Guardian the decision to drop the feature came "from high up, from New York" - a reference to Murdoch.
How have people reacted?
No More Page 3, which has been campaigning for The Sun to drop topless models on Page 3 since 2012, said: "This could be truly historic news and a great day for people power... We don't know the details for sure and there'still [sic] lots to be done... But this could be a huge step for challenging media sexism." The group even has its own celebratory graphic.
Not everyone is as delighted. Several Twitter users have criticised the move as a form of censorship, some under the (slightly absurd) hashtag #Jesuispage3. Piers Morgan tweeted: "What next for Britain's feminists - a ban on topless sunbathing?"
More: [These alternative Page 3 images are simply wonderful]4
More: [One side has women, the other side men. The result is a snapshot of the media]5
More: [Three minutes that show how 2014 was as sexist as hell]6