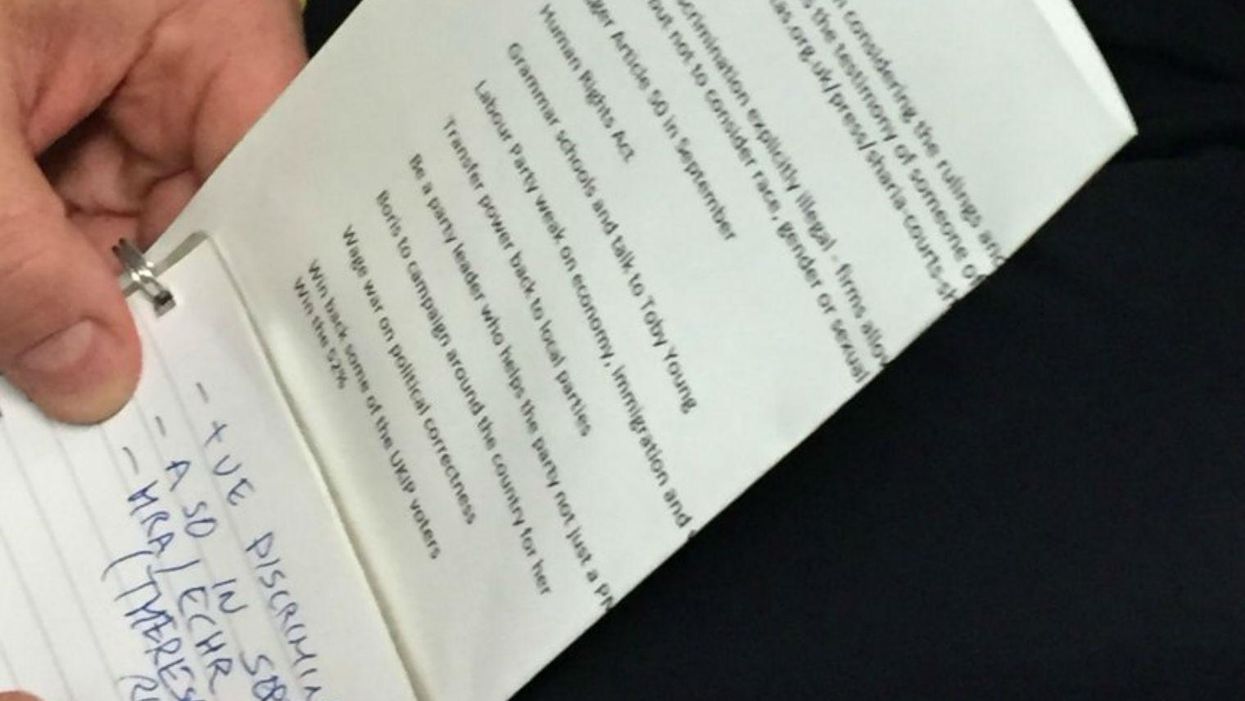 An image purporting to show the notes of someone involved in the race to be leader of the Conservative Party has attracted intrigue after being posted to Twitter
This is far from the first time that the seemingly private notes of a politician have been captured by an all seeing camera. In 2010 Nick Clegg's negotiation notes were caught by photographers, and political satire the Thick of It made such an incident a major plot point.
But professional photographers missed the scoop - this time the notes were captured by a punter.
Ben Hart, a self described digital content manager, last night achieved Twitter fame when he posted the photographs he'd taken on the London Underground.
The photo showed the notes of a fellow passanger, whom Hart identified as a "Tory".
Hart followed this up with more images:
Hart was contacted and retweeted by members of the press. He was particularly pleased when Sky's Kay Burley got in touch.
Hart then did his own investigative journalism, and tweeted the campaigns of the two candidates for Tory leader:
Most people on Twitter assume these notes are about Andrea Leadsom's campaign.
Judging by the fact that the owner of the document is writing out some notes by hand, it suggests that few copies of this document exist in order to keep its contents under wraps. Or at least that was how it was supposed be.
The statements would suggest this is Leadsom's campaign.
Trigger Article 50 in September
This would be surprising to come from Theresa May, who has said she will not trigger it until 2017.
The clincher that this document refers to Leadsom's campaign for leader is the note about her support Boris Johnson.
Boris to campaign around the country for her
Other items on the list include:
Positive discrimination explicitly illegal

Human Rights Act

Grammar schools and talk to Toby Young

Wage war on political correctness

Win back some of the UKIP voters

Win the 52 per cent
Here's the image up close.
Picture: Ben Hart/Twitter
At the top of the article is a paragraph (cut off due to a fold in the paper) that refers to "UK courts being banned from considering the rulings...".
It also contains a link to a press release from 2009 produced by the independent think-tank Civitas. The press release promotes a book by Denis MacEoin on Sharia courts.
Indy100 has contacted Andrea Leadsom and "Leadsom4Leader" for comment.