Little Mix have relaunched themselves into the music scene with a new album and a new song called 'Strip', in which they celebrate diverse body shapes and pose naked with the derogatory words they've been called over the years.
The music video has been hailed for its powerful statement about embracing your natural body and standing against bullying.
In an Instagram post, the band wrote that the song was to "encourage and empower people to be who they are".
We have loved sharing all these incredible, inspirational women and their stories with you. And we have a little surprise A few months ago, we invited all the women to be a part of our brand new music video for #Strip.

Strip is a really special song from LM5, it's all about standing proud and we wrote it to encourage and empower people to be who they are. We were lucky enough to have the amazing @rankinarchive bring our vision to life in partnership with @youtubemusic! We co-directed this video and are so incredibly proud of it.
Piers Morgan was one of the first to criticise the video and in an earlier Good Morning Britain segment, he said:
If men stripped off like that we'd be arrested but women do it and it's 'empowering'.
Arrested?
They're stripping off to sell albums, that's what it's about. The rest of it is baloney.

They don't have any flaws, they've been airbrushed to look perfect. They're fake. There's not a mark on them. You can't even see the surgery.
The girls – Jesy Nelson in particular – responded by calling him a "t**t."
Appearing on BBC Radio 1, DJ Nick Grimshaw asked what they thought about the comments.
"[He's] a silly t**t," Nelson said, prompting Grimmy to apologise to viewers for the swearing.
Right, now that we're all caught up, Piers Morgan is demanding an apology.
In this morning's Good Morning Britain, Morgan said:
Oh Jesy you let yourself down, love.

When you're doing a campaign against doing rude words, it's probably better not to use rude words on the radio about me.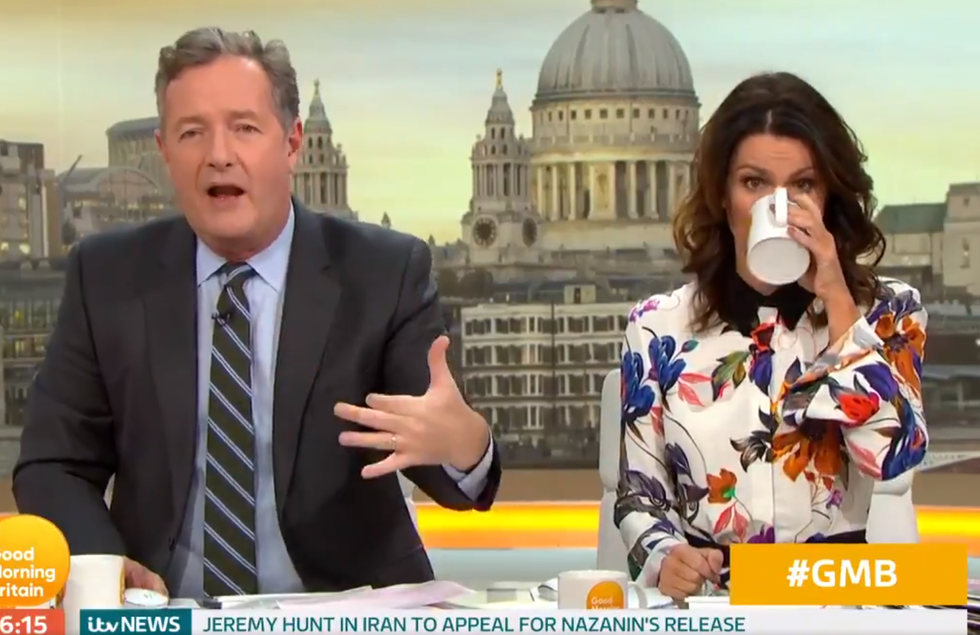 He added: "I apologise to anyone who is offended by the language Little Mix used about me."
Little Mix, I think you need to make a public apology during your campaign to root out bad language from public discourse.

Grimmers apologised to me on their behalf, I didn't hear Jesy apologise.

Our viewers are perfectly to know the scale of bad language that Little Mix used.
He went on to say "if they want to be all gobby on the radio… if you've got the balls, come on this program and say it to my face.
And we will then discuss what I think is a cynical exploitation of your millions of young female fans by using nudity and airbrushed images to sell you records.
Well, people online weren't impressed with Morgan's hissy fit demand for an apology...
Lots of people made the point that it's because of comments like the ones made by Piers before - which police what women should and shouldn't wear - that the song, and music video, is needed.