istock / LeoPatrizi
Are you agonising over a new Facebook profile pic? Squirming over an appropriately cringe LinkedIn image?
Finally, the research that we've all been waiting for is in.
How to choose the best photo of yourself? Let someone else choose it for you.
A team at the University of New South Wales, Sydney, Australia, carried out an investigation into the process by which people chose their profile pictures for the journal Cognitive Research: Principles and Implications.
The research, entitled 'Choosing face: The curse of self in profile image selection' found that images that participants selected of themselves made a less favourable impression than those selected by strangers.
Here's how the research was carried out:
102 students chose two pictures of their own face out of a possible 12
They assessed how likely they were to use the photo as a profile picture in three contexts: social media, dating or professional sites
Students then carried out the same task for 12 images of a randomly-selected stranger 
Results found that the students were able to select appropriate images of strangers for the different contexts
Researchers showed the students' images to strangers recruited online, asking them to rate how favourable the photo would be for each context
A helpful diagram: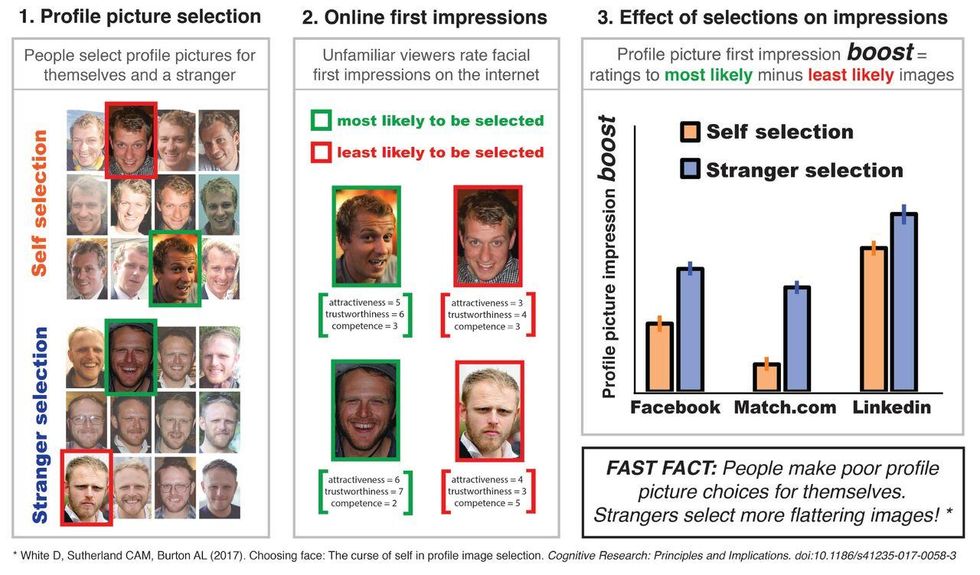 Picture:
The study found that images of participants selected by strangers made a far more favourable impression on others, than those photos selected by participants of themselves.
According to Dr David White, lead author on the study:
Our results demonstrate that people know how to select profile pictures that fit specific networking contexts and make positive impressions on strangers: dating images appear more attractive, and professional images appear more competent.

Previous work has shown that people make inferences about an individual's character and personality within a split second of seeing a photograph of their face, so our results have clear practical implications;

if you want to put your best face forward, it makes sense to ask someone else to choose your picture.
So next time your serial monogamist friend whines 'Let me play on your Tinder', maybe let them.
HT EurekAlert