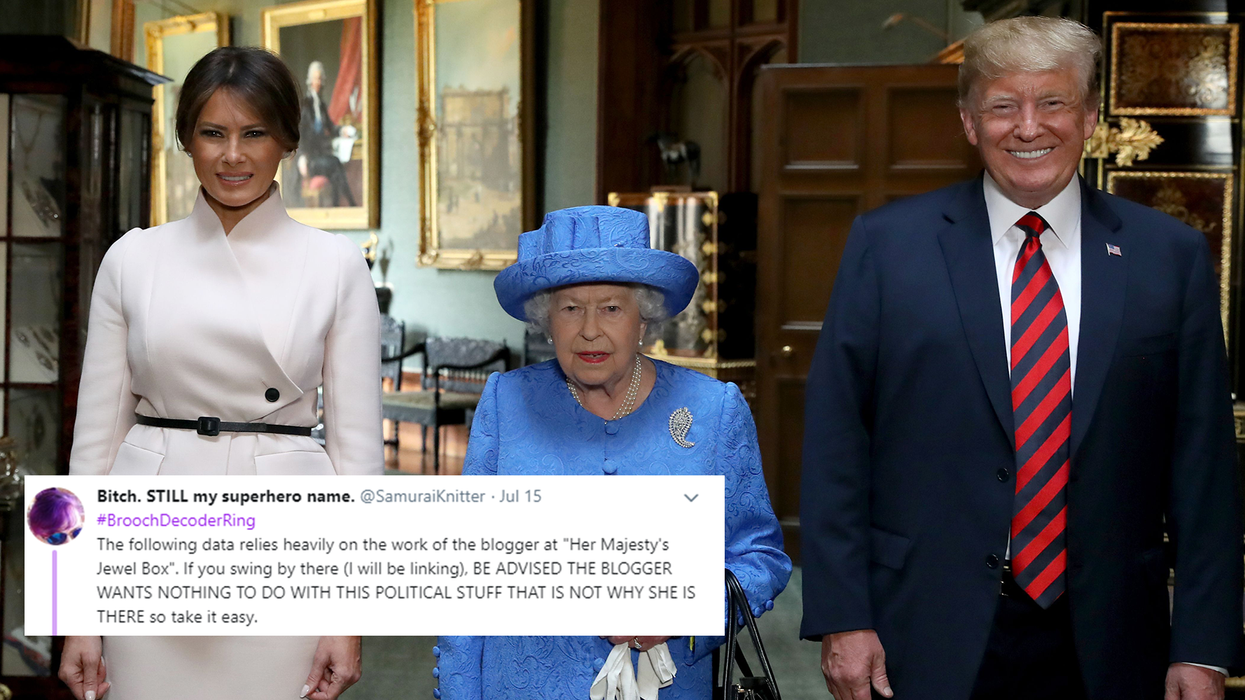 Steve Parsons / Getty Images
Who knew that Queen Elizabeth was actually 'queen of shade throwing'. Yep, you read that right - there's a conspiracy theory that the Queen of England subtly trolled the Trumps when they visited with her choice of brooch.
President Donald Trump and his wife Melania touched down in the UK last week for their first ever state visit to the British Isles. Needless to say, the country erupted with protests.
During a busy schedule of holding Theresa May's hand, avoiding a huge orange angry baby blimp, and erm, playing golf in Scotland, the Trumps also met the Queen for afternoon tea.
Queen Elizabeth is obliged to always remain politically neutral, however there is a theory going around that she isn't really president Trump's biggest fan, and that she communicated it through her outfit.
This isn't the first time that people believe the Queen has communicated her true opinion with her choice of attire. When addressing parliament after Brexit, she chose a purple hat decorated with yellow flowers, which looked remarkably like the EU flag. Was Her Royal Highness communicating that she is in fact a Remainer?
Now, it seems she's done it again. After extensive research, Twitter user @SamuriKnitter has revealed how she thinks the Queen trolled the Trumps.
She explains her argument in a string of tweets that have now gone viral.
She starts by showing how the Queen's choice of brooch is always significant.
She then says how, on arrival day, the Queen chose a brooch given to her by the Obamas. Ouch.
Brooch number two was a gift from Canada.
Brooch number three, sick burn number three.
Queen Elizabeth, we salute you.
HT Bored Panda