Clinging to the back of a train while watching others lose their grip and crash against the tracks, Abdul's journey into Britain seemed impossible.
The 18-year-old has made it home. Abdul was granted asylum, and a residence permit in May, less than a year after entering the country after a perilous trip across Europe.
He's now enrolled at a college in London and plans to make a career as a dental technician.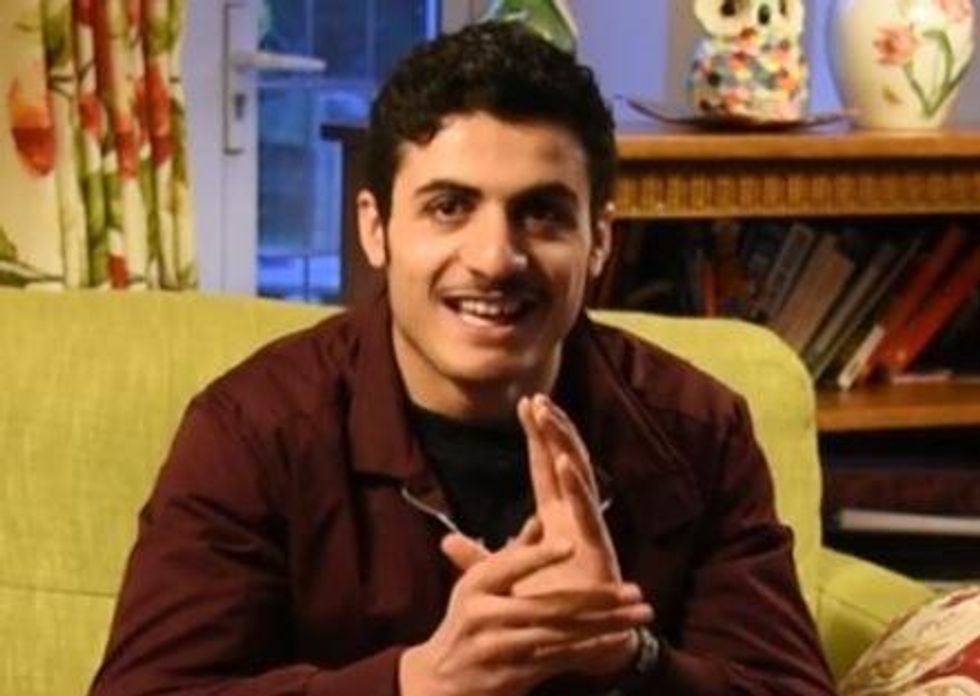 Picture: indy100/The Independent
After arriving, Abdul lived in Surrey with Ingrid Plowman - a woman he did not know - for five months.
The Dutch-born single mother-of-three opened her house to him with help from Refugees At Home, an organisation which sets up British people who have a spare room in their home, with asylum seekers and refugees needing accommodation.
For Ingrid, who hosted six refugees in the past eight months, the idea to let refugees into her home was one that hadn't occurred to her immediately.
She told indy100 in a recent interview:
I wanted to do more for refugees so I went to Calais and gave out clothes and blankets.
A chance meeting with Abdul while at the refugee camp in the summer launched what was to become a lasting friendship.
Picture: indy100/The Independent
Abdul left Syria in 2013 – at just 16 years old – a departure motivated by the looming prospect of serving in the Syrian army.
Syrian men face conscription into the regime's armed forces at 18, and many flee the country for fear of being ordered to fire on civilians. According to the Forced Migration review, men who are caught attempting to avoid military service face "prolonged detention, torture or death".
Initially, Abdul fled to nearby Lebanon, where he stayed for 18 months until the end of 2015, but it quickly became clear that the boy, who had been studying for his International Baccalaureate, would not be able to continue his studies.
Abdul's older brother suggested they travel to Europe, with hope of better opportunities, for both education and work. And so they embarked on a 50-day trek over land, by boat and train, across nine countries in order to get to Britain.
The pair arrived at the border between France and Britain, and the final stretch of travel forced them to jump onto a Eurostar train.
When it sped up, I was hanging on the carriage. My back was hurting. If I let go, I die. There were many people who were hanging with me, but ended up falling off.
After a few weeks living out of hotels, he got in touch with Ingrid, who referred him to Refugees at Home. Ingrid was keen to take him in, and the organisation was quick to oblige.
Ingrid said:
Because we have guests in our house, it's brought my family more close together; my [two older children] come home more often, and we spend more time with each other.
Although her children were completely on board with her decision to host, other people in her life were not as understanding.
People were worried. They said 'it could be really dangerous' [and even] talked about the possibility of Isis. I have lost a few friends - lost contact [completely].
Ingrid insists, however, that the other hosts in her area provide her with rich friendships, and she says she has gained "far more" - a community, a better understanding of culture, and a new member of the family.
Her family is very open to Abdul's faith, and eager to learn more about Islam.
We celebrated Ramadan together – every evening my son Ross would shout and say 'the sun has set, we can eat now!'
Ingrid's daughter taught Abdul to play the piano, and her son also helped him learn English.
Of hosting, Ingrid was adamant:
Abdul [has become] like my son. Just try it – it turned out to be an amazing experience for me!
If you are interested in hosting, or volunteering, you can contact Refugees at Home for more information.