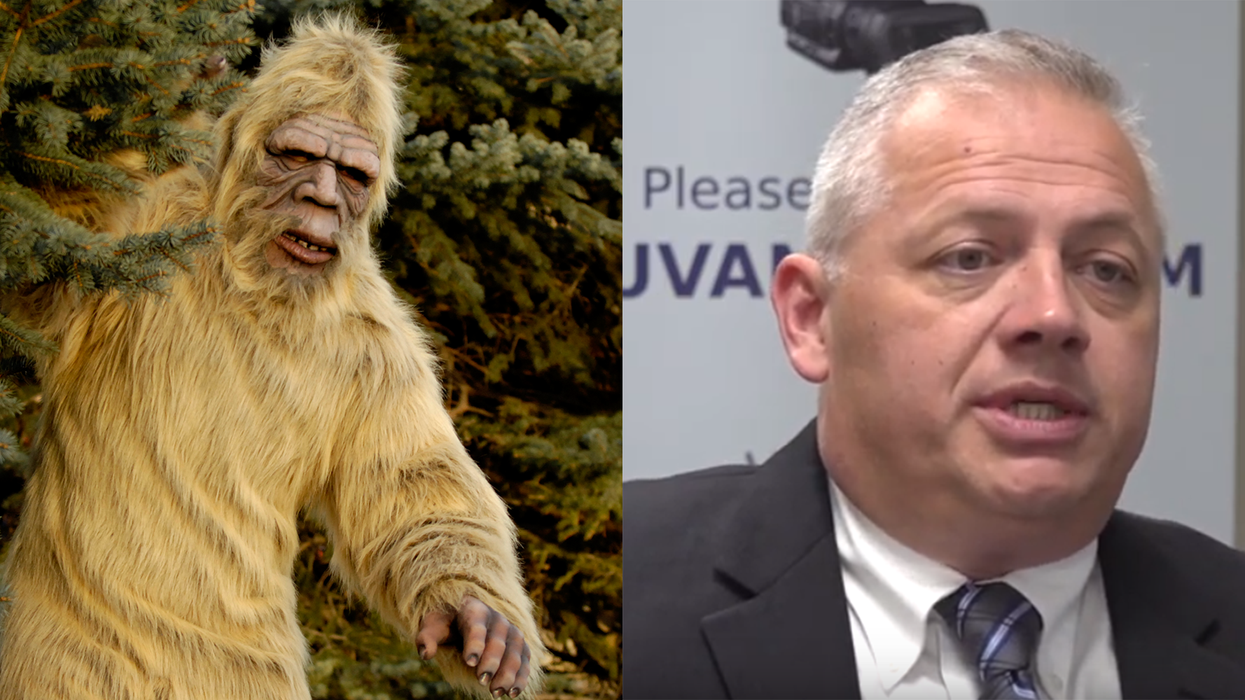 iStock Getty / WUVA NEWS / YouTube
A Republican candidate for the US House who was accused of sharing 'Bigfoot Erotica' - yes, that's a thing - has actually won the seat.
Denver Riggleman, a Republican, won Virginia's 5th District, defeating his Democratic challenger Leslie Cockburn, with 53.3 per cent of the vote, over her 46.7, according to the New York Times.
Riggleman hit the headlines back in July, when Cockburn, an award winning journalist, and mother of actress Olivia Wilde, shared a somewhat compromising screenshot from his private, personal Instagram account.
The image was a hand-drawn picture of 'bigfoot' with a 'censored' box covering its, erm, dignity.
Cockburn posted the image to her Twitter account, accompanied by the message:
My opponent Denver Riggleman, running mate of Corey Stewart, was caught on camera campaigning with a white supremacist. Now he has been exposed as a devotee of Bigfoot erotica. This is not what we need on Capitol Hill.
My opponent Denver Riggleman, running mate of Corey Stewart, was caught on camera campaigning with a white supremac… https://t.co/whqNSpafFF

— Leslie Cockburn (@Leslie Cockburn) 1532904392
At the time of the exposé, Riggleman responded to the allegations that he was a devotee of 'Bigfoot erotica', by denying the claims.
Speaking to USA Today, he said:
It has nothing to do with Bigfoot erotica.
He added:
My buddies thought this pic was fitting for my birthday next week and to celebrate my new book release in a month or two.
Riggleman reportedly released a tome entitled The Mating Habits of Bigfoot and Why Women Want Him - and to be honest, from the title, we're not quite clear how this doesn't fall under the 'erotica' category, but having not read the book, find it hard to give a definitive take.
In fact, it's unclear as to whether the book was ever even published, as it isn't available on Amazon, or other online retailers, reports the Daily Dot.
At the time of the revelations, it was also reported by Buzzfeed that Riggleman was following a number of offensive Facebook pages that included rape jokes, however he responded that he didn't remember liking them, and subsequently unfollowed them.
And, before you dismiss it, Bigfoot Erotica is a 'thing'. Yep, some people are seriously into it, with examples including a 1977 erotic paperback Nights with Sasquatch, and a 1981 short porn film entitled The Greek.
Bigfoot erotica has also flourished online in recent years, with authors such as Virginia Wade championing the genre.
Whatever 'floats your boat'.
HT Daily Dot