Two Reuters journalists have been sentenced to seven years in prison after a Myanmar court found them guilty of breaking a law on state secrets following their reporting on the killing of Rohingya men and boys.
Wa Lone and Kyaw Soe Oo pleaded not guilty to violating a colonial- era Official Secrets act, claiming that they had been framed by the police.
The Reuters reporters were arrested on 12 December while they were investigating the death of 10 Rohingya, in addition to a number of alleged abuses committed against the ethnic group with the involvement of soldiers and police in Inn Din, a village in Rakhine state.
The military admitted killing the 10 Rohingya boys and men in Inn Din after they arrested the two journalists.
The case has highlighted the threat to press freedom in a country led by Nobel Peace laureate Aung San Suu Kyi.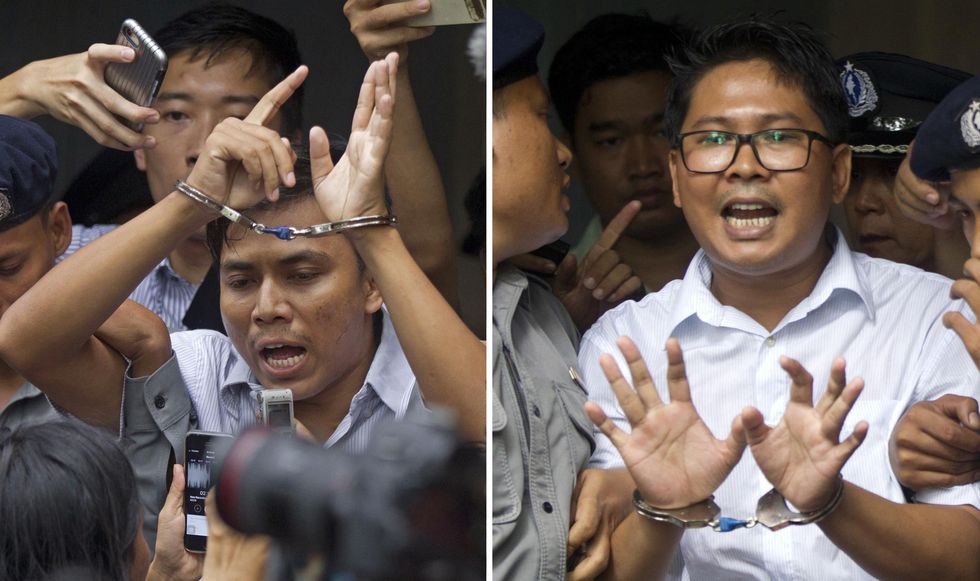 (Picture: Associated Press/Wa Lone and Kyaw Soe Oo)
Speaking to reporters, Wa Lone said:
We will face it [the verdict] with stability and courage.
Kyaw Soe Oo added:
What I want to say to the government is: you can put us in jail, but do not close the eyes and ears of the people.
Reuters editor in chief Stephen J Adler expressed his sad sentiments, calling the decision an 'injustice':
'Today is a sad day for Myanmar, Reuters journalists Wa Lone and Kyaw Soe Oo, and the press everywhere.'
We will not wait while Wa Lone and Kyaw Soe Oo suffer this injustice and will evaluate how to proceed in the coming days, including whether to seek relief in an international forum.
The case has elicited outrage from human rights organisations, and social media is blowing up with people's anger.
Kristian Schmidt, the EU's ambassador to Myanmar wrote on twitter:
The prison sentences of Wa Lone and Kyaw Soe Oo should be reviewed and they should be released immediately and unconditionally.
The United Nations Office of the Resident and Humanitarian Coordinator released a statement condemning the charges.
A free press is essential for peace, justice and human rights for all. We are disappointed by today's court decision.

The United Nations consistently called for the release of the Reuters journalists and urged the authorities to respect their right to pursue freedom of expression and information. Wa Lone and Kyaw Soe Oo should be allowed to return to their families and continue their work as journalists.
The crisis is a black mark on the country's record over the government's alleged genocide of Rohingya Muslims.
Phil Robertson, Deputy Asia Director of Human Rights Watch, demanded to know why journalists were arrested for 'doing their job'.
Egyptian author and women's rights activist Mona Eltaawy shared a tribute to the journalists
Cairo Bureau Chief for the Washington Post, Sudarsan Raghavan pointed out Suu Kyi's silence over the sentence
The Rory Peck Trust, an organisation that supports freelance journalists abroad, called the sentence a 'worrying development for press freedom'
Labour MP Hilary Ben called it a 'suppression of a free press'
Others are sharing the investigation that got the pair arrested
People are demanding for the Myanmar government to be held accountable for the deaths of thousands of Rohingya Muslims
The sentencing comes just weeks after United Nations experts called for Myanmar's army commander, and other top generals to face trial in an international court for genocide against Rohingya Muslims, following a yearlong investigation.
More than 700,000 Rohingya have fled across the country's western border into Bangladesh since Myanmar's army began its brutal crackdown on the minority in late 2016.