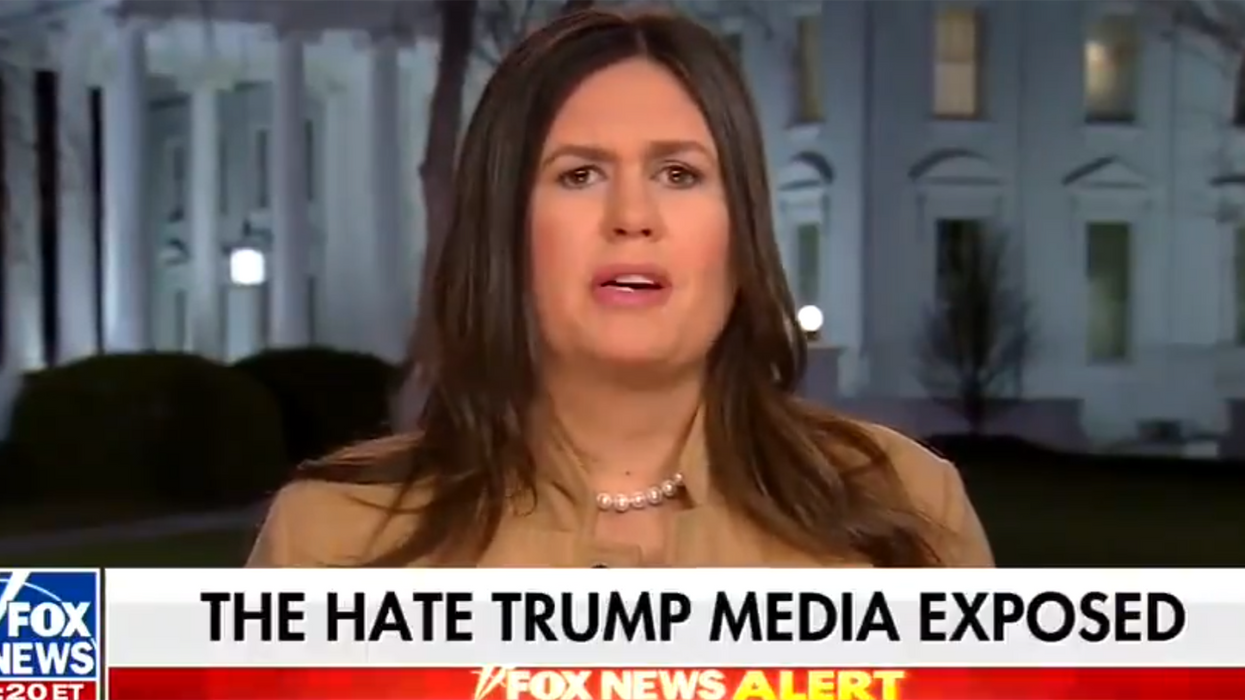 @TPMLiveWire / Twitter
The White House has doubled down on its support for the Covington Catholic High School students, by slamming the media for their coverage of the stand-off.
During an interview with Fox News' Sean Hannity on Tuesday evening, the Trump administration press secretary Sarah Sanders again criticised the media for its coverage of the viral stand-off between students from Covington Catholic and a Native American protester named Nathan Phillips at the Indigenous People's March in Washington on 18 January.
Speaking to Sean Hannity on Fox News about what she brands as 'fake news', she said:
We see it time and time again when they run out there with these outrageous ridiculous stories, one person reports it to begin with, and then they all jump on it. 

We saw it again with the Covington students. 

I've never seen people so happy to destroy a kid's life 
Needless to say, Twitter had a lot to say about her 'take' on the situation.
Some saw it as the White House placing a higher value on the lives of white, privileged children over everyone else.
Others called out the Trump administration for the sheer hypocrisy of the statement.
And gave some harrowing examples.
Nick Sandmann found international infamy after a video of him confronting a Native Ameican man went viral. In the video, Sandmann can be seen standing very close to Phillips while he wears a 'Make America Great Again' hat.
Since the video went viral, the school the boy attended, Covington Catholic High School and the Diocese of Covington, released a joint statement:
We condemn the actions of the Covington Catholic High School students towards Nathan Phillips specifically, and Native Americans in general, Jan. 18, after the March for Life, in Washington, D.C.

We extend our deepest apologies to Mr. Phillips. This behavior is opposed to the Church's teachings on the dignity and respect of the human person
Sandmann has refused to apologise for the alleged harassment. Speaking to Savannah Guthrie on the Today Show, he said:
As far as standing there, I had every right to do so. 

My position is that I was not disrespectful to Mr. Phillips. I respect him, I would like to talk to him.

I mean, in hindsight, I wish we could've walked away and avoided the whole thing.
President Trump has made his support for the students clear. Taking to Twitter, he wrote:
Looking like Nick Sandman [sic] & Covington Catholic students were treated unfairly with early judgements proving out to be false - smeared by media. Not good, but making big comeback!
More: 'MAGA hat boys' reportedly filmed harassing girls before stand-off with Native American man
More: Covington Catholic High School students 'wore blackface' to basketball pep rallies