As Sadiq Khan assumes his role as Mayor of London, critics have been quick to point out the fact that London, the capital of a Christian-majority country, is being led by a Muslim.
Many have taken to social media to air their grievances:
As a counter to this sort of rhetoric, Emlyn Pearce posted the following on Facebook: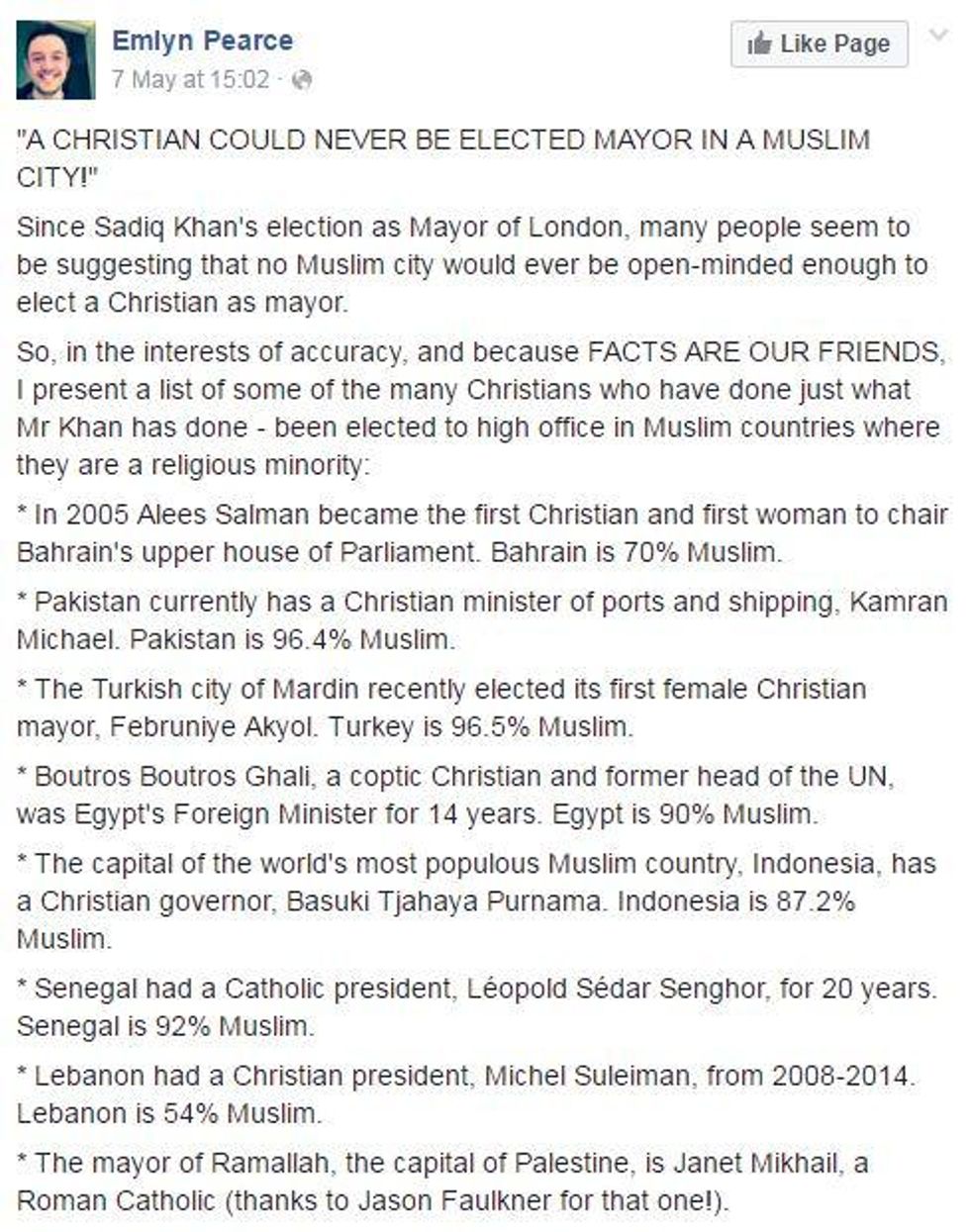 And, well, it turns out he is correct:
1. The Turkish city of Mardin has a female Christian co-mayor Februniye Akyol. Turkey is 99.8 per cent Muslim.
Picture: Middle East Eye/YouTube
Februniye Akyol, at 25 years of age and a member of the Peace and Democracy Party, a Kurdish political party, was made co-mayor of the city in March 2014.
2. Indonesia's capital city Jakarta has a Christian governor, Basuki Tjahaya Purnama. Indonesia is 87.2 per cent Muslim.
Picture: Official NET News/YouTube
Basuki has expressed that he will be running for a second term during elections in November.
3. In Bahrain, Alees Thomas Samaan became the first Christian and first woman to chair the country's upper house of Parliament, the Shura Council in 2005. Bahrain is 70.3 per cent Muslim.
Picture: Foreign and Commonwealth Office/Flikr, Alees, middle
She has held various roles in the council, including being an advisor and Vice Chairman of the Services Committee.
4. Pakistan currently has a Christian minister of Ports and Shipping, Kamran Michael. Pakistan is 96.4 per cent Muslim.
Picture: Murtaza Ali Shah/YouTube
Member of the Senate of Pakistan, Kamran is also a member of the committees on Climate Change, Textile Industry and National Food and Health.
5. In Egypt, Boutros Boutros Ghali, a Coptic Christian, was the country's Foreign Minister for 14 years. Egypt is 90 per cent Muslim.
Picture: Jean-Pierre Muller/Getty
Ghali was the sixth Secretary-General of the UN from 1992-1997 and attended the Camp David Summit with a role in the negotiation process. He was a prolific author and scholar with various accolades, including several degrees over the course of his career.
6. The Palestinian city of Ramallah had a female Roman Catholic mayor, Janet Michael.
Picture: Archive.org
Janet Michael is the former mayor of Ramallah. She continues to be a council member of the Ramallah municipality.
7. Senegal had a Catholic president, the late Léopold Sédar Senghor, for 20 years. Senegal is 95.4 per cent Muslim.
Often referred to as Senegal's "poet president" Senghor was a pioneer for democracy and a free press, and his legacy continues to live on today.
8. Lebanon had a Christian president, Michel Suleiman. Lebanon is 54 per cent Muslim.
Picture: Pool/Getty
A decorated military Lieutenant, he later served as president from 2008 – 2014.
So the next time someone asks you to prove it, direct them to this post.