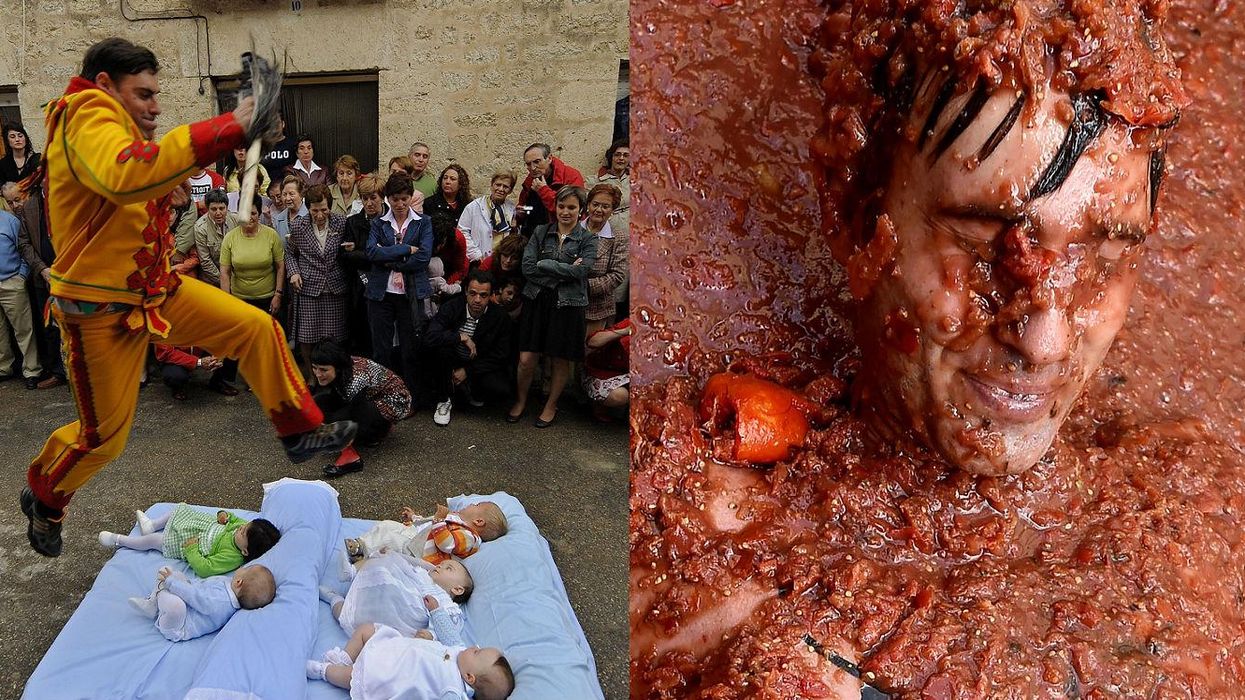 Jose Jordan/AFP/Denis Doyle/Getty
Each year in May, the Monday after Pentecost is a bank holiday. This year it falls on May 27th, allowing haggard office workers the opportunity to don a pair of shorts and potentially enjoy a little bit of precarious British sunshine.​
There are many bank holidays celebrated across the UK and the world, as well as many more days of national observance.
Here are some of the most interesting – with a short explanation about why they are celebrated.
1. Cooper's Hill Cheese-Rolling and Wake – Last Monday in May, Spring Bank Holiday (Gloucestershire)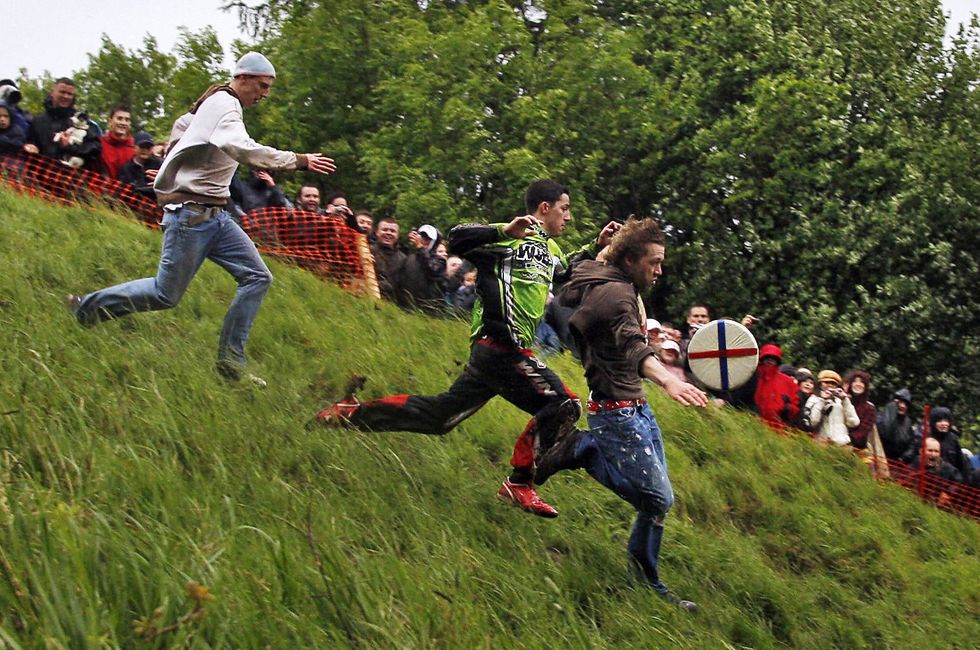 Competitors throw themselves down Coopers Hill in pursuit of a round Double Gloucester cheese on May 26, 2008 during the annual cheese rolling and wake near Gloucester 
This is an annual event held on the Spring Bank Holiday in Gloucester, England. It used to be limited to the village of Brockworth but has since been celebrated all across the world including in the United States, Australia and New Zealand.
The race follows a round of Double Gloucester Cheese which is sent rolling down a hill, and competitors have to run after it, with the person over the finish line at the bottom being crowned the winner.
The ceremony has two possible origins - the first is said to have evolved from a requirement for maintaining grazing rights, and the second is that it has pagan origins.
2. Burns Night – 25 January (Scotland)
Observed in Scotland alone, Burns Night is the celebration of the life and poetry of the Scottish poet Robert Burns, who lived from 1759 -1796.
3. Day of the Sea – 23 March (Bolivia)
This day commemorates the loss of the "Litoral" that is an extensive deserted region some 120,000 square kilometres in size which runs along the Pacific Coast. Bolivia lost this area of sea in the War of the Pacific, which involves Bolivia, Peru and Chile.
4. Baby Jumping Fiesta – 23 June (Villages of Castrillo de Murcia near Burgos, Spain)
Also referred to as El Colacho, the traditional Spanish holiday dates back to 1620 and takes place annually to celebrate the Catholic feast of Corpus Christi in Castrillo de Murcia in the province of Burgos.
The religious celebration has men dressed as the Devil in red suits jump over babies born during the previous 12 months of the year, who lie on mattresses in the streets.
5. National Spaghetti Day - 4 January (United States)
This one, though an unofficial holiday, is celebrated nationwide, a bit like Pancake Day. It's quite simple - you celebrate the day by consuming spaghetti. There is a lot of debate surrounding the origin of this day.
6. Dragon Boat Festival – 5 May (China)
The Duanwu Festival is a traditional holiday which occurs around the summer solstice and celebrates fealty and familial piety. It is said to have originated in southern central China 2,500 years ago, around the same time the Olympic Games began in ancient Greece.
7. National Pig Day – 1 March (America)
National Pig Day is an event held annually to, quite simply, celebrate pigs in the United States. The holiday was celebrated in 1972 by sisters Ellen Stanley, a teacher in Texas, and Mary Lynne Rave, from North Carolina. The purpose of the day is:
To accord the pig it's rightful, though generally unrecognised, place as one of man's most intellectual and domesticated animals.
8. La Tomatina – last Wednesday of August (Bunol, outside of Valencia)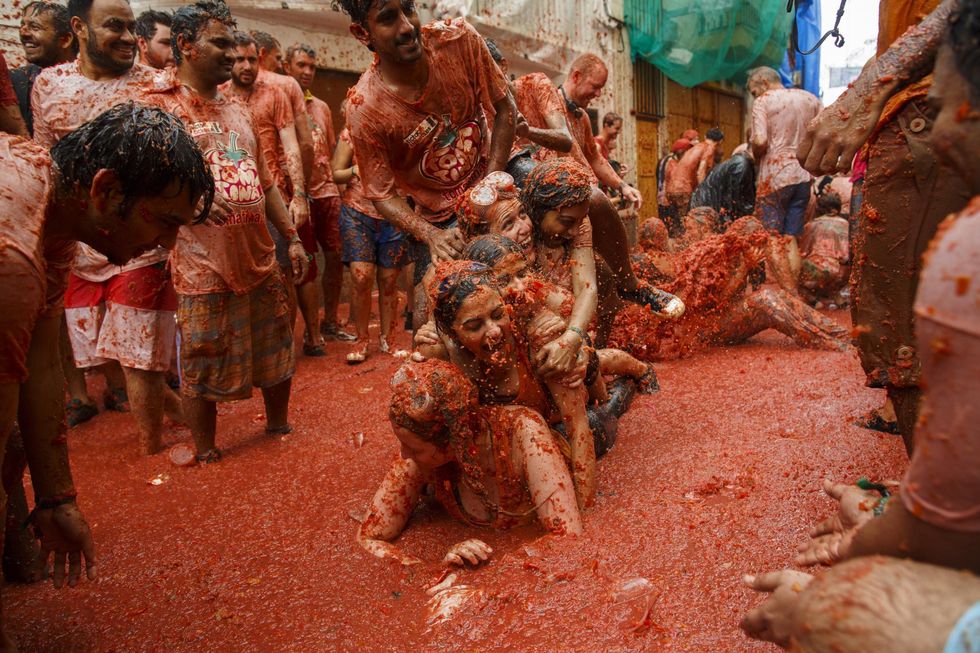 La Tomatina (Picture: Blazquez Dominguez/Getty)
This is a festival held in the Valencian town of Bunol, in the East of Spain. Participants throw tomatoes at each other. That's it.
Since 1945 the event has been held on the last Wednesday of August and has quite a funny origin. Teenagers had gone to the Giants and Big-Heads figures parade when, after an accident involving one of the figures' heads falling off, they took to a nearby vegetable stall and began throwing tomatoes at each other.
9. Black Day - 14 April (South Korea)
Unlike "White Day" which compels women to give homemade gifts to men (one month after Valentine's day, when the reverse is expected), "Black Day" celebrates singles. On that day, single people are encouraged to eat Jajangmyeon, noodles with black sauce.
10. Melon Day – Second Sunday in August (Turkmenistan)
Melon Day is an annual holiday celebrated in Turkmenistan, dedicated to celebrating the country's muskmelon.