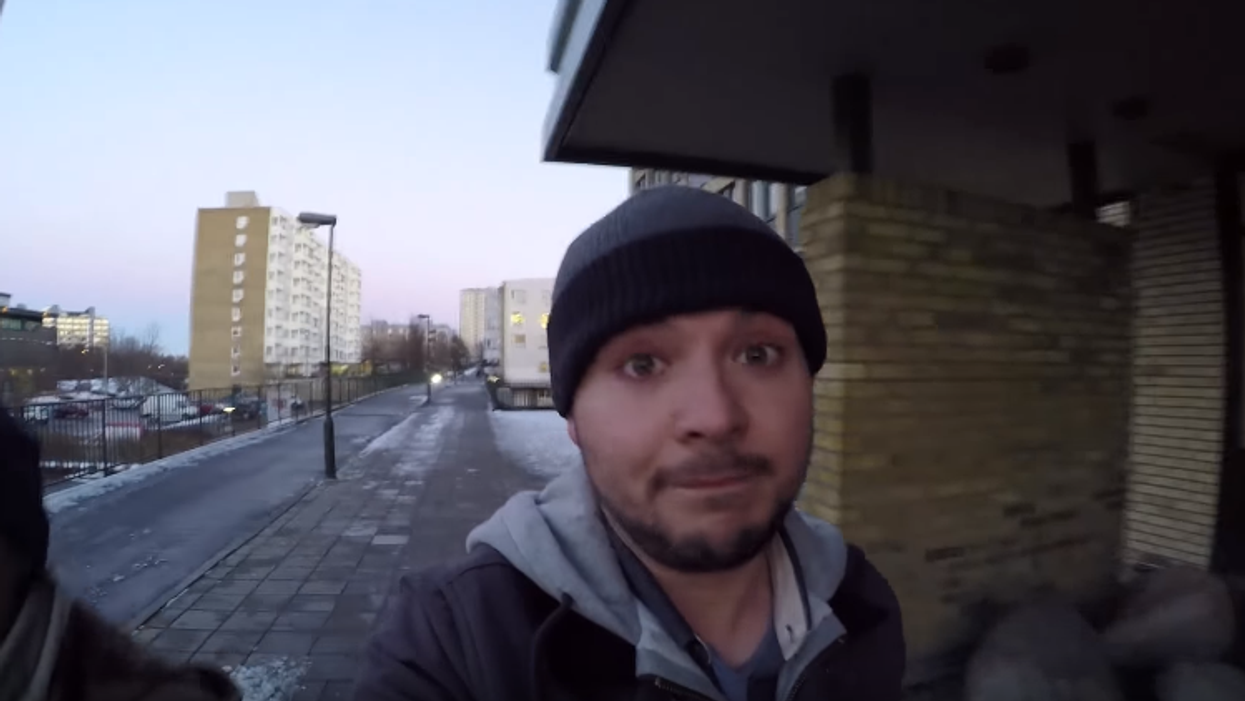 Tim Pool / YouTube
Earlier this month, Paul Joseph Watson, a writer for right wing website Infowars, promised a trip to Malmo in Sweden for any journalist who claimed it was safe to visit there.
The reason behind this rather generous sounding offer? Watson claimed the area was filled with "crime-ridden migrant suburbs," and wasn't as safe as the 'left' claimed.
Any journalist claiming Sweden is safe; I will pay for travel costs & accommodation for you to stay in crime ridden migrant suburbs of Malmo

— Paul Joseph Watson (@Paul Joseph Watson) 1487592195
His tweet came after Trump's confusing comments relating to an incident in Sweden, which he later said referred to something he saw on television.
Trump said Sweden was "having problems like they never thought possible," in relation to immigration and crime. But while Sweden has had a spike in immigration over the last decade, there is currently no data to support Trump's insinuation that crime has increased because of this.
Watson donated $2,000 to US-based journalist Tim Pool's GoFundMe page, who then went on to crowd-fund the rest of the money for a trip there.
I have personally donated $2,000 for journalist @Timcast's investigation of Sweden's migrant crime wave. 😎… https://t.co/D4ZYHGE129

— Paul Joseph Watson (@Paul Joseph Watson) 1487609928
And now, Pool has reported back.
According to The Local, Pool told news agency TT:
Many would say that Sweden's liberal policies are evidence that they work and would be of great benefit to the USA. Now Trump is using the issue of immigration to condemn that argument. The connection of crime in Sweden to immigration and refugees is an idea that has existed in the US for several years, even before Trump.

Someone shouted at us and pointed a finger. A takeaway pizza restaurant owner did not want to let in 'some fucking journalists'. But if people are really afraid to come here, then I would recommend that you never come to Chicago. Chicago has about 750 murders each year.
So much for that crime problem, then.
If you want to see Pool in action, he's documenting the trip on his YouTube channel.
In one video, Pool goes to the places known as the most dangerous parts of Malmo, to talk to a former refugee about the refugee crisis and how Muslims feel living in Sweden.
Update 01/03/2017 1500GMT
Since publication of this article Pool has tweeted that he's got into some trouble while reporting in Sweden.
Pool alleges that he was followed by masked men, and had to be escorted by police to his car:
He tweeted:
I honestly thought I would be able to walk around the neighbourhood no problems. I was wrong.
Pool also talks about the county's alleged "no-go" zones in his latest video:
indy100 has contacted Tim Pool for further comment and verification of the above information.