Getty Images; Press Association
You know Theresa May's bizarrely low curtsy?
Yep, that's the one: where she looks as if she's lunging her legs to death at a hardcore gym class, rather than attending a formal ceremony.
If you can't recall, you're in for a treat, as the curtsey has risen - well, lowered, seriously lowered - itself into our lives once more.
As the prime minister greeted Prince William at a ceremony marking the centenary of the First World War Battle of Amiens, she sunk so low that her knee almost hit the floor.
Yet, somehow, she still looked steady nonetheless. It is strangely impressive.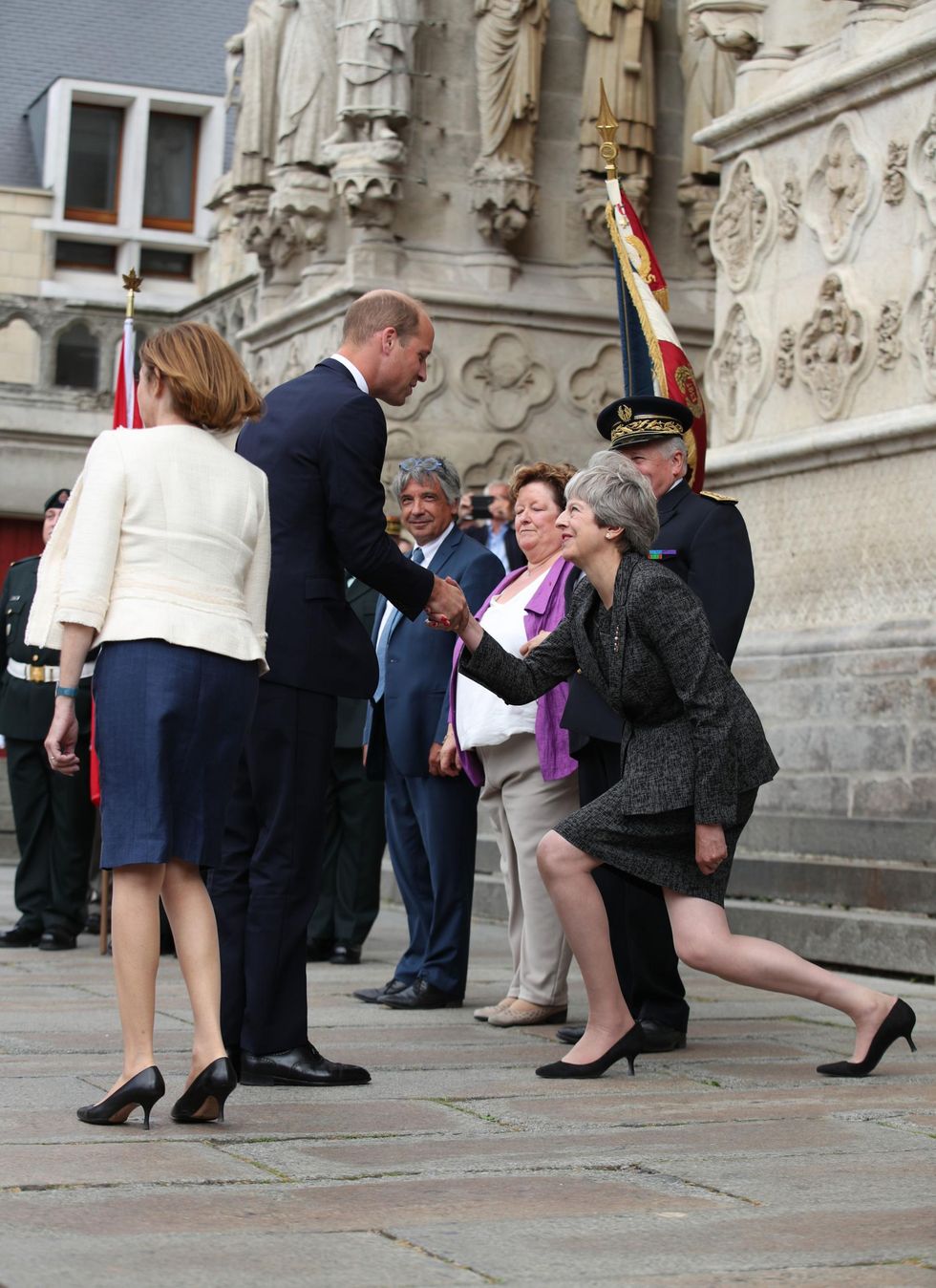 Picture: PA
The internet is in awe of the almost sarcastically low depth of the curtsy.
theresa may's impressively low/awkward curtsy strikes again https://t.co/uSmClCVM03

— David Mack (@David Mack) 1533737464
https://t.co/PvkFXPnifc

— David Mack (@David Mack) 1533737756
An opinion: Theresa May doing a curtsy is actually just Gollum in a skirt. (@fatbobmoonbeam) https://t.co/xcthenMa96

— Alice Tai MBE (@Alice Tai MBE) 1529800793
Theresa May curtsy looks like she's holding down about to do an uppercut on Mortal Kombat https://t.co/xwJiMeALby

— jude (@jude) 1529767668
*me getting off the bus* https://t.co/2ZxevsjSMz

— David Mack (@David Mack) 1529767053
When she met the Queen.
honestly this is an impressive lunge https://t.co/gbNsLxiF2S

— David Mack (@David Mack) 1529774260
And an agonisingly large number of other times.
Seeing Theresa May curtsy for the Royal Family is one of the funniest (& most awkward) things I've seen for a while… https://t.co/FK30dUZIEP

— A (@A) 1529650011
People just can't get over it.
a canny stop laughing at these man she's lit a big decrepit spider https://t.co/opgWVUOzl8

— rhiannon (@rhiannon) 1529753348
if u imagine that these are pics of her mid walk these get 10283827 times funnier https://t.co/435SfX3KV3

— alice (taylors version) (@alice (taylors version)) 1529765128
Say what you want but that's a strong and stable Jazz fourth https://t.co/LaZpWmXj9Y

— Mary Scott (@Mary Scott) 1529745160
Perhaps we should thank May for gifting us with a touch of hilarity among the Brexit-laden misery currently wafting out of Westminster, not to mention the "blatant Islamophobia" from her former secretary, Boris Johnson. How kind.