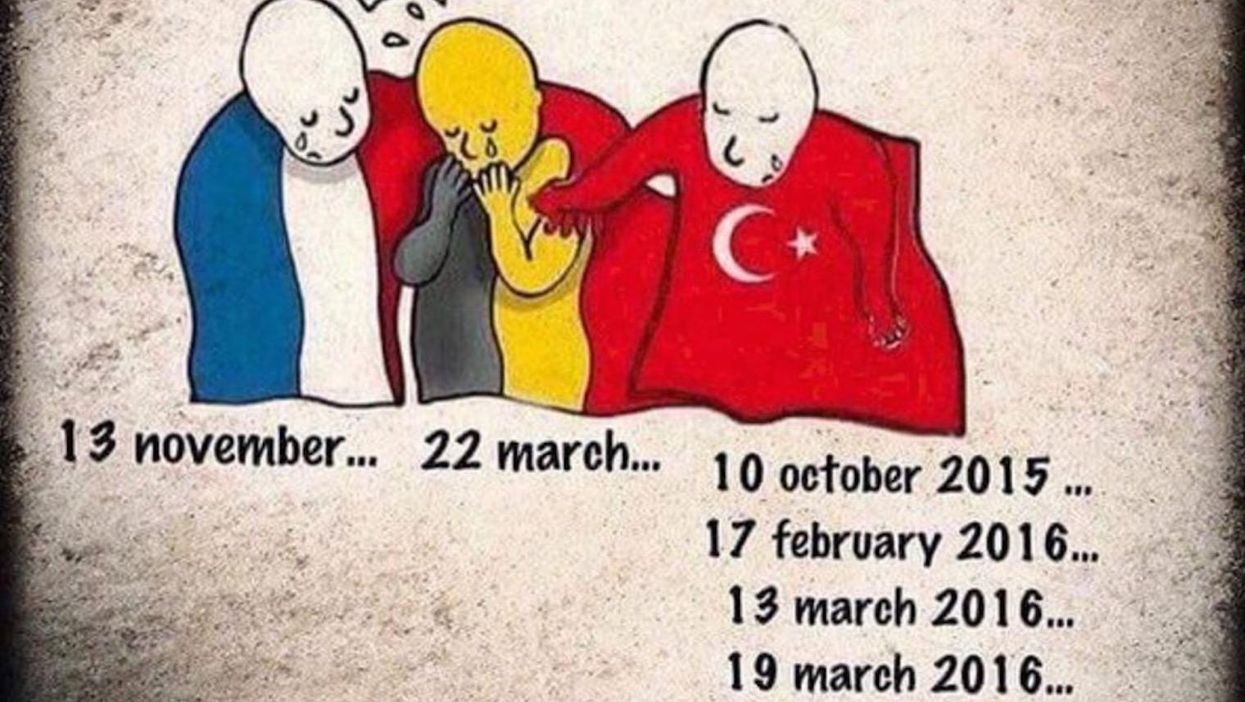 French newspaper Le Monde published a cartoon on Tuesday morning to show support for the people of Brussels following terror attacks in the city.
The original cartoon by Jean Plantureux (whose pen name is Plantu), depicted the flags of the two countries enveloped, with the dates of the corresponding attacks written beneath.
However, many have pointed out that many people have made public displays of support for Belgium and France, while recent bombings in Ankara and Istanbul in Turkey have been relatively underreported - at least in comparison to the large amounts of interest in the Brussels and Paris attacks.
Yasmin Ahmed wrote in an Indy Voices column:
There is unease as we share the cartoon by Plantu showing France expressing solidarity with Belgium.

Where was our cartoon for those who have died in Turkey at the hands of terrorists? Why didn't Downing Street raise the Turkish flag after the atrocities in Ankara?
This cartoon, riffing off Plantu's original, is being shared on social media:
It features four dates of recent terrorist attacks on Turkey:
Isis ordered the suicide bombings that killed more than 100 people in the Turkish capital on 10 October 2015, prosecutors said, while at least 28 killed and 61 injured in a car bomb on 17 February 2016.
Thirty-seven people were killed and 125 injured in a car bomb on 13 March 2016, while five people were killed and over 30 injured in an attack on İstiklal Avenue, also known as Istiklal Street, in Istanbul just last week.
Pointing out the seeming disinterest in the recent attacks in the Turkish cities has become a trope on social media following the attacks in Brussels: