As you have no doubt noticed, we are currently in the process of being lightly barbecued by the sun.
With the Met Office tipping temperatures to soar as high as 39C on Thursday, Public Health England is advising the great British public to stay hydrated, seek the shade, get liberal in the application of sun cream and even stay at home from work where possible rather than risk the commute.
It's little better on mainland Europe, where Belgium and the Netherlands saw the mercury hit 38.9C and 38.8C on Wednesday.
While climate change deniers insist freakish blips like the present heatwave are insignificant and not part of a worrying broader pattern, it's sobering to look back at the Met Office's records for the month of July, which date back to 1948 and the days of post-war rationing. Not really that long ago when you think about it.
The chart below illustrates the average daily temperature for July recorded at the Heathrow Airport weather station - its closest to London - over the last 70 years, a figure that has risen from 21.5C in 1948 to 28.3C in 2018.
While that 7C increase has happened gradually over time - and is no less significant for that - the 11C difference between last year's average to tomorrow's projected high of 39C is pretty frightening.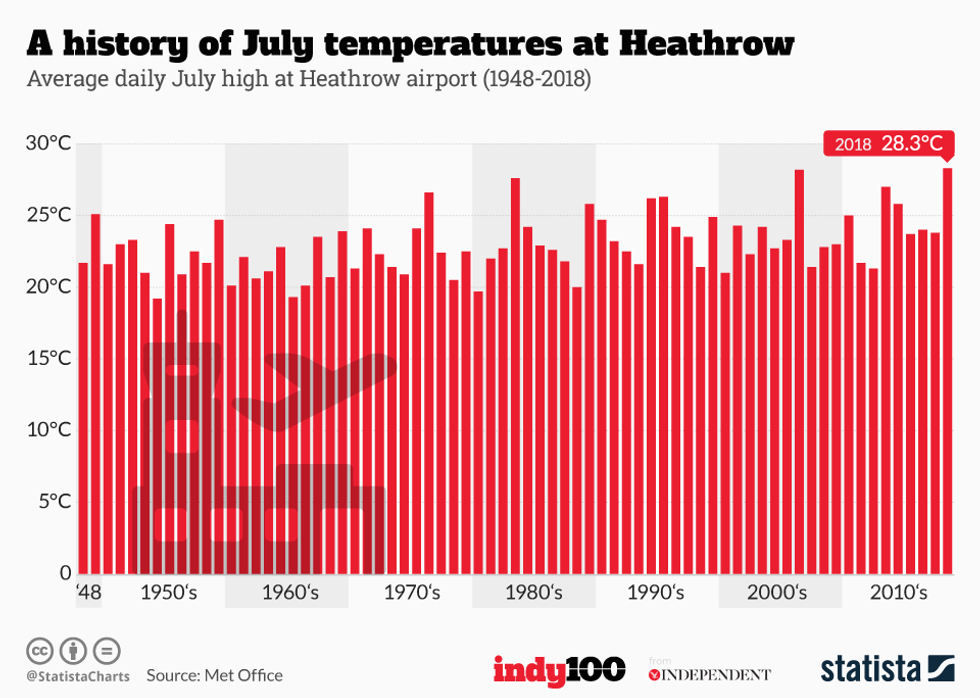 A chart illustrating the average daily temperature for July for every year dating back to 1948, indicating just how drastically Thursday's forecast exceeds the norm
Current wisdom on climate change suggests the international community needs to take action by 2030 if we are to contain global warming to a manageable increase of 1.5C from present levels.
If we fail to achieve significant multilateral action within the next 11 years, an increase of 2C is considered to be highly likely by 2050 and an increase as high as 5C is anticipated by the end of the 21st century.
More: These climate maps show the terrifying scale of Europe's extreme heatwave