Zabelin/iStockphoto
Worrying, a national British pastime perhaps, but a new poll by Ipsos has compared the things that keep the world's nationalities awake at night.
The responses refer to the month of September, and are probably a good measure of what current events grabbed the attention of the participants.
Ipsos surveyed adults from Argentina, Australia, Belgium, Brazil, Canada, China, France, Britain, Germany, Hungary, India, Israel, Italy, Japan, Mexico, Poland, Peru, Russia, Saudi Arabia, South Africa, South Korea, Spain, Sweden, Turkey and the United States.
The results have been compiled by Statista.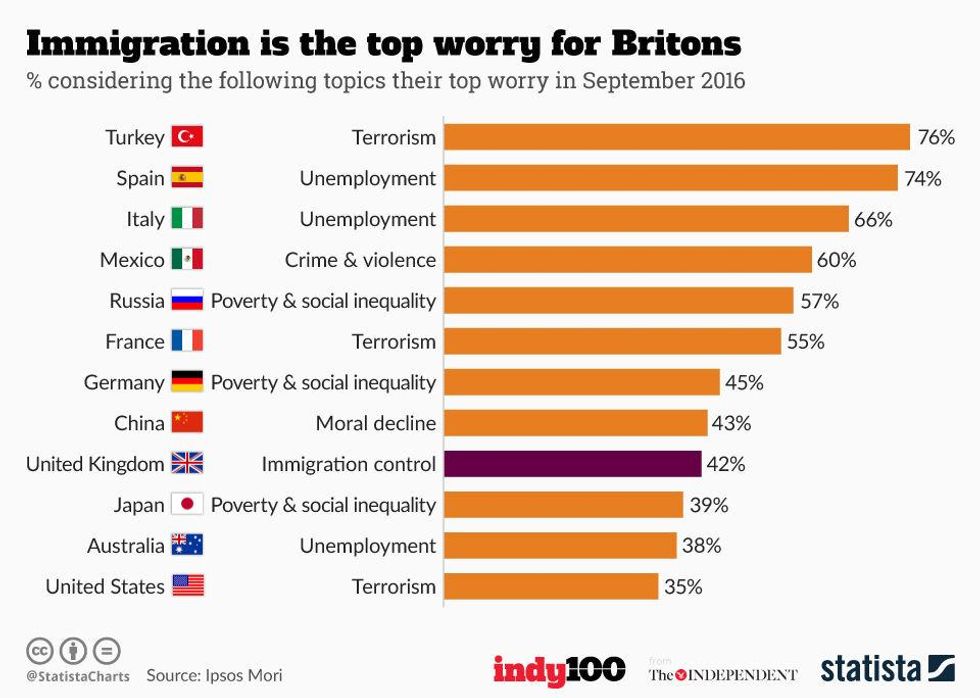 Picture:
The UK is concerned about controlling immigration.
Terrorism, unemployment, and poverty, featured as the top worry in multiple countries.
Britain had the unique top fear of immmigration control, China was concerned with moral decline, and Mexicans were most concerned about crime and violence.
According to Ipsos, healthcare was the second most frequently cited issue among Britons (34%).
For context, the top five worries for the citizens of the 25 countries polled were:
Unemployment (38 per cent)
Financial/Political corruption (34 per cent)
Poverty/Social inequality (33 per cent)
Crime and violence (31 per cent)
Healthcare (22 per cent)
More: 10 myths about the UK's 'migrant crisis', debunked