What's happened?
Two people, Zhang Fan, 29, and her father Zhang Lidon, 55, have been sentenced to death for the murder of Wu Shuoyan, a 37-year-old woman.
She was beaten to death with mops and chairs, and stamped on, in a McDonald's restaurant in Zhaoyuan, Shandong province, eastern China, on May 28, hence the media labelling of the story. The death sentences must be reviewed by China's Supreme Court.
A third person, Lu Yingchun, 39, received a life sentence, while Zhang Hang and Zhang Qiaolian, were jailed for ten and seven years respectively by the Yantai Intermediate People's Court in Shandong.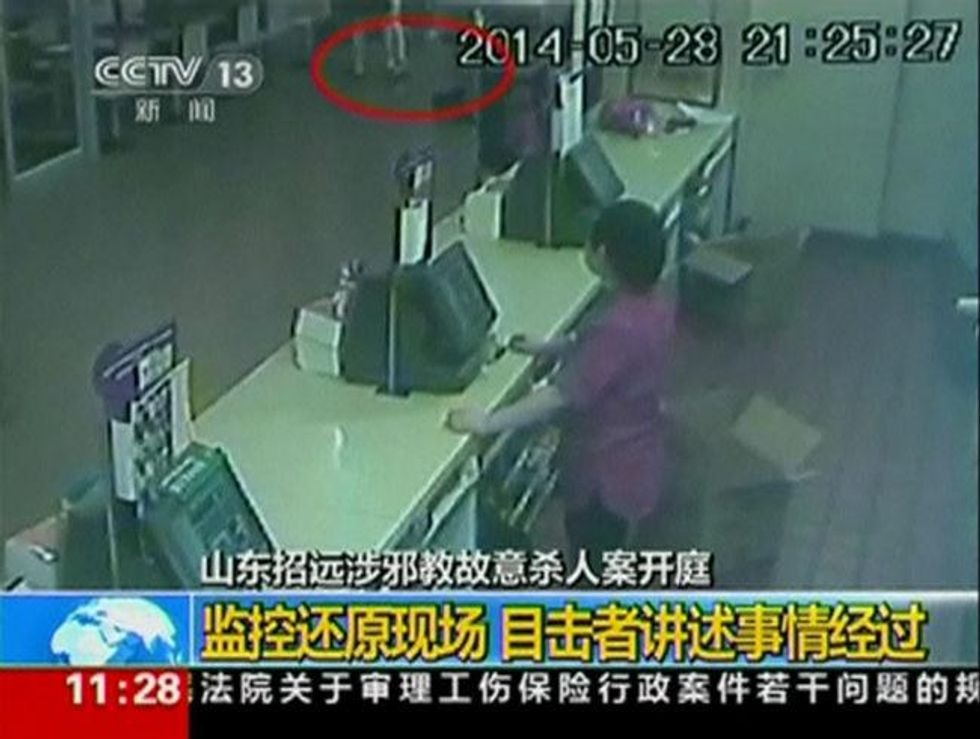 Security footage from the scene of the murder
What's the cult angle?
During the defendants' trial in August they claimed their victim was an "evil spirit" and they were acting in self-defence against a "demon's supernatural powers".
All five are members of Quannengshen, otherwise known as Church of Almighty God, one of 14 cults banned in China.
Adherents believe that founder Zhao Weisha's wife, Yang Xiangbin, is the resurrected Jesus Christ, and supporters have been told to battle the "Red Dragon"; interpreted as the Communist Party of China.
Zhao and Yang, who preached the world was going to end in 2012, are believed to have fled to the US in 2000.
Defendant Zhang Fan cries during the trial