In 1994 Yitzhak Frankenthal's son Arik, an IDF soldier, was murdered by Palestinian terrorists.
In the two decades since, Frankenthal has become a peace activist, setting set up the Fund For Reconciliation, Tolerance & Peace in memory of Arik and the Bereaved Family Forum to promote understanding between grieving Israeli and Palestinians families.
This week he spent three days standing opposite Israeli prime minister Benjamin Netanyahu's house, mostly in protest at the recent unrest at the Jewish and Arab holy site of the Temple Mount in Jerusalem. Frankenthal wanted his vigil to last longer but it was shut down by the authorities.
"I lost my son not because of Palestinians, but because there is no peace", he told i100.co.uk. "Even yesterday when a Palestinian killed an Israeli soldier it was not because of an accident or an illness - it was because Israel is doing terrible acts against Palestinians. They're reacting."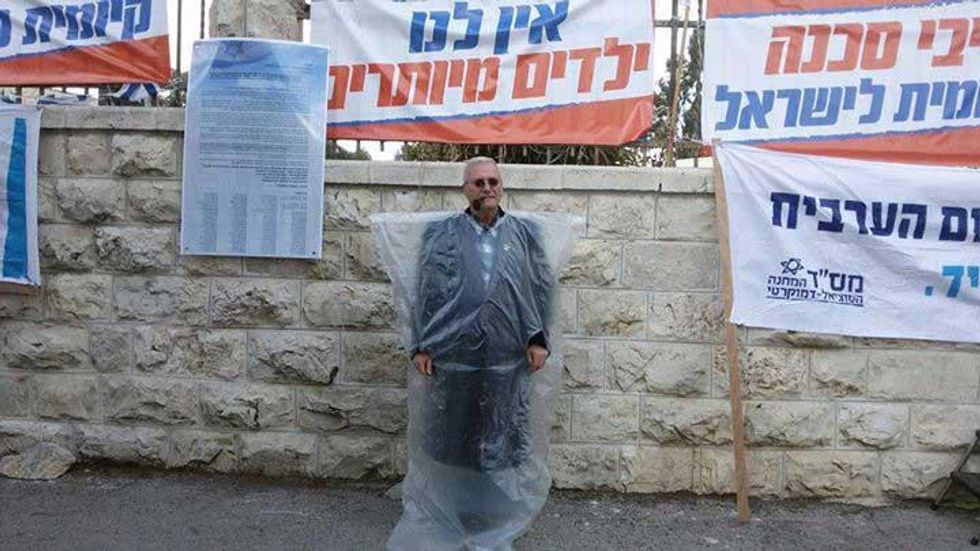 Yitzhak Frankenthal in front of Netanyahu's house. He was wearing the cagoule because it was raining. The signs read 'Netanyahu is the most danger for Israel' and 'we don't have spare children'. He said he was visited by hundreds of supporters during the vigil.
Top 100