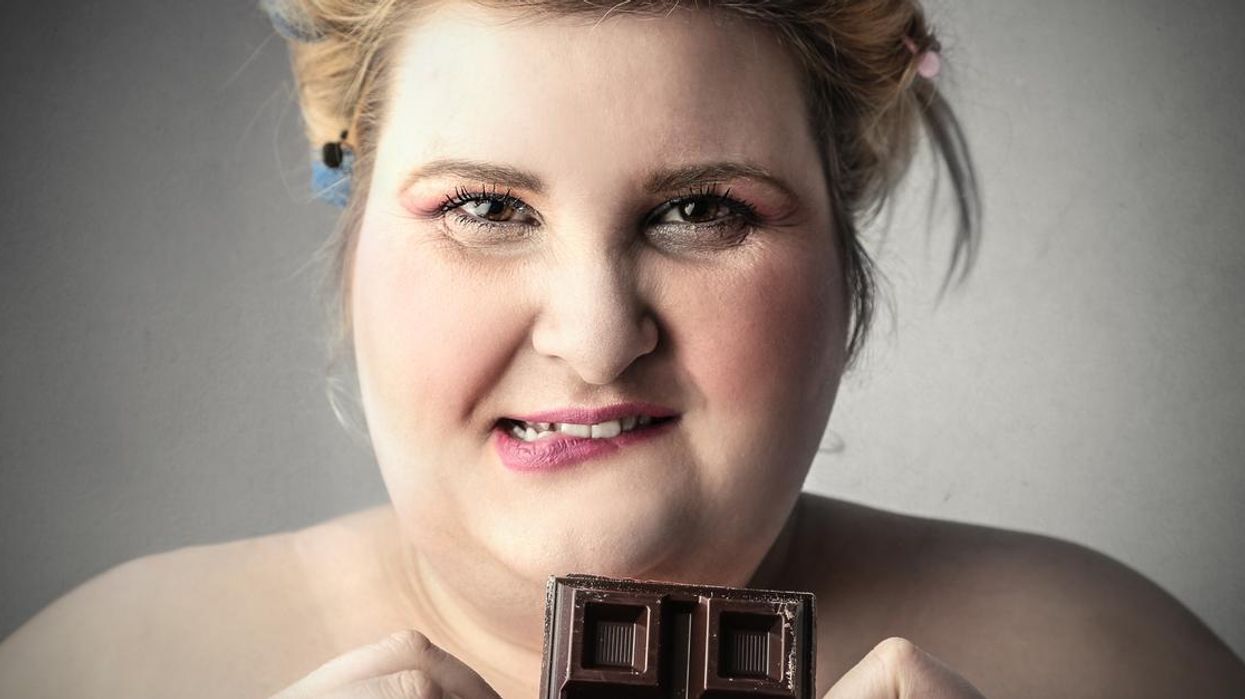 Getty Images/iStockphoto
A woman has shared her story of a former relationship where she was forced to eat more in order to indulge her boyfriend's fat fetish.
The Australian woman, referred to only as Alex, recounted her story to news.com.au,
Their relationship began back in 2012 when she was just 18.
Things started out well for Alex and her partner John, who asked her out after catching her eye when she was working at a coffee shop.
A couple of months into their relationship, 25-year-old John told Alex "You know I like girls with curves, right?"
Back then she was 65 kilos (10 stone) and 173 cm tall but John was determined to make Alex even curvier.
She told News.com.au:
I didn't understand what he meant at the time, or what was in store.

In some ways, it felt liberating to be with a guy that liked women a little curvier.

I thought, 'Great, I can eat whatever I want, and he's still going to find me attractive.'
John allegedly slowly started introducing little changes like encouraging her to eat dessert or have extra helpings.
Then he started to tell her that it would be sexy for both of them if she gained a few more kilos.
Alex was more than happy to go along with this plan if it meant that he still found her attractive.
We ate pretty healthily, lots of veggies, meat and not many carbs.

However, the big thing was portion size and dessert.

He'd eat a reasonably sized portion while mine was massive.
Eventually she grew to 75 kilos (11 stone) but John's actions had become way more possessive and controlling.
He began taking photos of her, weighing her before and after a meal and rubbed her stomach whilst eating.
In turn, he began finding her even more attractive and began complimenting her during sex.
Eventually reality began to set in for Alex and she realised that John was using her for his own sexual benefits.
Her weight began to effect her physical and mental health and she no longer received any pleasure from his compliments.
She eventually told him that she wanted to lose weight but her request was not mutual.
Before a visit home, I told him that I needed to make some changes.

When I returned he was at work but he'd left a note that said. 'I've brought you a surprise!'

I opened the fridge, and there were two full-size cheesecakes, an apple pie and three boxes of chocolates. 

That's when I realised that he wasn't supportive of what I truly wanted, as he'd led me onto to believe.
Their relationship ended in September 2016 but she doesn't regret any of the decisions she made in that period.
It helped me realise that it is my body and I will do with it as I wish.

But more importantly, society is superficial.

Desire changes and naturally, so does your weight. But it shouldn't ever determine your own sense of worth.
HT news.com.au
More: This woman nearly died after her boyfriend encouraged her to go from a size 8 to 51 stone​