Rob Brazier
Last weekend Brighton celebrated one of the biggest Pride weekends the city has ever seen as Britney Spears entertained thousands in a headline performance. Yet, tucked away in a small community hall, people were enjoying a performance of a different kind from another star of the 90s.
If you are a child of a certain age you'll have fond memories of the CBBC game show, Get Your Own Back where kids could get literal revenge on an adult who they felt had done them wrong. The eventual punishment for the adult was being dunked from a great height into a pool of florescent gunge. It was a staple of after-school television, which ran from 1991 until 2004 and was hosted by the hyperactive, charismatic and constant purveyor of fun Dave Benson Phillips.
Now aged 53, Dave now works behind the scenes in TV production, while also working in pantomime, as a DJ and compèring music festivals. You would think that a career along those routes would suffice for Dave now, but in the last few weeks, he has risen like a phoenix back into the popular conscience, thanks to of all things; professional wrestling.
Yep so @DaveBensonPhill + @mothfromdaflats vs @FederalesJr + @NoFunDunne is a thing that will happen in Brighton o… https://t.co/niTVfG3pFz

— 𝙍𝙄𝙋𝙏𝙄𝘿𝙀 𝙒𝙧𝙚𝙨𝙩𝙡𝙞𝙣𝙜 (@𝙍𝙄𝙋𝙏𝙄𝘿𝙀 𝙒𝙧𝙚𝙨𝙩𝙡𝙞𝙣𝙜) 1532027142
On Friday he competed in a wrestling match in front of an electric crowd at the Brighthelm Centre in Brighton for the independent promotion RIPTIDE Wrestling. He teamed with Dublin's own 'Session Moth' Martina, a woman who likes to have a good time and can put away the tinny's better than most students at a Friday night pre-drink. Their opponents were the combined forces of Chief Deputy Dunne and Los Federales Santos Jr, The Anti-Fun Police, whose name describes exactly what they are all about; they hate fun!
By now you're probably wondering what on Earth is going on and how did this come about? To be honest, we were wondering the exact same thing, so we headed down to Brighton to find out.
Upon arriving at the Brighthelm Centre, we see wrestlers preparing for their matches while Dave went through the paces outside the squared circle in a baggy shirt and jeans. He, like everyone else in the venue, is already sweating buckets, but is more than happy to talk about this unique moment in his career and informs us that on a scale of one to ten, his excitement levels are about a 15. Yet, the question we and everyone else wants to know is 'why is Dave Benson Phillips having a wrestling match in Brighton in 2018?'
Somebody saw me do a comedy bout at a family fun day in Horsham with KAPOW Wrestling earlier this year.

I just happened to step in and the next thing I know there was a phone call from the wonderful people at RIPTIDE who said 'would you like to come in and do a tag team match?'

I said yeah OK and didn't think much more about it. I just thought they wanted me to be a referee or something.

Imagine my surprise then when I see the posters and I'm actually billed as one of the wrestlers in the match. That just put it up a whole other notch. ​
Behold the Dream Team... @mothfromdaflats and me, @DaveBensonPhill https://t.co/wUeQvFQUIt

— Dave Benson Phillips (@Dave Benson Phillips) 1533411746
Dave's life in the entertainment world has taken many different shapes and forms but in his past, he had thrown a few clotheslines and elbow drops in the wrestling ring when he worked as a Bluecoat for Pontins in Camber Sands. For a man that would later go on to become famous for covering people in gunge, a spell as a wrestler seems like a strange thing to have in his closest, but upon explanation, it made a lot more sense.
Originally I was a towel boy and a assistant but one day, for fun, one of the wrestlers said 'why don't you come in here and give it a go?'

Let's face it, I was young and at the time I was the only black Bluecoat in the world so I just got in there. 

There was a lot of comedic running and other things done for a few laughs but they soon realised that I might have an aptitude for it. Then they taught me how to be a referee and the basic rules of wrestling.

Next thing I know, I'm helping out every other week. It was kind of wild for someone who wanted to be a song and dance man, that one of the skills I learned along the way was how to be a wrestler. 

I did for a year at Camber Sands. Every other week the wrestlers came in. It was a long old time. It was a six month season. It was great.

I picked up a few things. Dropped a few things. Got thrown by a few things. 
As Dave said himself that was "a long time ago", so would he be worried that he would be a bit rusty and not as athletic as he would be? He concedes that to be true but lives by the catchphrase "it never leaves you but sometimes it just goes missing for a while". Yet when he stepped between the ropes again he admits that his pulse started to quicken and he began to remember the thrill of being a wrestler again.
He recites fonds memories of Saturday afternoon in front of World of Sport on ITV in the 1970s with stars like Mick McManus and Jackie Pallo. He recalls the "gladiatorial" and "theatrical" elements of the show as being the biggest appeal of wrestling from that era, which has continued right through to the present day form of the sport.
That being said, wrestling in 2018 is a much different beast to what Dave would have been used to in the holiday camps. It's unlikely that he would be performing a moonsault, but what safety precautions was he going to be taking just to make sure he didn't injure him or anyone else?
I couldn't let myself get back in the ring with that much time of absence. I have talked myself through the safety aspects of wrestling because at the end of the day you've got to be able to do it in a way that isn't going to leave your opponent with a permanent injury.

For some people this is their life this is their livelihood. That is a very important thing because we all want to have fun and knock each other about and talk about it afterwards in the pub. It's danger within the bounds of safety. 
Wrestling on this scale in front of fans who have come down to see international stars like WALTER, Jordan Devlin, Candy Floss, Millie McKenzie and Jonah Rock, who have competed all over the world, is a far cry from what Dave would have been used to in Butlins. So, what is the appeal? Why would a man is best known for being a children's TV personality throw himself back into this world of hard knocks and cheap pops?
That's true. You have your heroes you have your villains. You have the audience participation. You have a baying crowd. You have a drama within the four sides of the ring. All manner of life is here.

It's quite amazing that for 90 minutes-to-a couple of hours just how captivating it is. Each one of these people is an athlete and an entertainer and that's what makes it so amazing.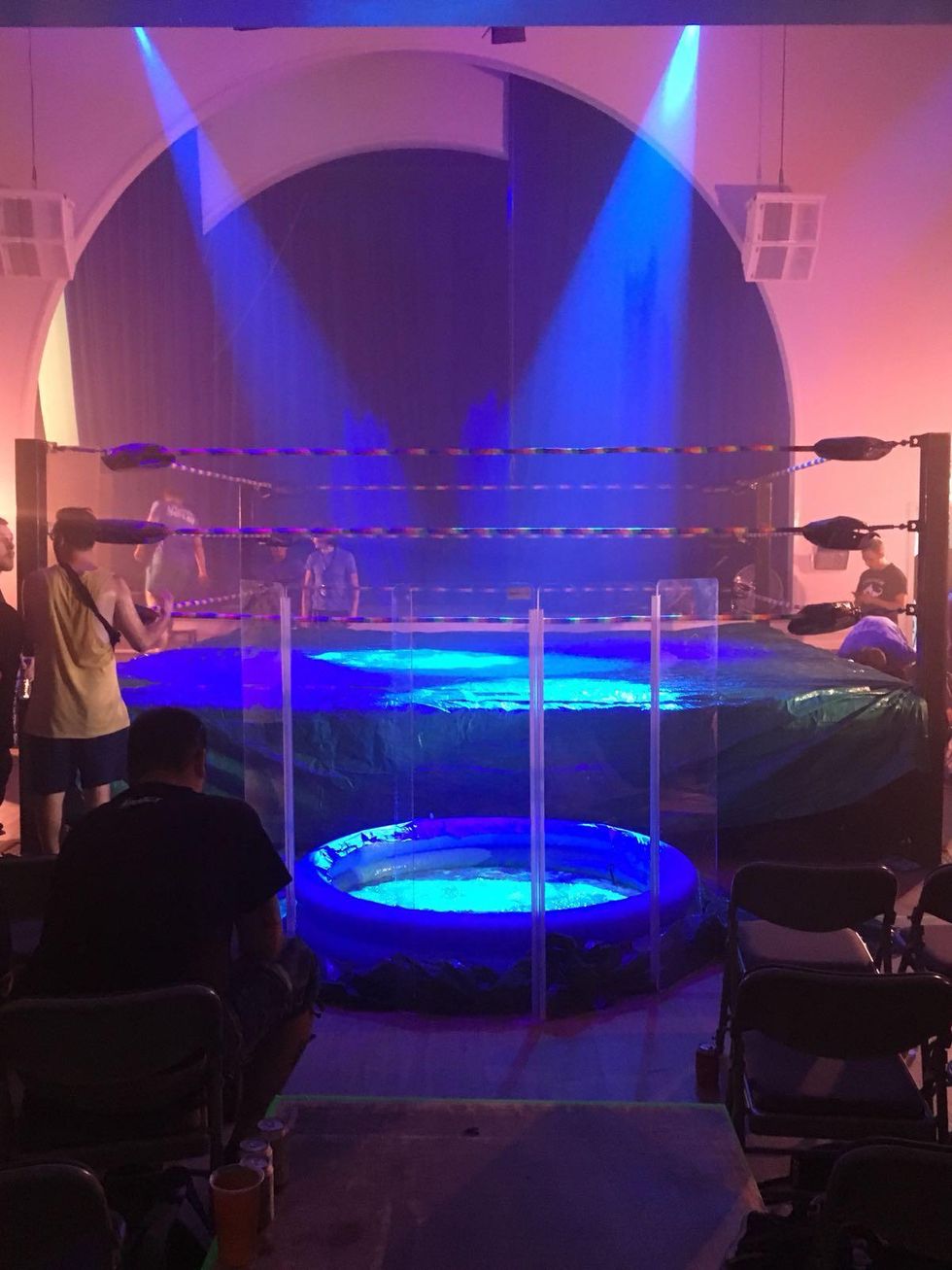 Picture: Greg Evans
As we get closer to match time, a paddling pool full of gunge is dragged to ringside and tarpaulin draped over the mat. What did Dave and Martina have in store for The Anti-Fun Police and more importantly the crowd? Punters flocked to ringside in the hope of witnessing a truly unique event, which if it hadn't have happened in the age of smartphones, it's doubtful that anyone who wasn't there would have believed to have happened.
The crowd are at a fever pitch before the match has even begun, with the proverbial roof being blown off the building as Dave made his entrance. From there, things quickly descended into something that wouldn't have been out of place on an episode of Get Your Own Back or in the main event of Wrestlemania. There are antics involving the Anti-Fun Police trying to enforce their own brand of law enforcement, a few nods to WWE Hall of Famer DDP (whose initials are similar to DBP's) and Martina's 'bantz'.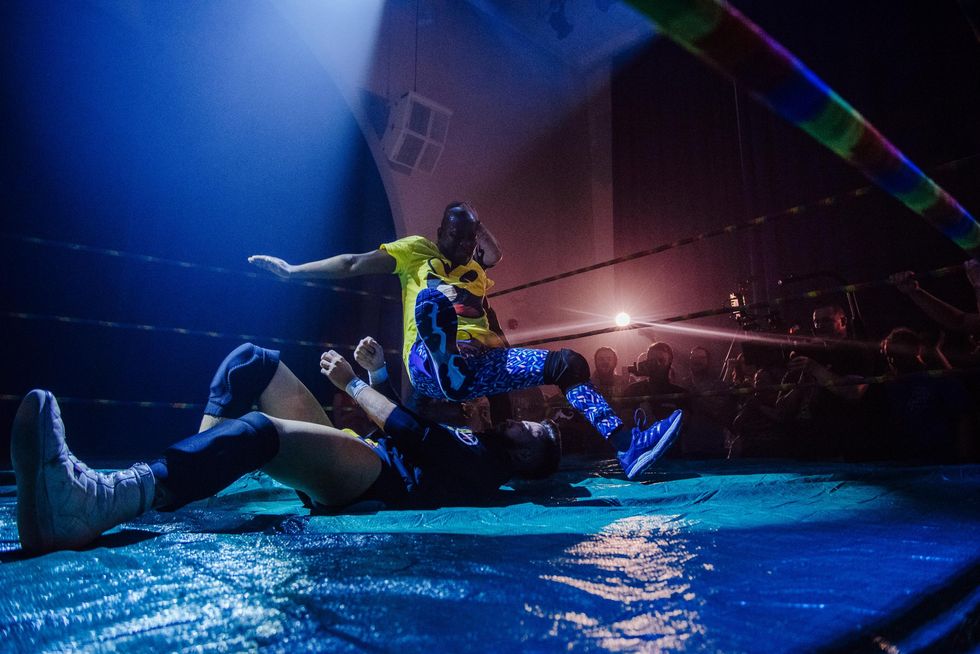 Picture: Rob Brazier
Yet the star of the show was Dave who, despite his age and not stepping into a wrestling ring for 30 years, looked like he hadn't missed a trick. He drop's a leg on Deputy Dunne and the rather unflattering 'bronco buster'. Launches Santos with a devastating chokeslam and performs a spear that would have made Bill Goldberg proud - and, of course, there was plenty of gunge. Santos is the first to take a dip in the fluorescent drink while it was left to Deputy Dunne to take a gunge-assisted 'Wombstone Piledriver,' which is something we don't think our editor will actually let us describe on here in any detail.
Lord of The Ring! https://t.co/ogLuq8T3oy

— Dave Benson Phillips (@Dave Benson Phillips) 1533746607
To say that the crowd for this match was excited would be an understatement. The energy and the genuine sense of joy that Dave and the three wrestlers delivered in those 10 to 15 minutes to around 500 people was, at least for this lifelong wrestling fan, incomparable to anything ever experienced before. For a show that featured captivating, hard-hitting matches like David Starr vs. Chris Ridgeway and Aussie Open vs. Ringkampf, this comedic side attraction to an otherwise serious wrestling show was the buzz of a small quarter of Brighton for at least a few hours.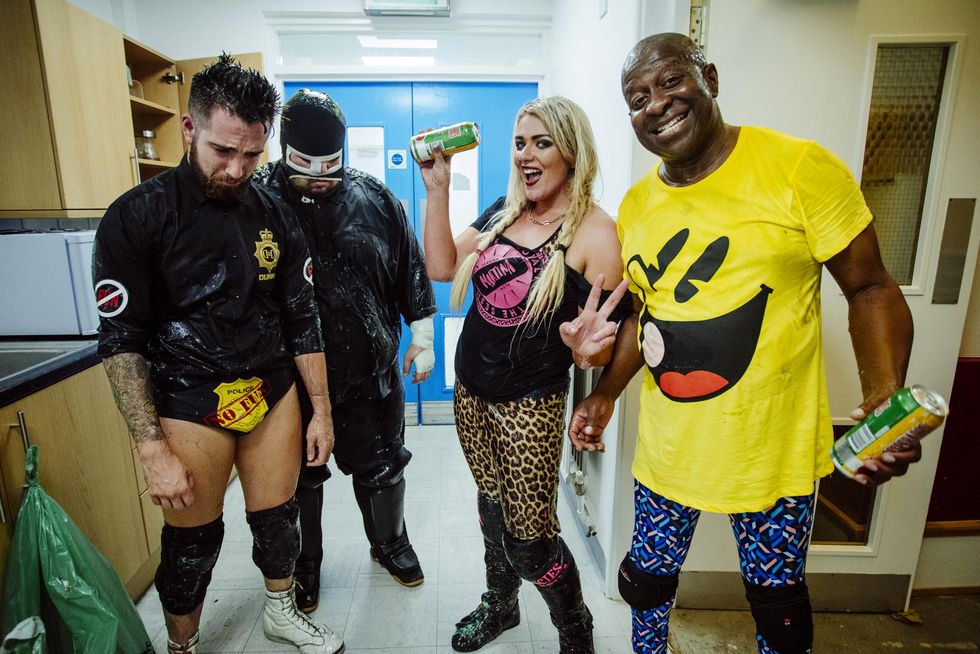 Picture: Rob Brazier
Before all of the hysteria and hours before the match, we asked Dave at this stage in his career what he would consider doing next? Would he consider following in the footsteps of Kane or Donald Trump and transition from wrestling to politics, or would he try something else?
In my career right now, I find myself at a surprisingly loose end.

I'm busy making programs and documentaries and working on some new TV formats but if anyone presents me with an opportunity I'll say yes to it.

I'm open to offers. I'm absolutely open to anything but at the moment this is wild! 
Twenty-four hours later Britney Spears would sing '(Hit Me)...Baby One More Time' to 57'000 people in Brighton.
Whether Dave will hit anyone again in the wrestling ring remains to be seen but for a few minutes, he gave a few hundred people a moment they will never forget.
To learn more about RIPTIDE Wrestling please give them a follow on Twitter.
All photos by Rob Brazier. Follow Rob on Twitter and Instagram or visit his official website.