Yesterday, the legendary soul singer Aretha Franklin died, aged 76.
Tributes and respects began to flood in for the star and her amazing career, but an embarrassing blunder on Fox News has forced the network to issue an apology.
As part of their breaking news coverage of Franklin's passing, Fox posted an 11-minute tribute video on their Twitter account.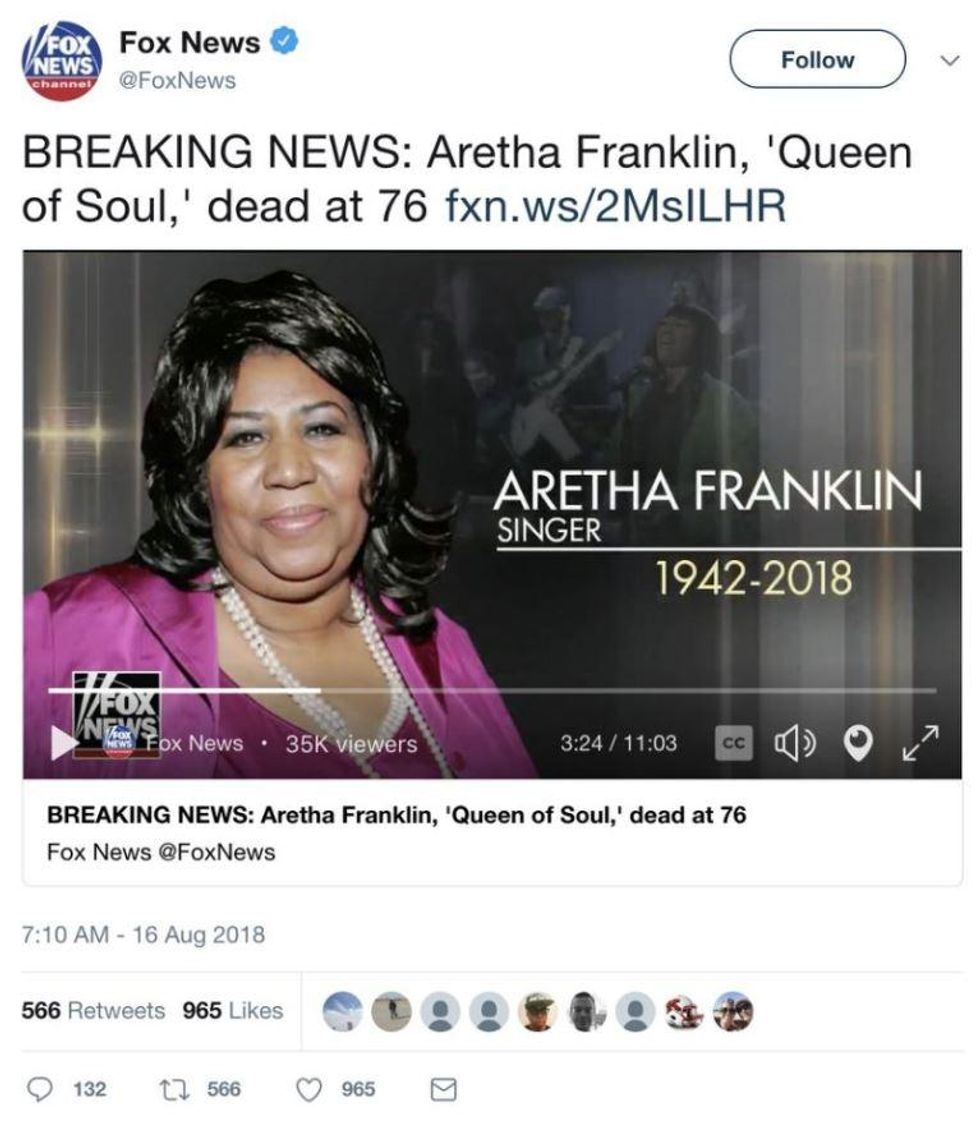 Picture: Fox News/ Twitter
In said tweet, the main image which is of Aretha Franklin is fine, but the background image is actually of fellow soul singer Patti LaBelle, a woman who had a long-standing feud with Franklin.
The image comes from LaBelle's 2014 performance at the White House at the 'Women of Soul: In Performance at the White House' event.
LaBelle performed 'Somewhere Over the Rainbow' for Barack Obama and guests. For context, here is a video of the performance.
The gaff, which was also broadcast live on Fox News was quickly noticed by viewers who began sharing it on social media.
Shocking no one, Fox News somehow mistook Patti LaBelle for Aretha Franklin. https://t.co/D65EqLLybK https://t.co/k40ox60qeI

— Andrew Kirell (@Andrew Kirell) 1534448541
@Phil_Lewis_ @zarzarbinkss Yep here's video https://t.co/IIkMDuKB7e

— Zachary Pleat (@Zachary Pleat) 1534442820
In a statement issued to The Wrap, Jessica Santostefano the Vice President, Media Desk at Fox News said:
We sincerely apologize to Aretha Franklin's family and friends.

Our intention was to honour the icon using a secondary image of her performing with Patti LaBelle in the full-screen graphic, but the image of Ms. Franklin was obscured in that process, which we deeply regret.
However, the performance in question did not feature Franklin and LaBelle singing together, although Franklin was in attendance.
LaBelle is yet to comment on the mistake but did share a touching tribute to Franklin on Tuesday.
Rest in peace Aretha. ❤ https://t.co/QT7HeY5SIf

— Patti LaBelle (@Patti LaBelle) 1534431847
HT Mashable