It's official. Mel and Sue will stop hosting the Great British Bake Off after this series when it moves to Channel 4.
Fans of the show are obviously devastated - there's already talk of a petition to reinstate them (which could actually cause us to implode with Britishness).
What was, unarguably, the best bit about Mel and Sue's pairing was that they both shared a love of a baking puns and good innuendo, to the point where they actually managed to get some into their statement about quitting:
We were very shocked and saddened to learn yesterday evening that Bake Off will be moving from its home.

We made no secret of our desire for the show to remain where it was.

The BBC nurtured the show from its infancy and helped give it its distinctive warmth and charm, growing it from an audience of two million to nearly 15 [million] at its peak.

We've had the most amazing time on Bake Off, and have loved seeing it rise and rise like a pair of yeasted Latvian baps.

We're not going with the dough. We wish all the future bakers every success.
'Rise and rise'... 'yeasted Latvian baps'... 'not going with the DOUGH'
Here are some more of the best Mel and Sue puns from the Great British Bake Off:
You have got two hours to pop Mary's cherry ...in the oven, and bring it out again.
We enjoyed the deliberate pause Sue left in this sentence.
Keep an eye on your jugs!
- Mel
When everyone needed to gtf away from the hot baps: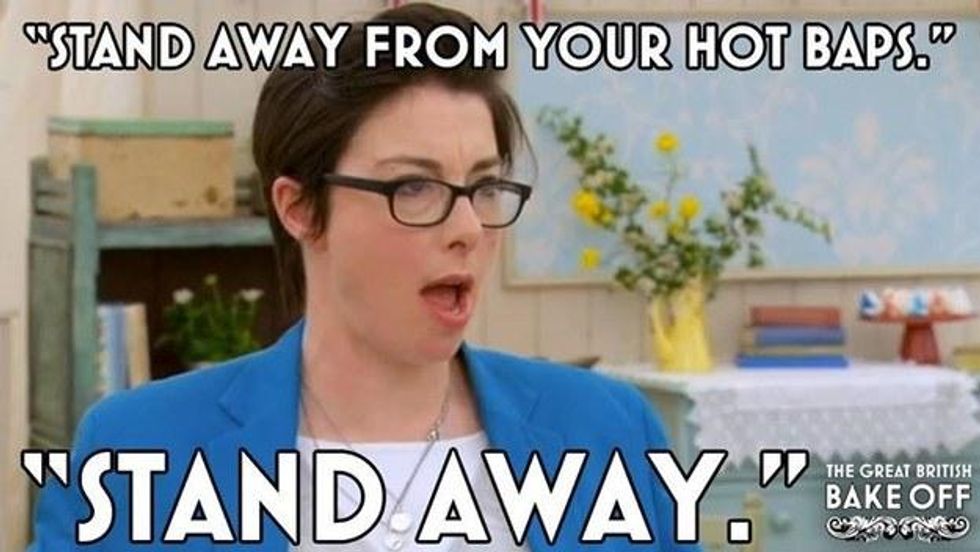 Think palmier, think lattice, think pin-wheel. But mainly, think massive horn
This was Sue describing the Petits Fours pastries challenge to the contestants in week seven, season four
Time to stop fiddling with Charlotte now
Sue calling time on the contestants' efforts to make a Charlotte Royale in week nine, season four
We'll miss you guys