Alberto E. Rodriguez/Jimmy Rainfordl/Getty Images/Twitter
Anyone who's anyone had a picture of their teenage crush on their bedroom wall, and that apparently includes members of the royal family.
Images of Prince Harry's bedroom from his days at Eton, when he was just 18, have resurfaced online.
It looks like any typical teenage boys bedroom from the year 2003, featuring a huge hi-fi, discarded mugs, a St George's Cross flag, a can of Lynx deodorant and pictures of bikini-clad women.
Nestled in among this assortment was a picture of Hollywood actress Halle Berry, who was definitely the 'it-girl' of the period.
It's doubtful that Harry ever thought he'd see these images again, but we can only imagine how he must feel after he learns that Berry herself has now seen them, and even gone as far to tweet about it.
Berry tweeted "I see you! #HalleBerryPosta" with the hashtag referencing a lyric from the Missy Elliott song 'Work It'.
The actress tagged the renowned rapper in the tweet, which she later retweeted.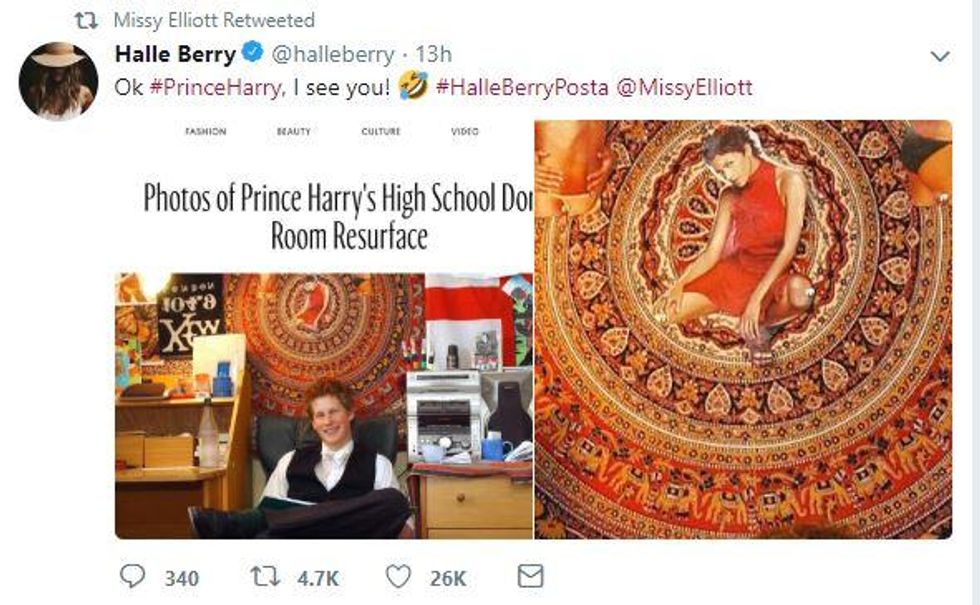 Picture: Twitter
We're not going to go into Harry potentially being teased about his teenage desires by his wife Meghan Markle, but after Berry's tweet went viral, it's safe to say that a lot of folks on Twitter found it very amusing.
Others enjoyed the consumer products that were on show in the picture.
Let's not overlook the picture he had of his mother on his desk either. Bless.
HT People