James Rodriguez's golazo against Uruguay? Robben's slinky runs from the right-wing? Christoph Kramer's dazed expression? Nope, you've got it all wrong.
The greatest, most important thing to come out of the 2014 World Cup was undoubtedly Richard Keys's Alan Partridge-esque (or is is David Brent?) video diary.
Keys and his ever-willing life companion Andy Gray (who, by the way, is increasingly looking like the love-child of Mrs Doubtfire and Iain Dowie) are currently holed up in unceremonious, air-conditioned exile in Qatar (sounds like a good place for a World Cup, right?).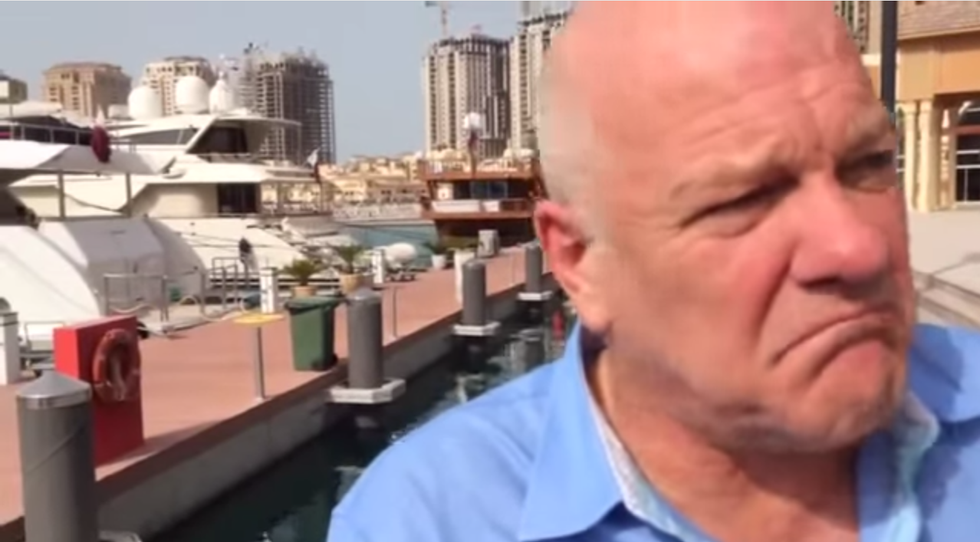 But that hasn't stopped them from bringing us "the pulse of the World Cup" - through a series of bizarre, cringe-worthy and, more than anything, tragi-comic home videos.
Keys combines his gauche self-importance with the kind of shallow over the top laughing that makes every viewer know they're having the most banterous time imaginable.
Yet there's still something addictive about his videos. Maybe it's because:
Keys walks around the BeIN Sports offices dispensing his banter to anyone who'll listen.
And even those who won't.
The BeIN Sports team is effectively a knacker's yard for 1970s footballers and worn out Sky Sports pundits you'd sort of forgotten about.
Despite Keys saying 'legends in the building' whenever he sees someone remotely famous.
Keys tries to speak French to a bemused Jean-Alain Boumsong and Robert Pires
Cote D'Ivoire!
The amateur footage gives an, um, unusual (?) insight into the life of "one of the most recognisable sports presenters internationally with a continuous 33-year-old career", and you can trust that assessment because it's from Keys's own website.
As one tweeter points out: "He looks post-coital". Yuk!
Because he eats toast and films Andy Gray eating toast and they talk about eating toast together
And the first three seconds of this video are unintentionally brilliant
They banter about golf with Gianfranco Zola and Kevin Keegan and laugh at their own jokes
Note the slightly odd zoom moment at 12 seconds.
But fear not, dear reader. Because the fun doesn't stop here. The boys promised "32 days of banter!" while the World Cup was on and thanks to the wonderful folks at YouTube, that banter is now preserved for posterity.
So sign up to Richard's YouTube channel here. (Or don't. Probably don't.)
It may also be worth pointing out that despite his claim that all the videos are for the BeIN Sports website, i100 has conducted a significant amount of research and can't seem to find them anywhere.
Virtual doffs of the cap to Jacob Steinberg for his unwavering, unrivalled live coverage of all things to do with the World Cup video diary and to the Telegraph's Jonathan Liew for this brilliant assessment of Keys's website.
Mr Darren Richman (also) from the Telegraph has written this funny, and rather more in-depth, analysis of Richard's video diary too. #PrayForDarren