The Kingdom of Enclava, the world's youngest "micro-nation", declared this weekend that it was claiming a tiny strip of no-man's land between the borders of Croatia and Serbia.
Having only formed in April, the self-proclaimed state has already attracted 5,000 applications for citizenship and has an elected government.
Micro-nations, of which there are up to 400 across the globe, are generally not officially recognised by other governments. They range from serious acts of defiance to the downright bizarre.
Here are 10 of the most notable:
Akhzivland
This state, located near the Israel-Lebanon border on the Mediterranean coast, was founded by Eli Avivi in 1971 after a dispute with the Israeli government who wanted to use the land as a military base.
Akhzivland comprises of "a house, a couple of makeshift cabins and a stray dog or two". Avivi has been "democratically elected" as president - he was the only voter. After the sultan of Oman, Avivi is technically the region's second-longest serving ruler.
Copeman Empire
(Picture: via Amazon)
Set up by 25-year-old Nicholas Copeman - an "unemployed 25-year-old who lived with his parents" - the Copeman Empire comprises of a four-berth caravan in Sheringham, Norfolk. As well as writing a book about his micro-nation, Copeman changed his name by deed poll to HM King Nicholas I.
Empire of Austenasia
Founded in 2008 by Terry Austen and his son Jonathan - who were named Emperor and Prime Minister respectively. Austenasia claimed independence from Sutton in south London and now boasts of more than a dozen towns, territories and "crown dependencies" across the globe - in locations as far flung as Australia and Algeria.
Glacier Republic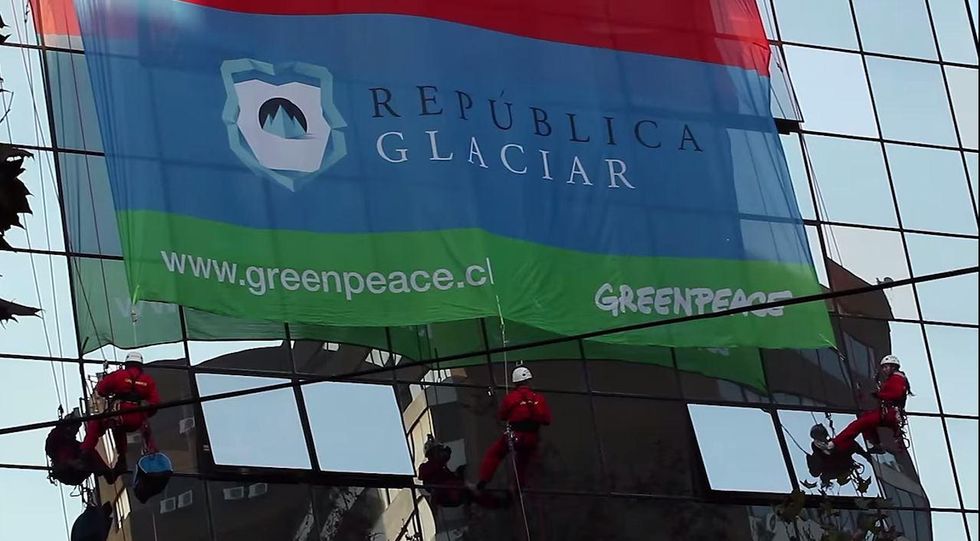 (Picture: YouTube/Greenpeace)
Formed by Greenpeace activists in the high Andes in a strip of no-man's land between the Argentinian and Chilean borders. The "Republica Glaciar" was set up in 2014 as an awareness raising campaign against mining corporations harming the local environment. It now issues its own passports.
Liberland
Liberland is located in the green portion of land marked "Siga" in the above map (Picture: Creative Commons/Tomobe03)
Formed in April 2015, this libertarian nation has claimed a 7km² strip of land along the Danube, just miles down river from Enclava. More than 160,000 people are said to have applied for Liberland citizenship.
Molossia
(Picture: Molossia.org)
This micro-nation was founded as a childhood project by His Excellency, President Kevin Baugh in 1977. Run from his home near Dayton, Nevada, Molossia claims to have its own navy, space programme, railway, postal service and central bank. It also says it is still at war with East Germany.
Kingdom of North Sudan
(Picture: Jeremiah Heaton/Facebook)
This small strip of arid desert between Egypt and Sudan was claimed by American man Jeremiah Heaton who wanted to fulfil his 6-year-old daughter's wish of becoming a real-life princess.
Founded in 2014 by the planting of a flag, film rights for the Kingdom of North Sudan were bought by Disney in April 2015.
Sealand
Consisting of an abandoned World War Two military platform in the North Sea (see top picture), the Principality of Sealand is one of the better known micro-nations.
Sealand has its own flag, coins, stamps as well as its own royal family, "presided over by the majestic Prince Michael of Sealand".
Whangamomona
Founded as a republic in 1989 as a protest againt local district boundary changes in New Zealand which would have seen the town of Whangamomona incorporated into the Manawatu-Whanganui from Taranaki.
Way off the beaten track in the north island, Whangamomona has become something of a tourist attraction and has elected a series of presidents - including Billy Gumboot the Goat (1999–2001).
Wallachia
A "small mountainous region (about the size of Luxembourg)" in the south-eastern of the Czech Republic, Wallachia was founded in 1997 as an "elaborate practical joke".
Things were said to have turned sour when King Boleslav - the Czech comedian Bolek Polivka - had a dispute with his foreign minister, the founder Tomas Harabis, over profits from its burgeoning tourism industry, resulting in a court case.