YouTube / River Cottage
The most you'll typically hear from a child when you ask how their food was is, "what's for dessert?"
But other children can be slightly more discerning when it comes to culinary prowess, including the 12-year-old daughter of River Cottage head chef Gill Meller.
Meller reccently shared a photo on Instagram of one of his daughter's scathing reviews, left on a restaurant's napkin.
He wrote the caption:
Even first-hand restaurant recommendations can be way off the mark, unfortunately. 

Here with my youngest daughter's review (left on a napkin) of tonight's somewhat alarming supper.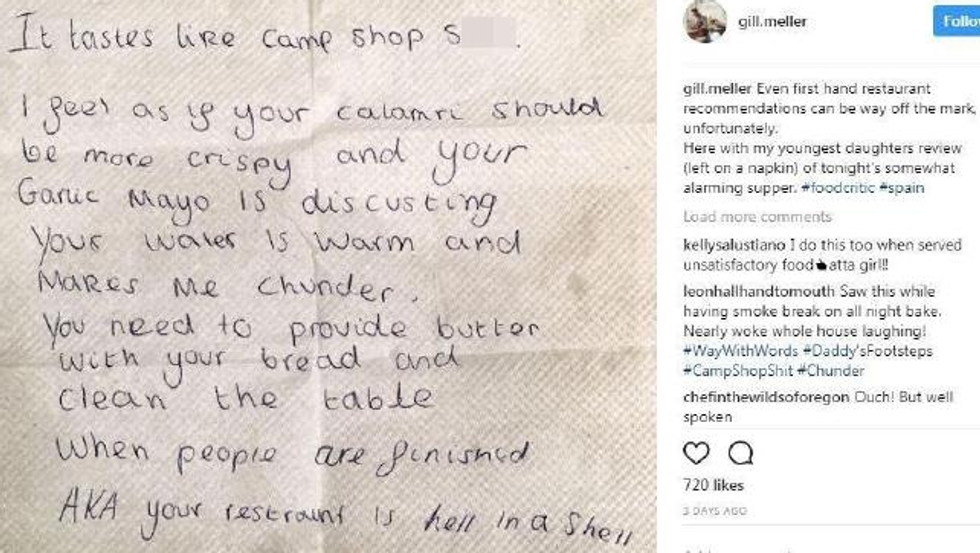 Picture: Instagram screen grab / Gill Meller
The review is hilariously sassy and remakably biting at times.
She wrote:
I feel as if your calamri should be more crispy and your garlic mayo is discusting [sic].

Your water is warm and makes me chunder.

You need to provide butter with your bread and clean the table when people are finished.

AKA your restraunt is hell in a shell.
It looks like someone might be following in their dad's footsteps - or at the very least Jay Rayner's.
HT The Sun