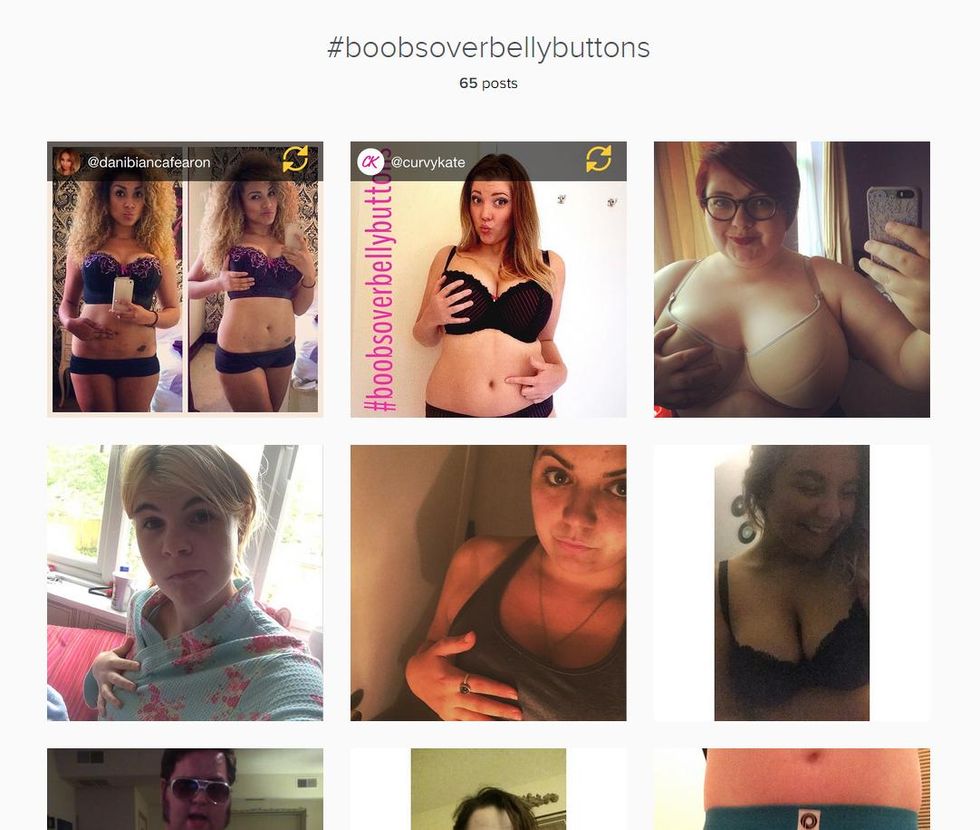 In the last month we've reported on the #holdacokewithyourboobschallenge, a 'campaign' launched as a joke by a glamour model which somehow became about breast cancer awareness, and the #bellybuttonchallenge in China.
The latter fad asked Weibo users to post pictures of themselves trying to touch their bellybuttons by placing an arm behind their backs. Success was said to be a sign of fitness rather than extreme flexibility.
Now lingerie brand Curvy Kate has launched the #boobsoverbellybuttons campaign in response to the craze.
The new hashtag challenge is designed to promote women checking their breasts for cancer by asking them to post pictures of them doing so. While it links to guidelines on how women can check their breasts from the charity CoppaFeel! (which supported the Sun's Check 'Em Tuesday) Curvy Kate promoted #boobsoverbellybuttons in a blog with with a series of pictures of bra-clad lingerie models touching themselves.
The more cynical of us may point out that could explain why the campaign has gained so much media attention in two days despite only 65 photos on Instagram being tagged #boobsoverbellybutton and 293 tweets using the hashtag (at the time of writing).
Curvy Kate said it wanted to show CoppaFeel!'s "boob-checking message is far more important and worth spending time doing" than trying to touch your belly button with an army behind your back. The firm added: "Plus who doesn't like having a good feel of their boobs!"
The reason why this is slightly problematic? Breast cancer isn't a sexy marketing hook to sell more bras, and the majority of people who get it are not lingerie models but older women. In 2012 Karuna Jagger of the American advocacy group Breast Cancer Action said campaigns which tried to present cancer as sexy were dangerous because they implied "breasts that are sexy; sexy is what is important; and we should care about breast cancer because it takes those lovely, sexy breasts out of the world".
CoppaFeel! has previously been criticised for sexualising cancer. Writing in the New Statesman in 2014, Sarah Ditum noted: "Coppafeel!'s founder has advanced breast cancer herself, and I can only admire the energy with which she's devoted herself to raising awareness. Nevertheless, I cringe at some of the tactics the charity uses, such as sending runners round half-marathons with giant disembodied foam boobs joggling on their backs: you couldn't really get a better example of the single-organ fetishism that pervades some breast cancer campaigns."