iStock
Who knew some dishwashing shelves were adjustable?
Not Mike McLoughlin; he's been hand-washing his bigger dishes despite owning a dishwasher for 10 years.
Mike only recently discovered that machine's shelves could be changed to accommodate larger items.
He shared his chagrin at having to hand-wash big plates, on his Twitter page: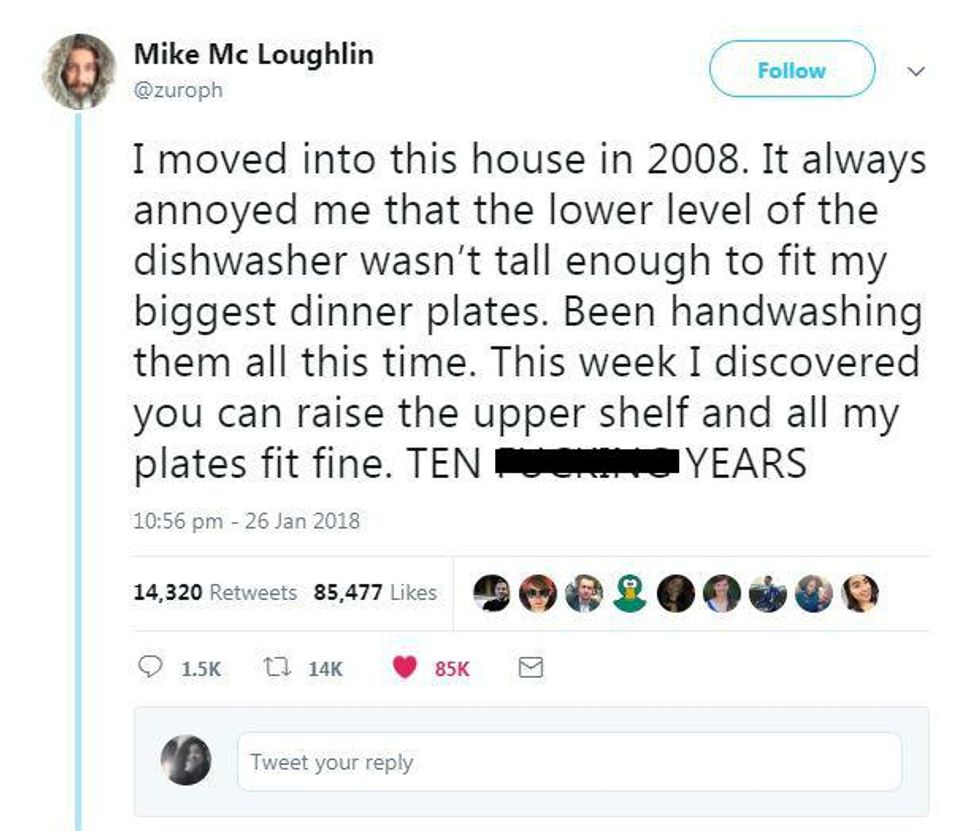 Picture: Mike McLoughlin/Twitter 
It reads:
I moved into this house in 2008. It always annoyed me that the lower level of the dishwasher wasn't tall enough to fit my biggest dinner plates. Been handwashing them all this time. This week I discovered you can raise the upper shelf and all my plates fit fine. TEN F**KING YEARS.
That is awkward.
His post blew up on Twitter, and over 85,000 people liked the post. It's been shared over 14,000 times, too.
He tried to defend himself...
Mike, from Ireland, initially found out the secret to his dishwasher after Googling the manual for another issue.
His post enlightened many fellow dishwasher owners, who didn't realise they could clean bigger plates too...
Moved by his honesty, others came out to tell him that they, too had been confused by their appliances…
Go on, check your dishwasher too.