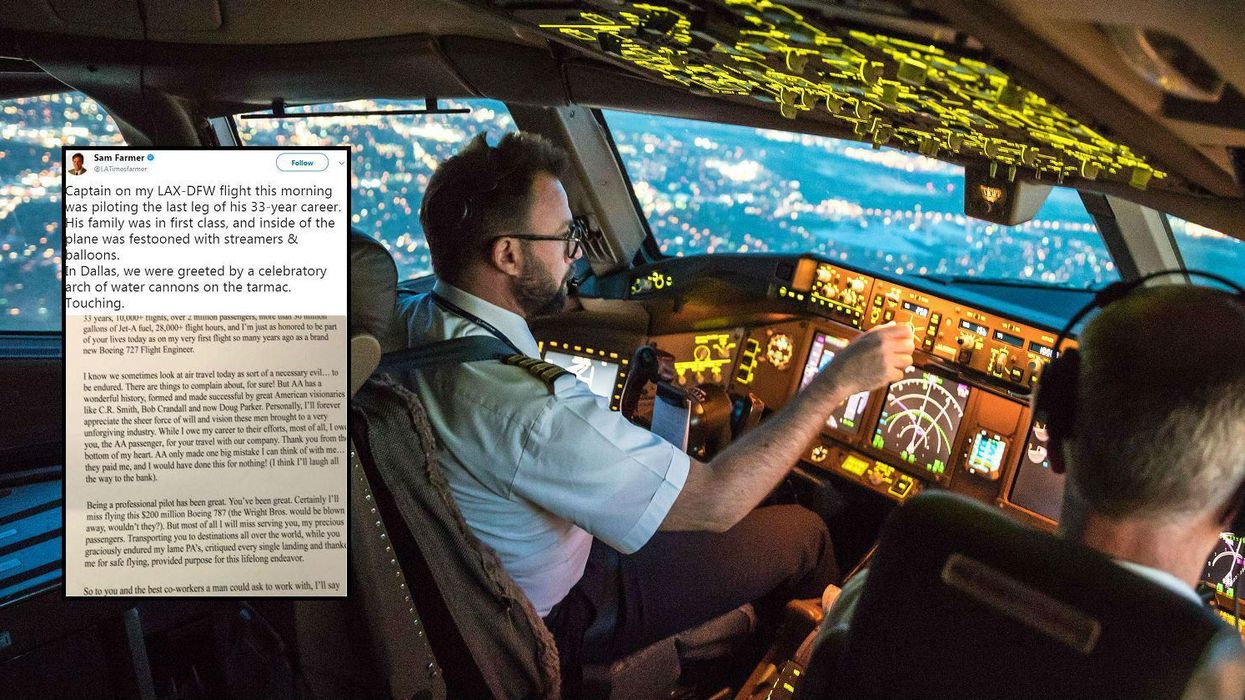 iStock and Sam Farmer Twitter screengrab
After two million passengers, 10,000 flights and 33 years of service, it was Captain Jeff Rowland's last day.
He was retiring, and the American Airline pilot's plane was decked out with balloons and streamers.
What better way to mark his retirement than to pen a letter to the thousands of flyers he had taken across the globe?
With his family flying first class for his final run, he gave out a letter to passengers on the plane, one of whom was LA Times reporter Sam Farmer, who posted it in its entirety on Twitter:
Captain on my LAX-DFW flight this morning was piloting the last leg of his 33-year career. His family was in first… https://t.co/cSzAlwR0Vo

— Sam Farmer (@Sam Farmer) 1517177825
Though air travel is seen by many as a "necessary evil…to be endured", and the aviation industry is "unforgiving," ultimately:
Thank you from the bottom of my heart. AA [American Airlines] only made one big mistake I can think of with me ... they paid me, and I would have done this for nothing (I think I'll laugh all the way to the bank).

Certainly I'll miss flying this $200 million Boeing 787 ... But most of all I will miss serving you, my precious passengers. Transporting you to destinations all over the world, while you graciously endured my lame PA's, critiqued every single landing and thanked me for flying, provided purpose for this lifelong endeavour. 
The Twitter post received 1,600 'likes and was retweeted almost 400 times.
The pilot signed off the letter with the same words as Vin Scully, the retired sports caster:
Don't be sad that it's over, smile because it happened.
H/T Sam Farmer