left: Abigail Watson/YouTube, right: Lorraine/YouTube
Mara Wilson, best known for playing Matilda, responded with killer sass to a Daily Mail headline about her appearance.
In an interview on ITV's Lorraine Mara Wilson, who played the loveable magic child and psychological torturer from the 1996 classic, revealed some interesting things fans may not have known.
For instance, she told a heart warming story about her co-star Danny DeVito.
According to Wilson, whose mother died when she was young, she was worried her mother would not live to see the film completed.
Unbeknown to her, DeVito visited her mother in hospital and showed her an unfinished copy of the film.
Feels all round.
Reporting on this, the Daily Mailfocused on how much Wilson's appearance had changed in the last two decades.
Mara Wilson is unrecognisable from her Matilda character.
Wilson responded to the headline on Twitter: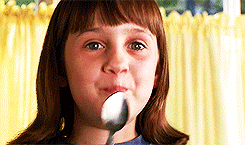 More: Welcome to the most terrifying place on earth​
More: These two headlines show how quickly it took Theresa May to abandon her promises