True View/Don't Panic
Online dating firm 'True View' has taken a left swipe at Tinder in a stunt that highlights the unsavoury nature of the app's clientele.
In a video starring Jolyon Rubinstein (you know him from BBC's The Revolution Will be Televised), Tinder chat up lines and 'etiquette' are taken onto the streets of London with unnerving results.
Said face to face, Rubinstein as 'Zach' throws a spotlight onto a lot of the creepy, aggressive things people say on Tinder and other dating apps.
Rubinstein also satirizes the problems of doctored profile photos, chameleon-esque likes and dislikes, and flirting with emojis.
'Zach' makes a realistic offer: vague texts followed by:
Picture:
Consent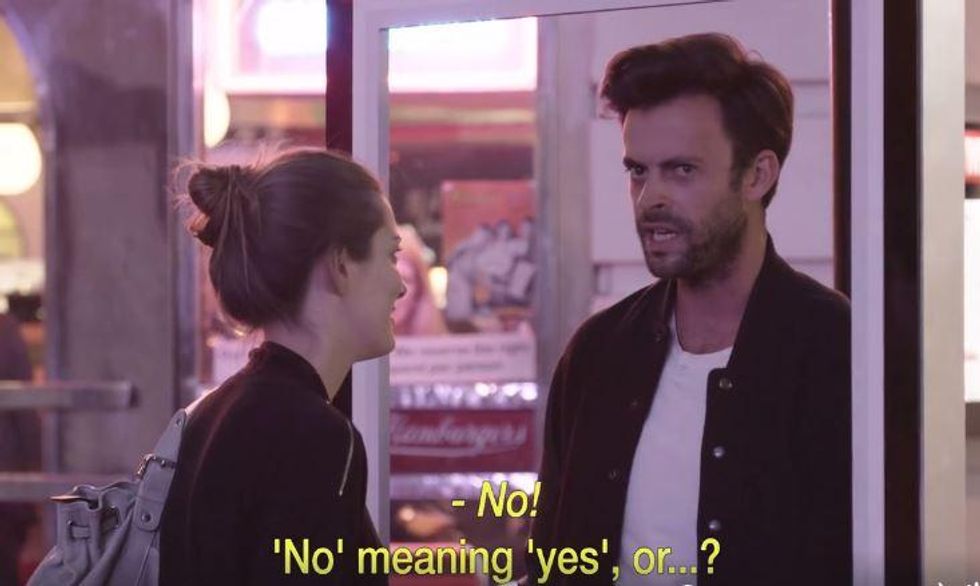 Picture:
Virtue signalling
Picture:
Emoji-tastic
Picture:
The video has been posted to the Facebook page of magazine Don't Panic.
Warning. This is quite filthy, wear headphones.
Cleverly the video begins with Rubinstein simply approaching women on the street, saying horrible things, and ignoring their attempts to brush him off.
As you watch and cringe, Rubinstein continues his behaviour from behind a mock up dating profile, stylistically similar to the design of Tinder.
True View thus poses the question: Why is the behaviour more understandable once he's in the context of online dating?
Their app pride themselves on completing identity checks, and putting your shared interests to the fore of the interaction.
Picture:
Though the photos in their advert look just as posed as those on Tinder.
Some things can't be changed.