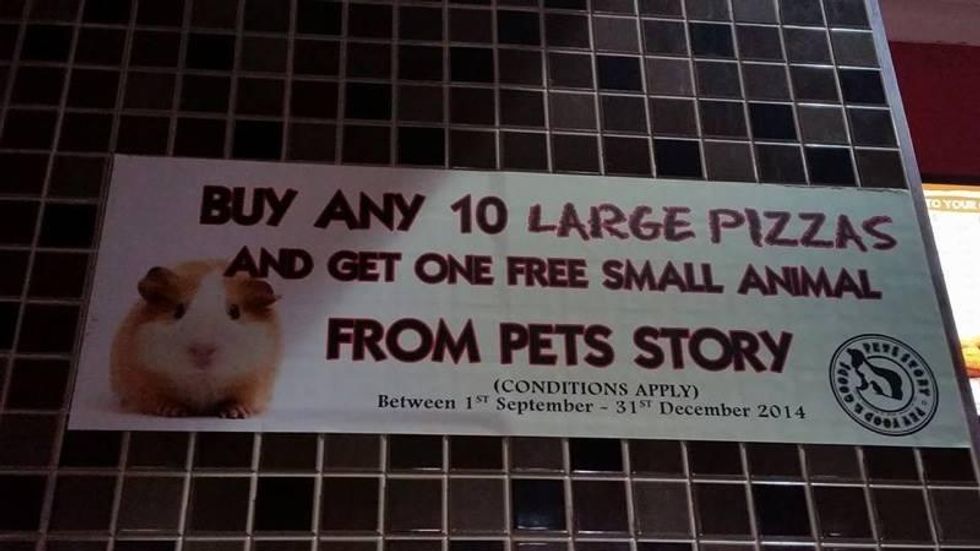 A Pizza Hut restaurant in Australia has withdrawn an offer to give customers a free pet with the purchase of 10 large pizzas following a backlash it somehow failed to foresee.
The poster in a Pizza Hut in Melbourne offered a "free small animal" from a nearby pet shop for especially loyal, or hungry, customers.
But after criticism from animal rights organisation Oscar's Law, the offer was shelved. As one person pointed out on Oscar's Law's Facebook, it was surprising the offer was ever open. "This has to be literally the dumbest cross promotion idea ever. There's so much wrong with this I don't even know where to start," Leesa Burns wrote.
In a statement Pizza Hut Australia apologised for the promotion, saying the Mount Waverley store had taken the poster down and that the promotion had not been approved centrally.
"It has come to our attention that one of our stores have recently been running a promotion which was not approved by Pizza Hut Australia, nor was condoned in any circumstances. We would like to sincerely apologise to anyone who was offended by this," the firm said.
"The poster has since been taken down and all those involved have been made aware of the severity and inappropriateness of the promotion."
No animals were given away in the course of the promotion.
H/T news.com.au