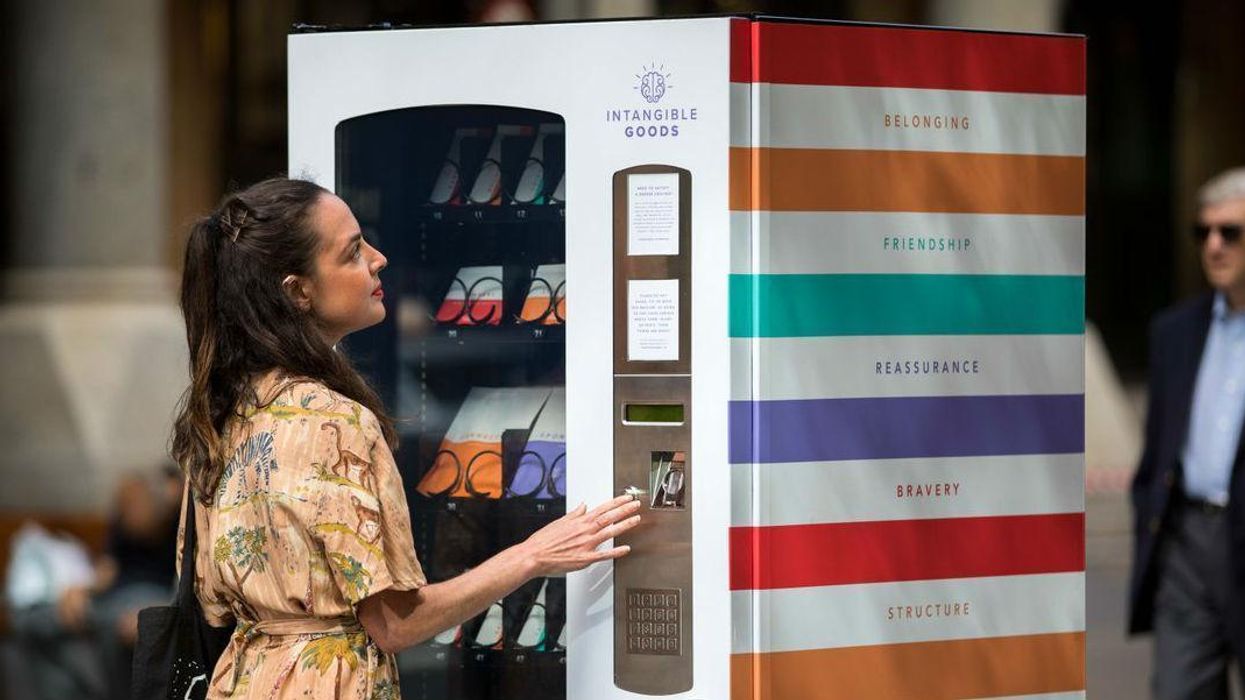 Vending machines are a wondrous invention. Not only are they convenient and (relatively) cheap, they're the perfect antidote to those all too familiar rushed, 'hangry' Monday mornings.
But what if they could do more than just satisfy your sweet cravings?
This is the question posed by Sydney-based artists Mark Starmach and Elizabeth Commandeur, who teamed up with a series of mental health professionals and surveyed the Australian public to create Intangible Goods, an interactive art installation currently being shown as part of Art & About Sydney.
So forget the cheap chocolate and the flame-grilled McCoys and think instead about the things you actually need: bravery, calm, reassurance. It's a bold statement, but the artists are offering up neatly-packaged kits designed to meet these needs.
Speaking to Australian publication ArtsHub, the artists elaborated on the project:
Each intangible good is designed to elicit a different emotional response, depending on the good you pick.

We live in a society where, for most of us, our physical needs are largely met. Yet increasingly our emotional and psychological lives go unfed.
This certainly seems to be the case here in the UK. Most of us might be lucky enough to have the world at our fingertips, but the seemingly relentless pace of life can sometimes get in the way and stop us making efforts to take care of our mental health.
Repercussions are particularly prevalent in the workplace; statistics collated by UK mental health charity Mind state that at least one in six workers is experiencing common problems such as anxiety and depression.
The situation isn't much better in Australia, either; studies show that that 7.3million Australians – that's 45 per cent of the entire population – aged 16 to 85 will experience a common mental health disorder in their lifetime.
Intangible Goods aims to tackle this problem by donating all proceeds (the packs cost $2AD each, or around £1.10) to a number of mental health organisations.
Fabulous artwork with purpose in the city. #intangiblegoods #artandandaboutsyd https://t.co/SUFlOeSkTB

— ExecutiveHiddles (@ExecutiveHiddles) 1522099349
As for the packs themselves, their contents vary: some contain maps and notes, whereas others are stuffed full of pencils, written prompts and other tools designed to lighten our mental load. Each 'good' was designed in collaboration with mental health professionals.
It's easy to view the idea that bravery can be attained through a handy pack with scepticism, but the ultimate goals are awareness and communication. After all, the best way to tackle mental health issues is to acknowledge and discuss them out loud; if nothing else, this vending machine tells us it's time to talk.