Meet Rebecca Keane. She's 21, she comes from Meath in Ireland and is an occasional Tinder user.
As anyone familiar with the dating app will know, it's a bit of a minefield, filled with its fair share of the unsubtle, the unrefined and the completely oblivious.
As Rebecca found, when she was greeted by fellow Tinderer Patrick, with possibly one of the worst opening lines ever:
Nice one, Patrick. You charmer.
Rebecca had a top notch reply to hand...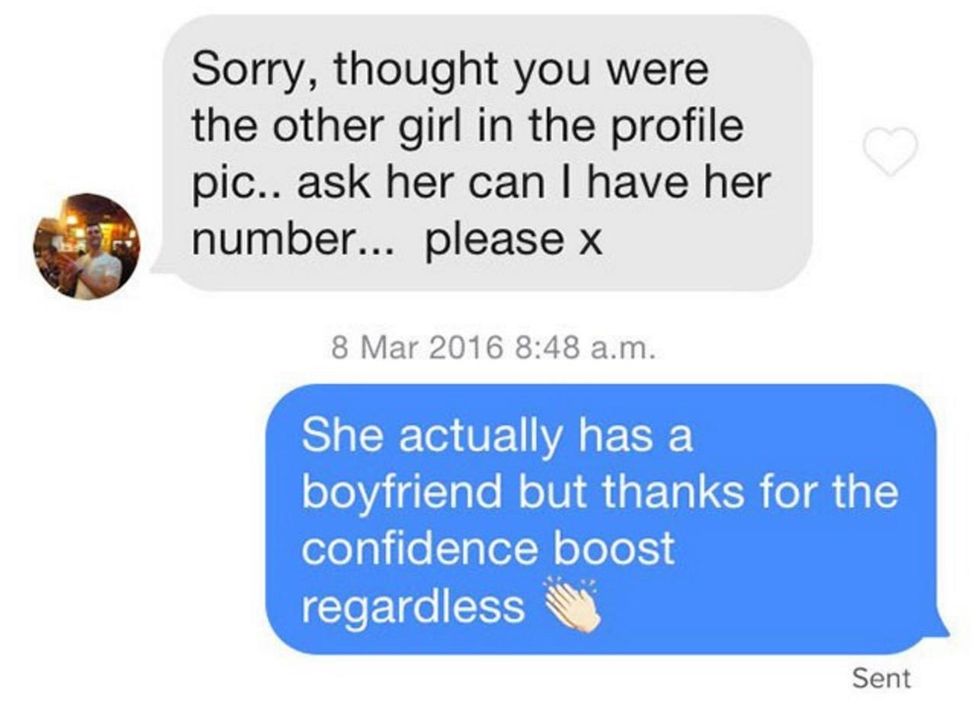 ...and has subsequently received substantial media coverage since her original tweet on Tuesday, featuring in Mashable, MailOnline, Distractify, Uproxx and many others.
She told indy100:
It's been crazy to be honest, so many people have been messaging saying they've seen one article or another. My friend's mum saw the Daily Mail and couldn't believe it!
Rebecca was asked by indy100 if it was her worst exchange on Tinder:
Yeah I think that's probably the worst!

To be honest, I'm a light hearted person so I more got a laugh out of it than major offence.
She said that the experience hadn't really changed her perception of the app, which she only goes on every two or three days:
When Tinder started I think it was more serious but nowadays it's clearly just for hookups. If there's any relationships that met up on Tinder I'd be shocked.

People just don't really care anymore about tinder and I can't say I'm the most serious either!

I'd use Twitter much more, to be honest. I'm not hugely in Tinder, really.
But crucially, since the media storm about the tweet, has Patrick replied to apologise?
I just checked my Tinder there and he must've unmatched me haha - he's not in my matches anymore.

How will I survive? 😭