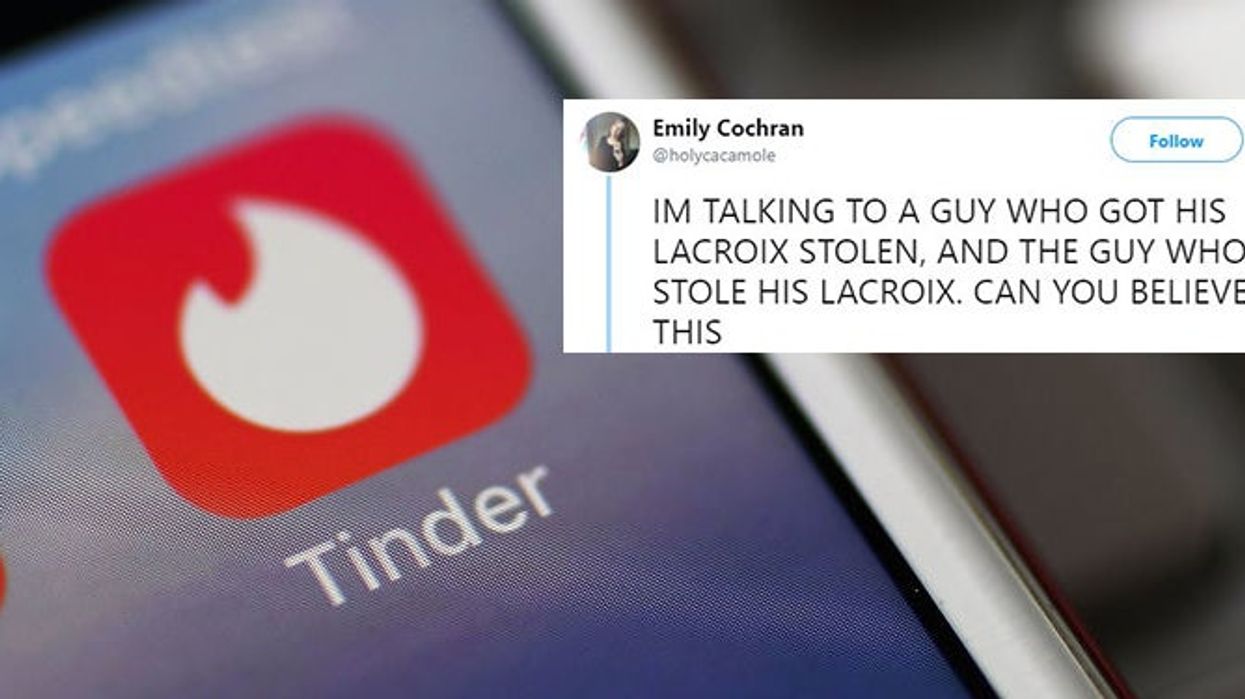 Joe Raedle/Getty Images/Twitter
Tinder is a strange and confusing place where some pretty unpleasant things can often happen.
On the flip side, some fun and hilarious stuff can also happen and this following story definitely falls into that category.
Now, before we go any further, we need to tell you that sparkling water is serious business.
Regardless of how you feel about it, the beverage has the ability to bring people together and unite us with it's refreshing and bubbly taste.
That's exactly what happened to Tinder and Twitter user Emily Cochran who matched with a guy named Drew, who happened to really enjoy the canned sparkling water drink La Croix.
He told her that he was having a very good day as he had just found an entire 'rack' of drink completely unattended, so he decided to take it home for himself.
A few minutes later she then matched with another guy, this time named Raymond, who wasn't having a very good day.
Unfortunately for him, he had just brought an entire crate of the La Croix only to have it stolen, after leaving it unattended for a moment.
Can you see what is going on here? After a bit of research, Emily determined that Drew was the thief who had stolen Raymond's drinks.
So, she did what any sensible person would do. She shared it on Twitter and the tweet soon went viral.
This bizarre coincidence was almost too good to be true and might have confirmed to Emily that she definitely had a thing for guys who liked flavoured sparkling water.
In an attempt to solve this piece of daylight robbery and return the cans to Raymond, she added both men on Snapchat and told them what was going on.
According to The Daily Dot, Drew, after learning what had happened immediately regretted taking the drinks, whilst Emily told Raymond to return to the spot where the drinks were taken from.
An hour later the drinks, barring the two that Drew had already drunk, were returned to Raymond and the story was brought to a happy conclusion. Case solved.
Needless to say, Twitter couldn't get enough of this story of dating apps bringing together sparkling water thieves and their victims.
The only problem is now that Emily is famous, who should she date?