To Catch A Cheater/YouTube
On the YouTube channel To Catch A Cheater, Luis Mercado gives viewers some predictable and formulaic storytelling about infidelity and jealousy.
The videos posted purport to be real life honey traps, in which a person is lured into conversation and possible romance with an undercover actor, while hidden cameras record the interaction and their partner watches alongside Mercado in another location.
The partner's (usually horrified) reaction is also recorded for entertainment purposes.
In a video posted on Saturday, Mercado introduces the audience to this episode's couple.
As the girlfriend watches, her boyfriend is approached by the show's actor Meitar Paz in a supermarket.
The man claims to be trying to choose a gift for his mother's birthday.
When asked by Paz if he would be willing to show her around Los Angeles, he replies that his girlfriend 'would not like this as a friend'.
In the video the man then describes his alleged girlfriend as 'Crazy jealous'.
Fast jump cuts in the editing skip between different ways Paz tries to engage with the man in further conversation.
I was in the military back home, I was a commander...I like your tattoos.
Paz offers that they just 'start off as friends', to which the man replies:
That will never work, we both know that.
The man excuses himself and leaves, much to the pleasure of his girlfriend in the video.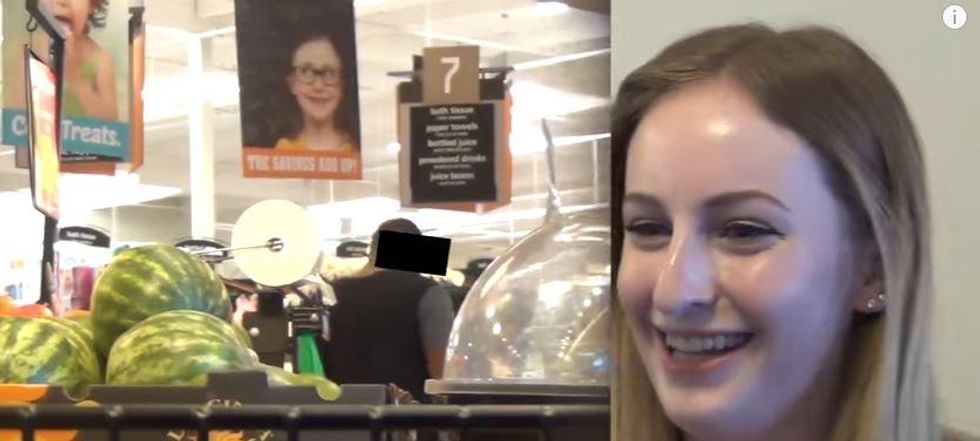 Picture: To Catch A Cheater/YouTube screengrab
In a plot twist, she phones him and appears to catch him in a lie about the present for his mother's birthday.
Earlier in the video the man had claimed he was shopping for a birthday present for his mother, but when asked about it by his partner on the phone, he claimed his mother's birthday was months ago.
When the girlfriend reveals she knew he was shopping for a gift for someone, the man says he cannot 'deal' with the situation and hangs up.
The episode ends on a cliffhanger, as neither the makers of the show nor the instigator of the trap know who the gift was intended for.