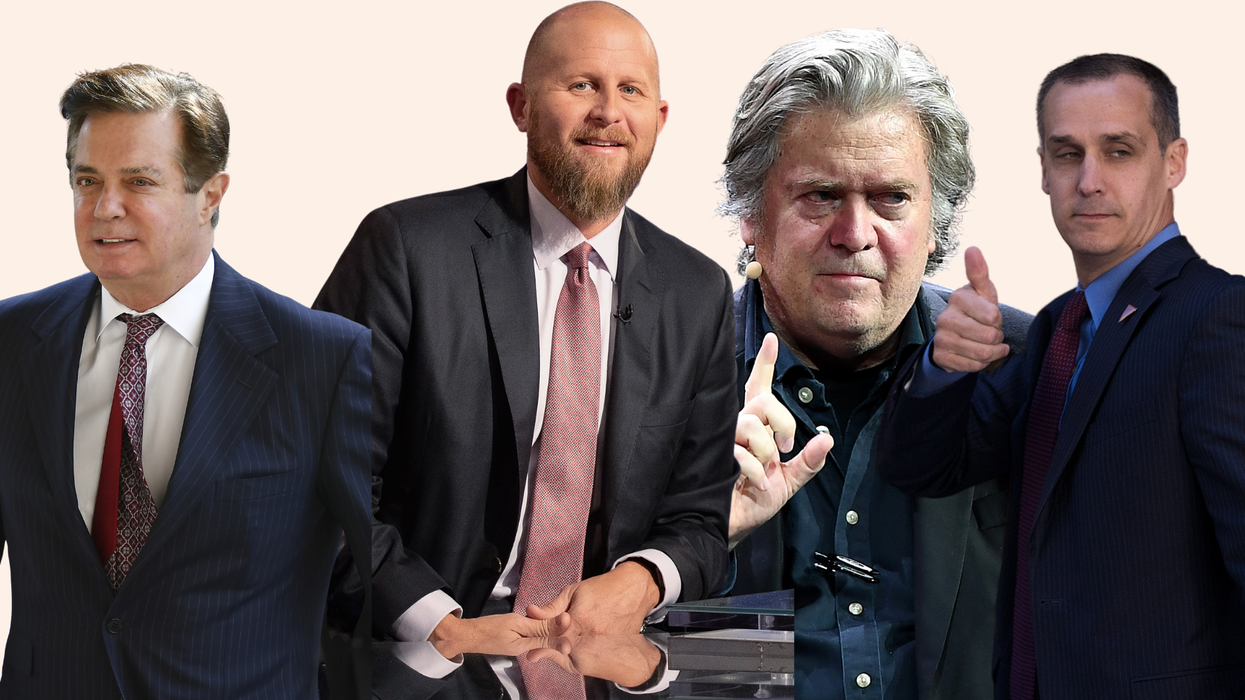 Getty
According to a new Daily Beast analysis, 18 people connected to the Trump administration have been arrested, indicted, charged and/or jailed since the president came to power.
And while many of the brushes with the law relate to Russian collusion (such as the the Mueller report into the extent of Russian interference in the 2016 election), other former Trump staffers and allies branched out to find themselves in trouble for reasons from assault to cyberstalking.
Here's half of the 18 "best and most serious people" around Donald Trump who have got up close and personal with the police.
1. Michael Cohen
Trump's personal lawyer Michael Cohen was sentenced to three years in prison for tax evasion and breaking campaign finance rules in 2018. He was released in May this year owing to concerns about Covid-19 and is currently serving the remainder of his sentence under house arrest.
Cohen was heavily involved in Trump's administration and businesses. As well as being vice president of the Trump Organisation, he was co-president of Trump Entertainment, a board member of the Eric Trump foundation and deputy finance chairman of the Republican National Committee. After Robert Mueller's investigation into Russian interference in the 2016 election, Cohen plead guilty first to fraud and later to lying to the Senate committee.
He claimed during court proceedings that he broke campaign finance laws at Trump's request.
2. Steve Bannon
Steve Bannon, former White House chief strategist and senior advisor, was charged in April with conspiracy to commit mail fraud and money laundering.
The charges relate to the We Build the Wall campaign, an organisation aiming to privately build sections of the Mexico-US border wall. Bannon pleaded not guilty to the claim that he used some of the $1m he raised for the project to pay off personal expenses at an initial hearing; he faces trial next year.
Bannon has been estranged from Trump since late 2017 when various incendiary remarks he allegedly made to journalists about the president's administration and family came to light.
3. Paul Manafort
Before he was Trump's campaign chairman, Paul Manafort served as an advisor to Gerald Ford, Ronald Reagan and George W. Bush. He's now a convicted felon, having been found guilty of fraud, conspiracy and failure to disclose a hidden foreign bank account in 2019.
Manafort was initially granted a plea deal that would have resulted in serving a lighter sentence than the 7.5 years he was eventually handed, but this was voided after a judge ruled that he had lied to prosecutors.
Manafort was released to home confinement in May owing to the threat of Covid-19.
4. Rick Gates
Manafort's deputy Rick Gates was sentenced to 45 days in jail and three years of probation in 2019 for conspiracy and lying during the Mueller investigation.
Like Manafort, he was indicted in 2017 for failing to register his interest as a foreign agent for Ukraine as well as for other charges including money laundering and conspiracy against the United States. Again like Manafort, he entered a plea deal dependent on his honesty during the Mueller investigation – but lied to them anyway.
Since serving his sentence, Gates has published a book and reportedly launched a "boutique consulting firm" to help companies push their proposals through government.
5. Roger Stone
Trump's longtime friend and campaign advisor Roger Stone was another casualty of the Mueller report and subsequent Special Council Investigation. In 2019, he was convicted of seven felonies, including witness tampering, obstructing official proceedings and making false statements to Congress.
Two of his associates accused him of working with WikiLeaks founder Julian Assange to discredit Hillary Clinton during her 2016 presidential election bid, which he denied. FBI documents later confirmed contact between the two, as well as a political influence scheme run by creating fake bloggers and Facebook accounts.
Stone was sentenced to three years and four months in prison in December. But just five days before he was due to be jailed, Trump commuted his sentence and declared Stone a "free man".
6. Michael Flynn
Michael Flynn was Trump's National Security Advisor for all of 22 days. He resigned in February 2017 after it was revealed he misled vice president Mike Pence about his communications with Russia's ambassador to the United States.
Flynn agreed to co-operate with the Mueller report and Special Council Investigation later that year and admitted that he "wilfully and knowingly" lied to the FBI. But he later moved to withdraw his guilty plea, and the Justice Department announced that they intended to drop the charges against him.
This was disputed by the presiding judge, and a criminal case is ongoing.
7. Brad Parscale
Formerly Trump's trusted campaign manager, Parscale began to fall out of favour after the president's re-election campaign got off to a shaky start (remember those empty arenas?).
He was demoted from campaign lead to 'senior advisor' but was still working with Trump right up until the beginning of October – which is when Florida police arrested him.
Parscale was reportedly "wrestled to the ground" by Fort Lauderdale officers who detained him on 27 September after his wife Candice fled their shared home in 'fear' after he became aggressive during an argument.
Police removed 10 guns from the residence; Parscale announced the next day he was "stepping down" from Trump's re-election campaign. Parscale's wife later told Politico that he had not physically abused her, saying: "The statements I made on Sunday have been misconstrued, let it be clear my husband was not violent towards me that day or any day prior."
8. Chris Collins
Former Republican Congressman Chris Collins was dubbed "Trump's first fan in Congress"; he was the first member to formally endorse Trump for president.
As a result he earned a spot in Trump's transition team – but in 2018 he was arrested on charges of insider trading.
Collins had tipped off his son about the failure of a drug trial by a US company he and his family were invested in, and that he sat on the board of, days before the knowledge was public.
As a result, when the company's stock dropped four days later, Collins, his son and his son's father-in-law had all dodged losses totalling $768,000.
Unfortunately for Collins though, the dots were quickly joined and all three were arrested, with Collins eventually sentenced to 26 months in prison in January 2020.
No, he's not a congressman anymore.
9. Ken Kurson
A fresh addition to the list, Ken Kurson is considered a close 'Trump family ally".
He's a close friend of Trump's son-in-law Jared Kushner, in particular, who he worked for at The Observer.
But last week he was charged with cyberstalking by federal prosecutors who allege who sent a barrage of "threatening and stalking messages" to people associated with his 2015 divorce.
According to prosecutors, Kurson has stalked three people over the past five years.
"As part of this pattern, Kurson used multiple aliases to file false complaints about two of the victims with their employer, post false negative reviews about one victim's professional conduct on crowd-sourced review websites and made unsolicited contact with two of the victims," read a statement issued about his arrest.
"Kurson traveled on multiple occasions to the workplace of two of the victims, taking photographs and inquiring about one victim's work schedule."During the investigation, the FBI gathered evidence that Kurson simultaneously engaged in a similar pattern of harassment against two other individuals.
"As a result of Kurson's conduct, an employer of two of the victims hired a security guard".
Terrifying.