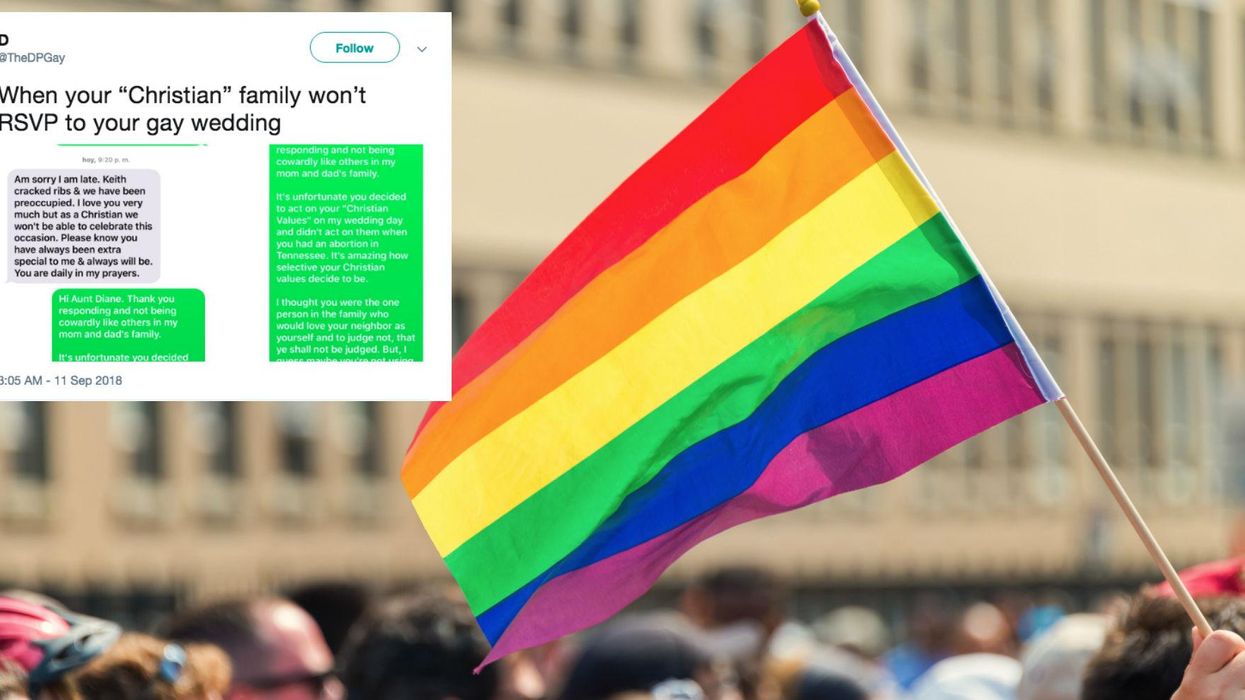 LGBT+ communities around the world have spent decades fighting for their right to marry, but it seems that not even the law can fix societal discrimination.
It's not uncommon for LGBT+ people to be rejected or abandoned by their families after coming out, but even those relatives that do seem to be accepting can sometimes draw the line at a marriage invitation.
Twitter user @DPGay found this out the hard way recently, so decided to pull up their aunt when she declined the invite, citing her religion as the reason.
In a series of text message screenshots which have since gone viral, they decided to highlight that her conservative values are somewhat selective.
It's obviously worth highlighting here that there's nothing wrong with abortion; women across the world are still often coerced into dangerous, illegal abortions by Draconian laws, and this year in particular has seen high-profile campaigns to legalise abortion across the Republic of Ireland and Argentina, one of which was successful and the other of which, unfortunately, was not.
There are also religious groups who do support the legalisation of abortion, but headlines are often dominated by pro-life protesters, some of whom resort to harassment.
Hearteningly, the responses were littered with examples of other Christians offering messages of encouragement.
It's also crucial not to erase the fact that LGBT+ Christians – and LGBT+ people within all religious groups, for that matter – exist, and that their identities are valid.
If nothing else, at least conversations like these remind us that, despite progress, there's still a long way to go.