Monitor your indoor air quality with the Airthings Wave Mini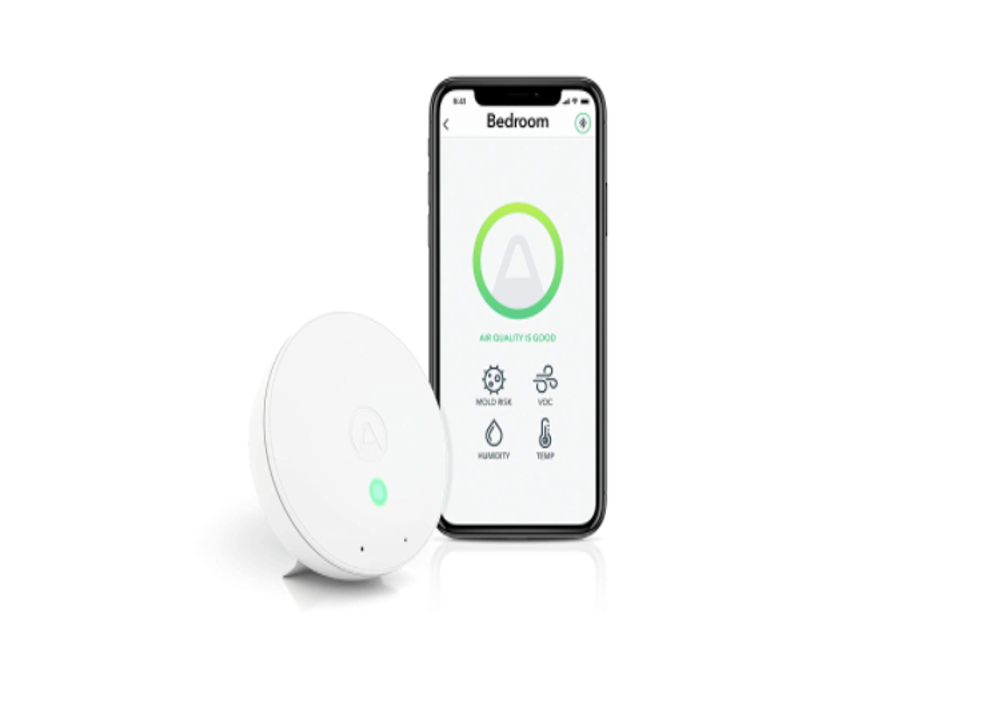 Living in a major metropolitan area makes air quality a concern that aways lingers in the back of one's mind. You're constantly breathing in dust, dirt, mold, allergens, and who knows what else when you risk living in older buildings and densely populated areas. In my case, that crowded place is New York City.
Having moved from Manhattan to Brooklyn recently from a pre-war building to one more modern, I've already noticed less irritation in my sinuses and seemingly felt sick fewer days (though surely masking up has helped). When a representative for Airthings reached out to see if I'd like to test their Wave Mini Air Quality Monitor, I was thrilled to examine the difference in air quality I was experiencing and how much that affected everything from my breathing to my skin's appearance by noting changes in allergen exposure, humidity, temperature, and more. 
The Airthings Wave Mini arrived quickly in small, sustainable packaging that encourages you to "RECYCLE ME" with a cute message on the inner flap. It's entirely made of cardboard save one small silica gel pack, and the only thing inside is the product itself (three AA batteries included and already installed), it's detachable stand, and simple three-step instructions. 
Once out, I popped the machine into its stand and sat it on my home office desk. One in each room is desirable, but I chose this room since I spend so much time here these days. You can also attach the unit to the wall using a screw so long as you stay three feet from windows or vents to maintain accuracy.
After downloading the Airthings Wave app from the app store on my iPhone, I kept the device and my phone near each other long enough for them to sync. Once completed, I was prompted to give the Wave Mini a full week to get an in-depth reading that showed inconsistencies, ongoing problems, or anything else that might rear up during its info-gathering stage. 
While awaiting that, though, I could check the current state of things by simply waving my hand over the device and, like some sort of Smart Home magic ball, it gave me a color-coded indicator of my atmospheric surroundings: Green! If the air quality hadn't been so great in here, it would tell me with a yellow (warning) or red (danger) alert, just like a traffic light–very easy to remember. I had expected this process to be science-heavy and maybe even above my luddite skillset, but Airthings created this product to work so easily even children and techphobes won't have difficulties operating it.
And for the final result…
As it turns out, everything is good to go inside my office. I suspected a fairly clean reading, but it's nice to know that even despite living directly under the M Train in one of the most crowded cities in the world, I can breathe easy–especially with 0% mold risk! I researched good humidity levels and discovered anywhere from 30% to 50% is good, so I may invest in a small humidifier just to keep my skin looking dewy and moist throughout the brutal winter.
RELATED: Read about my new favorite skincare that's giving me a fantastic glow this season. 
I found the VOC reading particularly interesting as well, having clicked through and seen a serious spike right around the time I brought in an antique couch last week. I had an allergic reaction that same day and suspected the couches were the likely culprit given their ancient, dingy 1970s custom dust covers that quickly came off once inside my apartment, but it's good to know the vacuuming and airing out I did helped bring the levels back down to normal.
For anyone not familiar, VOCs are volatile compounds that can come from anything ranging from paint or candles to the smoke in your home that accumulates while cooking. This is another reason why having one of these little watchdogs in every room can really affect how you monitor what you're breathing in; one bad reading in the kitchen could encourage you to open a window or turn on a fan next time you're frying up a delicious dinner.
Overall, this device is much more informative than I imagined it would be. I hate to admit I'd never considered monitoring my air quality despite always being a bit suspicious of its underlying harms, and the Airthings Wave Mini being incredibly simple to set up and read instantly assuaged my worries while also teaching me valuable lessons about when to employ better ventilation.
Grab one for any room in your home and give it a week to see what you're breathing–you won't be sorry, but you may be more apt to crack a window. 
Airthings-292 Wave Mini - Indoor Air Quality + Mold Risk Monitor - Chemicals (TVOCs), Humidity, Temperature