An American man is hoping to shake up the way his fellow citizens think about waste, by wearing every piece of rubbish he creates over 30 days.
During the challenge, environmentalist Rob Greenfield will follow three rules: wear every piece of trash he creates, wear the suit everywhere he goes (apart from at home) and live like the average American who produces 4.5 pounds of rubbish and food waste per day. 
He will wear every piece of garbage he creates in a custom-made suit that can hold up to 135 pounds of waste. 
The self-described "humanitarian and dude making a difference", hopes his latest project, Trash Me, will help visualise the cumulative effects of waste disposal.
Speaking to the Indy100, Rob said: "I've definitely seen an element of me becoming a bit of a hermit since I started the challenge, it's almost like my trash is haunting me and I know if i go outside I have to put it all back on.
"But I have to say, I almost enjoy my life more covered in trash than not, because everywhere I go, people have this giant smile on their face.
"People are intrigued and excited, I can't walk too many steps without someone stopping me and asking what i'm doing.
"The idea isn't to point any fingers but by walking out in the street it makes people reflect on their own lives."
Designed by Nancy Judd from Recycle Runway, Rob's Trash Me suit took her 125 hours to design and after the 30 day challenge is complete, it will be displayed at Judd's exhibition at Atlanta International Airport. 
Rob weighs 160 pounds and by the end of the month, the suit is expected to weigh nearly 140 pounds, almost his entire body weight.
Rob told the Indy100: "The design of the suit is so excellent that the weight is pretty evenly distributed, it's kind of like you're a fireman or a construction worker, so it's heavy but manageable.
"The jacket actually has a backpack built into it which can probably hold 80 pounds. 
"I'm imagining when it starts to get heavy, if I can't walk, I'll get a cane then maybe a walker and then maybe a scooter and ultimately a pushcart, that's what I'll do to keep going with the experiment."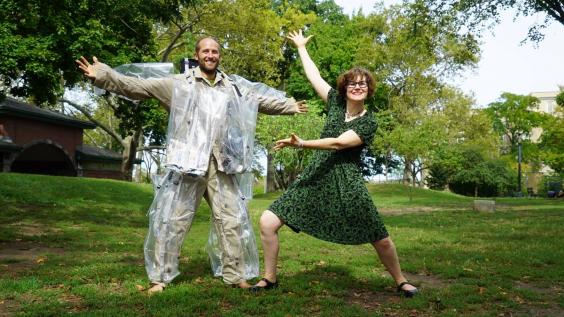 Greenfield started the challenge on 19 September and three days later, he had already accumulated 8 pounds of rubbish. 
He has also teamed up with nonprofit film studio LivingOne to create a six-episode TrashMe web-series to visualise the challenge. 
Writing on his website, he said: "Trash Me will create an unforgettable and shocking visual of the trash that most of us create everyday that will stick in the minds of people and inspire them to drastically reduce the amount of trash they make.
"By keeping this project highly entertaining and eye catching, Trash Me will reach both people who have never thought about their waste as well as environmentalists who want to do better."
Rob told the Indy100: "It goes against all my instincts to waste food, I normally don't waste anything and it is challenging.
"But I've known I've wanted to do this for a while, I've immersed myself in this and I actually don't feel bad about it because ultimately we'll make a positive impact in the world."
Rob will wear the trash suit from September 19 to October 18 and updates on his progress can be found on his Facebook page.