Donald Trump has tweeted more than 260 times in in his first week in office, averaging 36 tweets a week.
One well-known quirk about his tweets is that they are sent from two different phones.
Apps like TweetDeck can tell you what kind of device a tweet is sent from – tweets direct from POTUS himself come from his personal Android phone.
But when it is his staff tweeting for him it is generally thought to come from an iPhone.
NBC News have done a big analysis of Trump's tweets from his first 50 days, and found some very interesting stuff – but one graph particularly stands out.
This is a breakdown of words used in tweets sent from iPhone (eg from Trump's staff), versus from Android (Trump himself).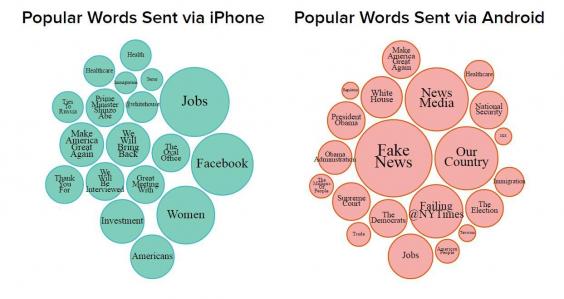 The difference is pretty telling.
The most common words from iPhone are the sort of words you'd expect from an America leader – jobs, women, Americans, investment – and then phrases like 'Great meeting with' and 'The Oval Office'. These sound like the pre-approved PR messages from aides that they are.
From the Android though? Three of the top four are 'fake news', 'news media' and 'failing@NYTimes'.
Something on your mind, Donald?
The full NBC piece also tracks things like the timings and frequency of tweets, and their relationship to cable news broadcasts, and it's definitely worth a look.
---
More: The White House just shared an article condemning Donald Trump
More: Donald Trump tweeted about St Patrick's day and colossally missed the irony