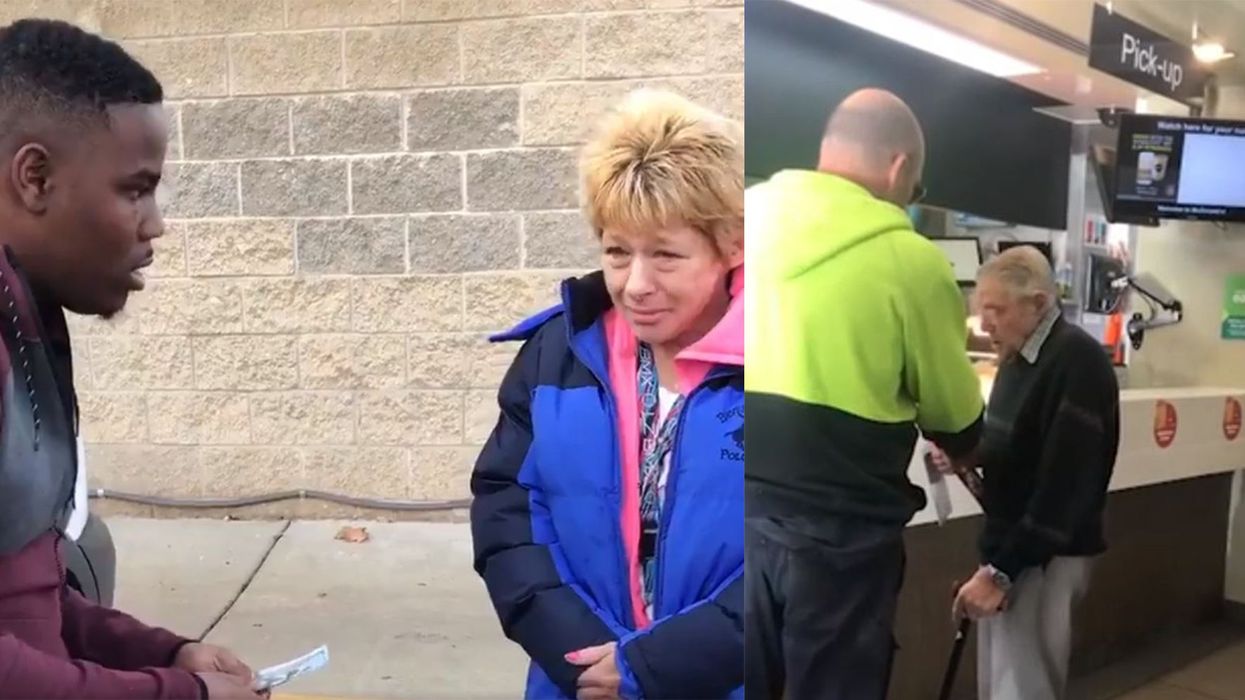 Carlos Davis/Twitter/ Melanie Langley/Facebook
Sometimes life just isn't fair. Sometimes the bad rises to the top, leaving all the good people at the bottom of the pile without any sort of recognition.
It's rare that you hear of any positive stories and 2018 hasn't exactly been brimming with them, but as it's the end of the year and we're in dire need of some sort of sign that everything will be OK, we've dug into our archives and found eight stories that put a smile on our face and let us know that the world wasn't such a terrible place.
Instead of buying a cycle with her piggy bank savings, 8-year-old Anupriya from #TamilNadu donated it all towards t… https://t.co/GyRDJCOsGB

— Ketto (@Ketto) 1534767577
Little Anupriya, donated 8,246 rupees, her entire life savings, to the victims of the Kerala floods in August.
In return for her kindness, the chairman and managing director of Hero Motors bought her a new bike.
Thanks to you dear Anupriya and pleasure to talk to your mom. I had read every act of kindness has a ripple effect.… https://t.co/gHMaeFkA3P

— Pankaj M Munjal (@Pankaj M Munjal) 1534778657
As a tonic to all the distressing stories about white people in America calling the police on black people for doing absolutely nothing, allow us to present to you two police officers who ended up playing Super Smash Bros with a group of friends who were reported to them on a noise complaint.
This was one of the most viewed videos of the year and featured two men helping out a woman who was struggling to pay for the petrol for her car, just days after her husband had died.
This week on "I love you" saw a ladies put pennies in her gas stank. I love you https://t.co/Sikekr10cf

— CARLOS HAHA DAVIS (@CARLOS HAHA DAVIS) 1540162936
Yesterday I bought coffee for the lady behind me at Starbucks.. later in the day I found this is my mailbox. Small… https://t.co/7huVkdOmTp

— Mackenzie (@Mackenzie) 1533663399
When the Royal Mail received an unusual request from a seven-year-old boy asking them to deliver a birthday card to his dad who had died four years previously, they gave the best and most heartwarming response ever.
Sean Milligan, who works for the Royal Mail, wrote:
Dear Jase,

While we've been delivering your post, we became aware of some concerns.

So, I just wanted to take this opportunity to contact you about how we succeeded in the delivery of your letter, to your dad in heaven.

This was a difficult challenge avoiding stars and other galactic objects on route to heaven.

However, please be assured that this particular important item of mail has been delivered.

Royal Mail's priority is to get customers mail delivered safely I know how important your mail is to you.

I will continue to do all I can to ensure delivery to heaven safely.

Yours sincerely, 

Sean Milligan
We'll end this little burst of positivity with this small act of kindness from a builder in Australia who paid for an old man's McDonald's meal after he noticed that the man was struggling to find the right change.