Rebekah Marine / SWNS.com
A model who was born missing part of her right arm ditched her black bionic limb in favour of a glittery gold one for her wedding day.
Rebekah Marine, who has starred in campaigns for Tommy Hilfiger and Nordstrom, showed off the stunning statement piece as she walked down the aisle.
The 31-year-old usually wears a black prosthetic, but decided to accessorise her flowing white gown with a jazzier version for her wedding to medical student Jared Paster, 32.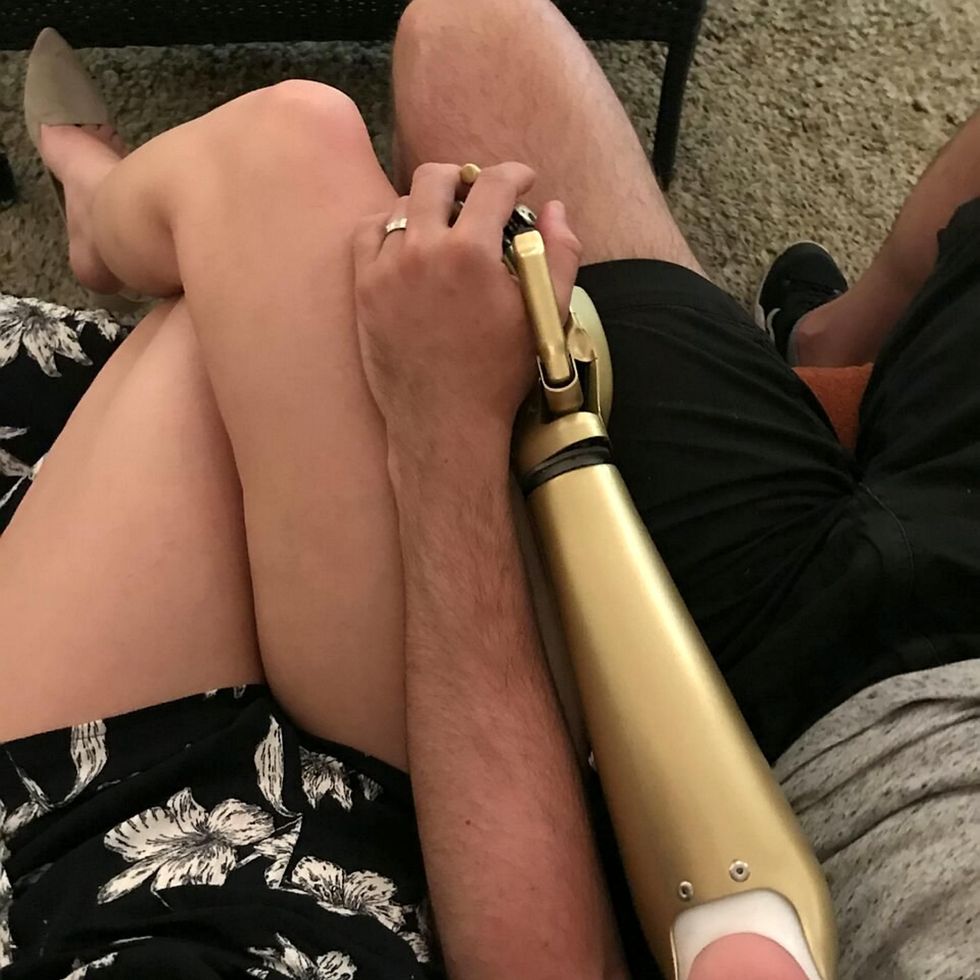 Rebekah Marine / SWNS.com
Rebekah, of Deptford, New Jersey, US, said:
I knew when I got engaged that I wanted a wedding arm - I wanted to do something special.

The whole point of wearing it was to draw attention to it. I wanted people to see it and notice it because I am proud of where I am right now.

Originally I had liked the idea of white, but I realised you might lose it with the white of my wedding dress.

A friend suggested gold and that tied in to my white wedding colours, and the challenge then was finding the right shade of gold because I didn't want to look like C3PO.

It was a long process getting it right but it's such a cool piece. It's really beautiful. It has sparkles in it and it glistens in the sunlight.

I debuted it on my wedding day and everyone was in awe because most people don't realise prosthetics can be customized.

There was a lot of pressure going down the aisle because I had my left arm in my dad's right arm and was left with my prosthetic arm to hold the bouquet.

The entire time I was walking I was fearing I was going to drop it or not be able to hold it but it all worked out.

It ended up being the best day ever. It was perfect.

Growing up I feared marriage because I feared everyone looking at me so it's awesome to see how far I've come.
Motivational speaker Rebekah was born with Symbrachydactyly, or limb difference, and says there's no known reason why the difference occurred.
She says she grew up in a "bubble" and was never bullied for her disability, but as she got older people asked questions and she became insecure.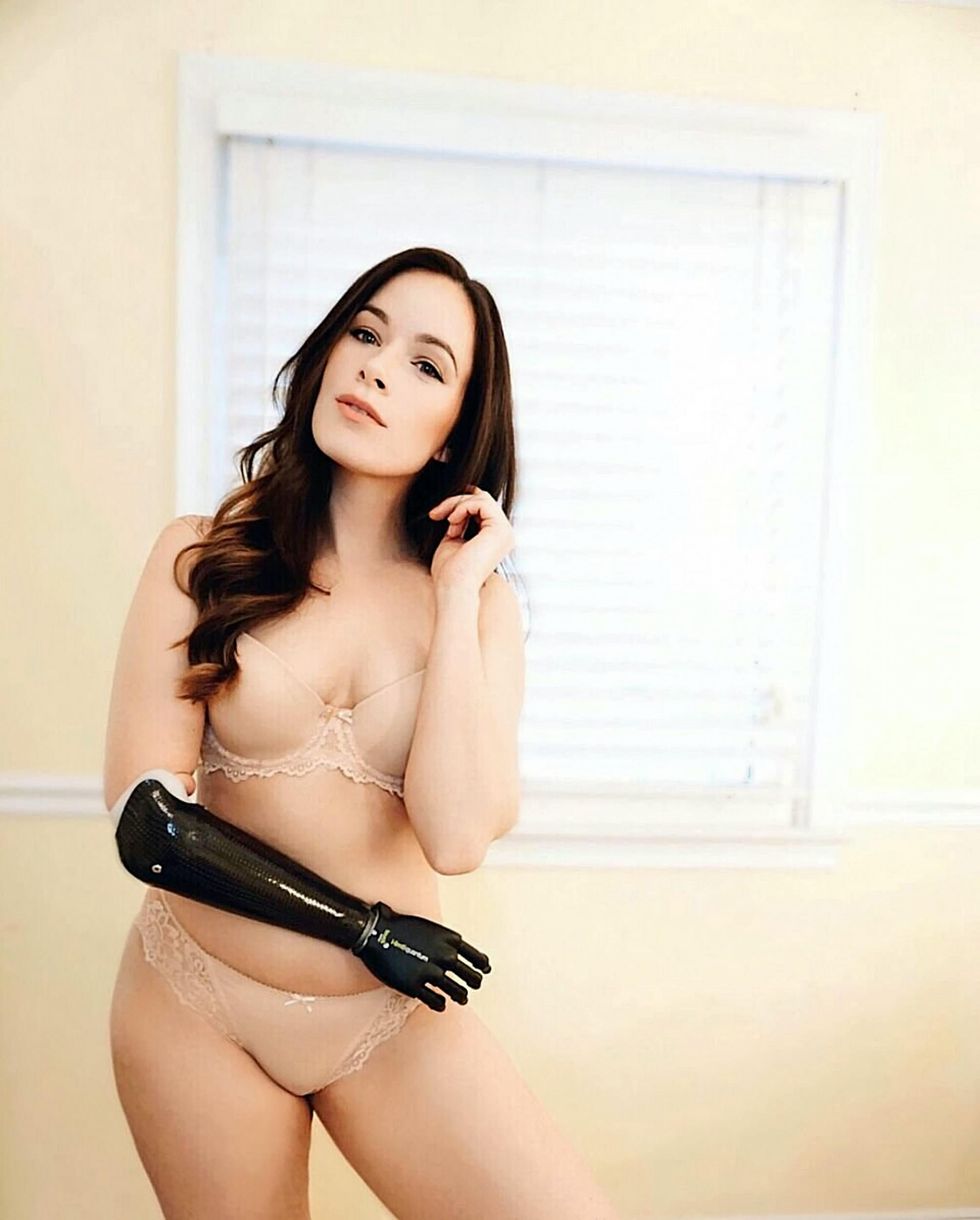 Rebekah Marine / SWNS.com
Her confidence skyrocketed at 22 when she got a prosthetic arm, and shortly afterwards she began her modelling career, walking the runway at New York Fashion Week - making a name for herself as the 'Bionic Model'.
Now Rebekah is on a mission to spread her message of body positivity around the globe - and reckons her new metallic limb will help her in that mission.
She wore it on her honeymoon in Mexico and loves it so much she even sported it for her latest project, a shoot for Parfait, a lingerie brand that promotes body positivity.
Since the wedding on 7 April 7 at The Carriage House in Galloway, NJ, she has alternated between her black and gold arms - but says she's "obsessed" with the gold one.
The model, who shares her story on Instagram @rebekahmarine, said:
We just got back from our honeymoon and I wore the gold arm there.

I would wear sunglasses and I could see everybody staring at me because they didn't know I was looking at them.

It was cool to see people staring at it in awe.

The gold arm makes me more approachable. It draws a lot more attention and the whole point of wearing it is to draw attention to it.

I want people to ask questions and I want to educate people about it.

We all can't be Kim Kardashian, realistically, so we have to learn to embrace our uniqueness.

It is so important to talk about the differences we all have.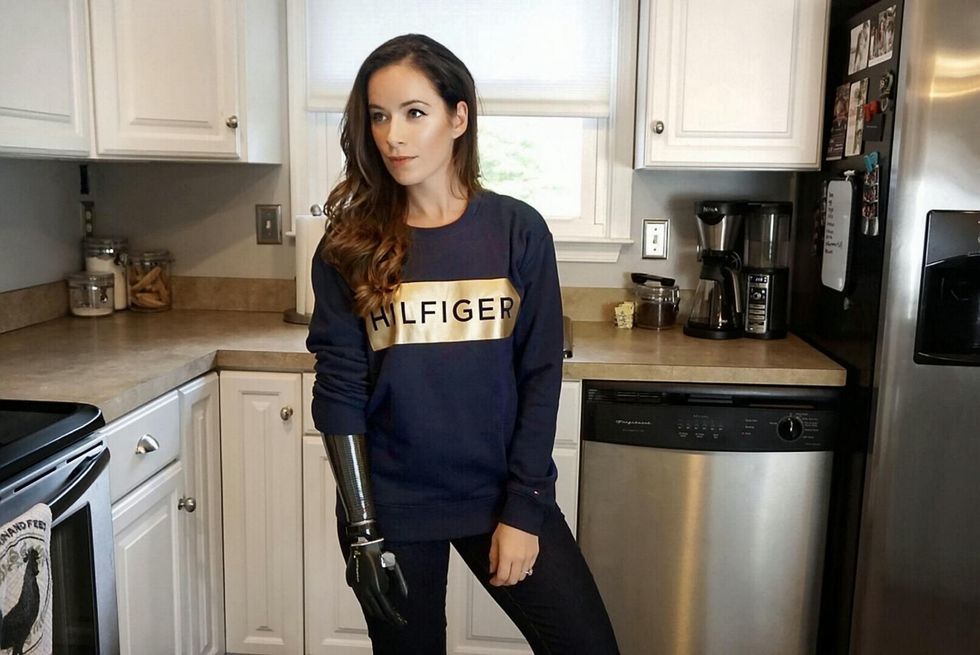 Rebekah Marine / SWNS.com
SWNS