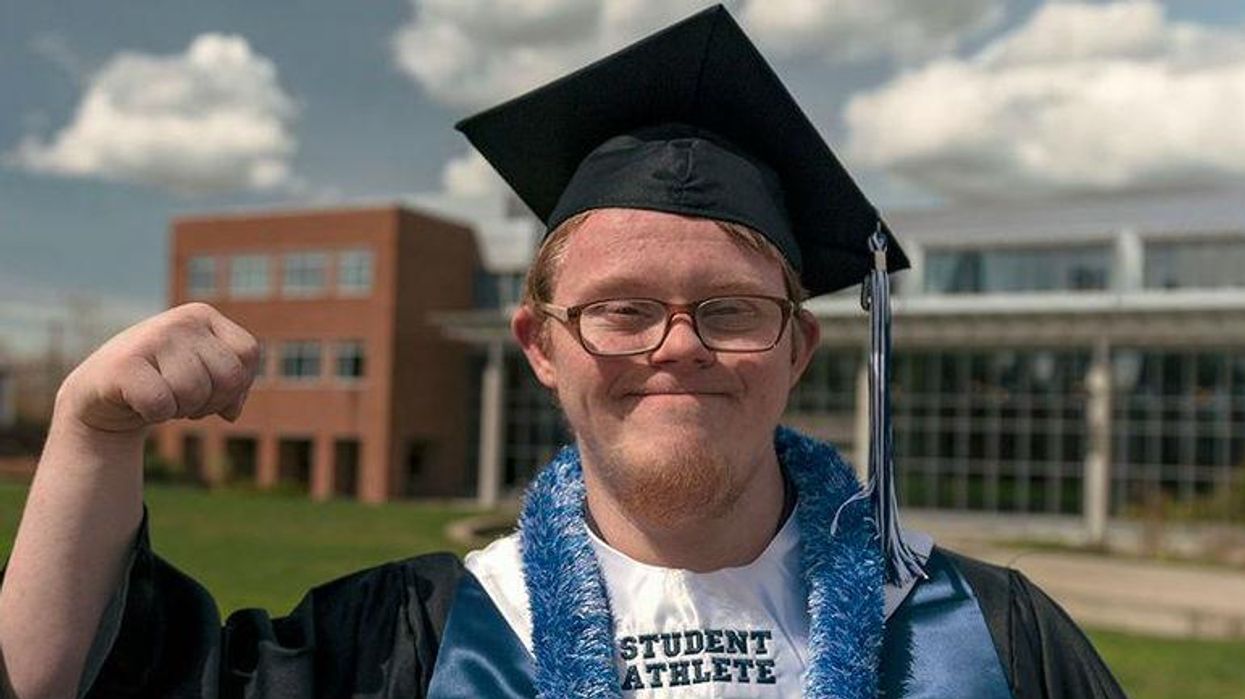 Eric Drapeau
Student Cody Sullivan, who happens to have Down's syndrome, just made education history.
On 28 April, he walked into the Spring Commencement Ceremony at Concordia University, Oregon, and celebrated completing four years at the college.
Sullivan received a certificate of achievement in Elementary Education, and has now accepted a job as a teacher's assistant at a nursery school.
Cody is the first person with Down's syndrome in Oregon history to graduate from a four year college program with a degree.
Picture: NWDSA/ABI
Before Cody embarked on his course, there were no opportunities for people with learning disabilities in higher education in the state.
Throughout their education, people with intellectual disability are usually segregated from their peers - but thanks to students like Cody, and his mum Ann Donaca-Sullivan, things are beginning to change.
Ann is a founding member of the West Coast Think College Coalition, a charity that works tirelessly to improve inclusive higher education for people with intellectual disability.
Currently, there are approximately 4,726 colleges in the United States of America, and only 264 colleges, or 6 per cent, offer courses for people with learning difficulties.
Picture: NWDSA/ABI
The opportunity to attend further education is life changing for people with learning difficulties like Cody and, after completing courses, 61 per cent find full-time employment.
Speaking to Komo News, one of Cody's friends Matt Schweitz said:
It's something that's so normal for us. We see him every day. We don't see him any different. So it's like, 'Oh yeah, he's graduating; he's done his four years here; he's got his degree.
Seth Phelps, another friend of Cody's, said:
So Cody would have his notes in class, that he'd taken before, that aligned to what we were working on, and then when we had a project, he'd be up there with a modified project that fit the requirements of what we were doing in class.
We want to wish a big congratulations to Cody Sullivan as he earns a Certificate of Achievement from @cu_portland!… https://t.co/RFvh5gWtzn

— NWDSA/ABI (@NWDSA/ABI) 1525012592
"I took math and health, and all my classes," Sullivan said. "I loved math."
Thanks to Cody's incredible achievement, he's paved the way for a revolution in inclusiveness for those with disabilities in higher education - and the workplace.