TWITTER / @MITSURUTENMA
"Wanna see a a pic of my gundam" sounds like yet another brand of creepy proposition brewed in the bowels of the internet.
Even Elle Howley - who is well aware Gundams are the titular mechas (robots) from a popular anime series - assumed it this was yet another case of an innocent word exploited to mean 'penis'.
How was she to know that she was in fact experiencing the start of one of the most beautiful love stories of our time?
Yep, the pair are now engaged.
Move over, Prince Charming and glass slippers. Enter 'random internet guy' and Gundams.
Howley told indy100 how the story unfolded.
We actually met on Tinder and I wound up deleting my account because I was so happy being single at the time and didn't take anyone seriously.

I thought that he would just forget about me but a few days later I got a message from him on Instagram asking if we could keep talking!

That's when he sent me his Gundams and I knew he was different.

Initially I was like "oh god is this going to be a penis" but it was his actual Gundams - obviously!
Thankfully, we live in a world with Twitter so were were told the tale twist-by-twist.
Picture:
And then:
Howley - who now calls herself 'elle, gundam girl' on Twitter thanks to her viral tweet - said that the pair's shared love for anime sparked something special.
Gundam Wing was the first anime I saw and fell in love with so we really connected.

We bonded over our love for nerdy things and before we knew it we were texting every day for a month before we met in person! 
She soon christened her future fiancé 'Gundam guy'.
'Gundam guy' - who is also known as John Grasso - impressed Howley when they first met.
In April 2016, Howley jokingly - or not - tweeted about whether she might marry her 'Gundam guy'. And in November 2017, the couple were engaged.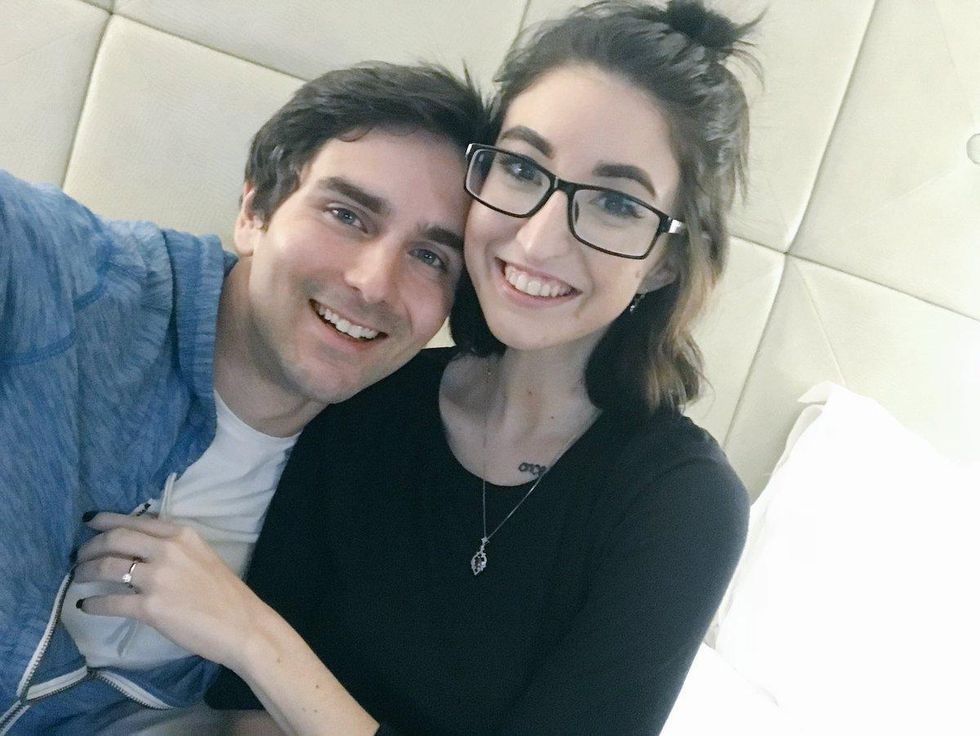 Picture:
The proposal sounds perfect.
I was NOT expecting it at all!

I was hoping, of course, because on our very first date we talked about visiting Boston and this past fall we finally booked a trip.
I thought it would have been so romantic for it to happen here! It turns out he was thinking the same thing!

John is very simple and not at all outlandish, he's also very level headed and doesn't make any impulse decisions. He's a thinker.

So when he asked a lovely older couple to take pictures of us on the ice rink and got down on one knee, I was completely shocked. 
Howley told indy100 how the road hasn't always been smooth.
We've been dating for a little over a year and a half!

I had battled an extremely deep depression last fall and we actually separated for a month because neither of us had any idea how to handle mental illness.

We couldn't stay apart, thankfully, and we educated ourselves on how to handle my episodes of depression and anxiety.

We have been inseparable and in the deepest love ever since. John is the most supportive, caring, and loving man in the whole world to me. 
Howley is also struggling with a painful case of endometriosis, but says her fiancé has helped her hugely.
I've had two surgeries this past year and will probably have a handful more.

It's caused me to spend periods of time out of work and the debt is piling up.

John is INCREDIBLY supportive.

He is there for me every step of the way both physically and emotionally. I am so thankful. 
But there have been plenty of good times.
And Twitter has been swept away with the love story.
Howley said:
I am so overwhelmed by the response!

I thought my friends who have been with me since the beginning of Gundam guy would appreciate it.

I did NOT expect this reaction! A lot of people have been so wonderful and have sent us the sweetest messages!
We wish the best to the future Mr and Mrs Gundam.
You can read more about Elle's surgeries on her GoFundMe page.