Any political defeat brings the knives out. And a defeat that was, on the face of it, as comprehensive as the one suffered by the Liberal Democrats in the latest local and European elections was bound to prompt recriminations.
As leader, Nick Clegg reportedly considered resignation, then decided the manlier course was to stay. He was right.
But he has a far better defence to mount than he has so far allowed himself to make or his haggard demeanour (see above) suggests.
1.
The results for the Lib Dems were not as catastrophic as their Europe wipe-out makes it appear. Many pollsters reckon their support will hold up reasonably well in next year's general election.
2.
It is hard to think of anyone else who would be doing any better as leader.
3.
Many of the recriminations now coming from inside the party and its supporters reflect old grudges.
(Picture: Getty)
4.
Lib Dem ministers have, by and large, acquitted themselves well in government. They have policies to their credit, including the rise in the income tax threshold that has taken large numbers of low-earners out of tax, the pupil premium and – yes – free school meals.
5.
Clegg has – or had – done well as leader both to keep his naturally wayward party together and keep himself in the public eye.
Call Nick Clegg, his weekly radio phone-in on LBC, recently won an award.
On the air, he comes over as calm, genial, reasonably direct (for a politician) and well-informed.
And, finally...
While other political leaders struggle with mundane tasks such as eating bacon sandwiches, Clegg has no such issue.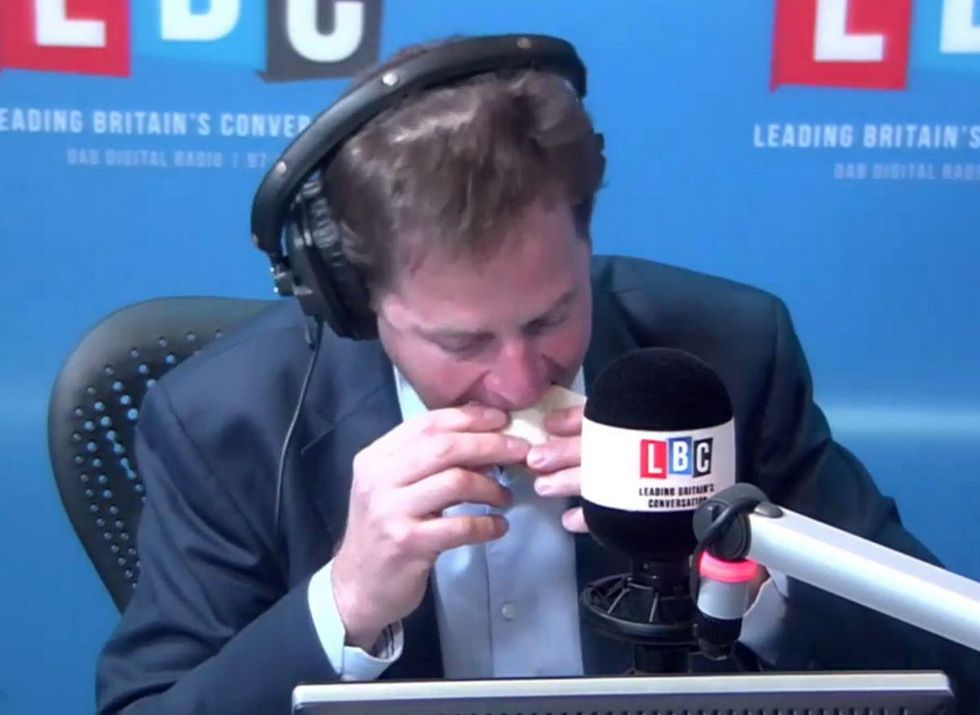 (Picture: LBC)